FISH CATCHING TRAVEL
Brought to you by
** For a super deal on your Wade Right use promo code FCT15 and get 15% off on your online order!**
It has been a while.  Before I talk about the fishing, and it was good like it always seems to be here in Grand Isle, I have seen something today that really worries me.  And I mean big time.  In the afternoon I came in the pass from the beach and as I headed to some islands out in the middle of the bay that I fished last trip I was stunned – They are great big islands, and they are gone!  I mean great big islands.  I have heard about Louisiana losing it's barrier islands, and in this case it has been about 7 or 8 years since we were last here and it is devastating.  I spoke with Buggy, the owner of Bridgeside and he said it is happening fast.  This is a serious problem that is definitely on a grand scale, and what or how to fix it is a massive problem.  And the beach keeps eroding, and while they are fighting it with seawalls and rock piles, if this is what it is like in the rest of Louisiana something needs to be done yesterday.  More on this subject when I get home.
Day 1
**************************************
The day started off funny as I almost went fishing without a license.  Since this will not be my last trip here I got the annual, which is not cheap by any means.  But hey, like all licenses, I do not mind paying for the pleasure.
The report was the fish were on the rocks on the beach front, so I headed out the pass and ran down the island until I  found a good place.  Must have been the waders.  Sorry I was a pot licker but I kept out of their way, there is plenty of room for all.  I fished from rock pile to rock pile and there were fish on all of them, some just a little better than others.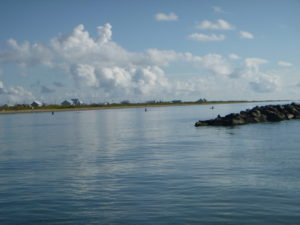 Poor planning on my part, who needs your Wade Right in Louisiana?
And one way to tell you are in Grand Isle, I got spooled my first cast.  Obviously a big jack, by time I started the boat it was to late.  They are some freakin' big jacks here.  From that point on I fished the rocks the rest of the morning, and while I did not get any on topwater, not even a pass, they were more than happy to cooperate on plastics.  During the day no particular color was best as long as it was dark.  And I did need a little bigger weight on the jig head than usual, but the outside of the rocks is over 7′ and it did need to be bounced on the bottom.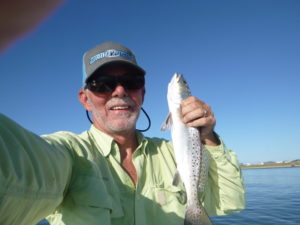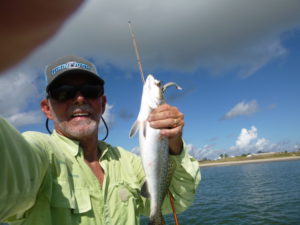 Just nice healthy fat trout.               
The rocks stretch for a mile in about 50 foot lengths and most had some kind of fish on them.  In fact for the day it was trout, no reds, jacks, a sting ray, a bluefish, sand trout, and lots of those pesky lady fish.  One thing that is so different is the size of the fish.  I can say I am spoiled as ours continue to grow with the 5 fish limit.  Here with the 25/12″ limit for the day it was probably a 25 fish limit.  But after training yourself on 15″+ a 12″ is small, but delicious in the grease.  I just am not keeping fish, and as tired as I am right now I would still be cleaning fish.  But one thing about here, you get bites, and bites, and more bites.  And coming this time of year you literally have it to yourself.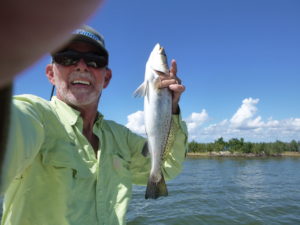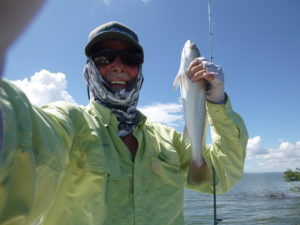 Nice and fat.  Great to be back to somewhere not home.  Makes you have to use your brain to figure it out.  And when you come this far and fish 3 days there is no time to waste.
I did break 2 fish off today, I am going to increase line size tonight, one a nice red and another a big ass trout.  They are here, you just have to wade through lots of fish, which if you think about it is not that bad a problem to have.  In the afternoon I went to the bay and fished some islands, and found trout on the points with the wind blowing on them.  It was 5 or more each point and did hit a mass of white/sand trout, some of which were ok size for them.  Just not my favorite eating fish.  But the better fish were on the beach, though again with a 12″ limit there were keeper fish in the bay.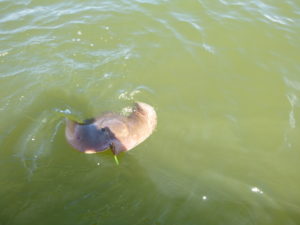 Time to call it a day.
It really is nice to be back, there are very few folks here, it is definitely offseason.  Lots of old folks here, I guess that is me.  And good to see Buggy and the gang, great folks.  Tomorrow it is off to Port Fouchon, a short drive to the big marsh for reds.  That marsh is a labyrinth of islands and channels, and it usually does not let me down.  It will be like old times, fishing that spinnerbait.  While I do not do it as much as I used to the marsh is the place, and I hope to wear them out!  So that is it for today, nice to be back to some fish catching travel.  And this very thing is on my plate for the next several months.  So keep stopping in and thanks for reading my stuff.
Good Luck and Tight Line