FISH CATCHING TRAVEL
Brought to you by:   
** For a super deal on your Wade Right use promo code FCT15 and get 15% off on your online order!**
*******************
I appreciated my buddy Chris stopping by with a fresh caught redfish.  He has not fished much lately and while he caught fish, shorts ruled the day.  It really gives new meaning to the old saying:  The more I fish the luckier I get.  That is so true, nothing beats time on the water.  So thanks for stopping by, leaning against the boat and shooting the breeze was almost like being there.  Thanks again.
*****************

******************
If you are planning a trip, or thinking about one, to a new saltwater destination the National Oceanic and Atmospheric Administration has the site for you.  There are new charts covering the whole coast of the USA and with a simple click you can view anywhere.  It is a site I wish I had used on some of my past travels.  It gives you a good view to add to your research and can help making plans.  So save this in your favorites, it just might come in handy.  Plus being shore bound it keeps me entertained for a couple of minutes until I am cleared to be back on the boat
http://charts.noaa.gov/BookletChart/GulfCoastBookletCharts.htm
*******************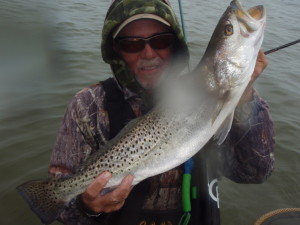 Baffin 2 years ago.  I do remember this is what they look like!
The only fishing I have done is vicariously through the Fishing Channel and internet posts.  The trout fishing looks pretty good if the pictures posted are any indications.  It is definitely a get out early for the best results.  And from some reports the topwater fishing is still pretty good at times.  And with our winds calming down there are lots of fish in the surf when folks can get out there.  The jetties all along the coast are giving up plenty of big reds, sharks, and the occasional tarpon.  Hopefully there will be few left when I can get back after them.
****************
My buddy Orlando, one of the Austin Boys, unfortunately face planted while riding his bike today and is in the hospital as I write this.  After observation he got cut lose.  Hope you recovery is quick and you are back on the bike in no time.
*****************
Really not much to report, just wanted to let you all know I am alive and kicking.  I am really humbled by all the well wishes and offers to fish whenever I am released.  Thanks to all of you.  I thought about posting some of the comments but they are self serving but I want you all to know I read each and every one and am so thankful for your support.  Your words of encouragement are great motivators.
And a word of thanks to Dr. Happel, Dr. Clemmons and his office, the staff at Detar Hospital, and the nurses on 5th floor.  A special word of thanks to my night nurse Airene.  She is a shining example of what a nurse should be, and having worked in that environment I know a good nurse when I see one.  She was kind and efficient, I was so impressed with her caring attitude.  In no way am I an easy patient, just ask the Boss.  Over the years I have had the misfortune to spend a day or two in hospitals and my experience at Detar was absolutely first class.  Thanks all.
I really am starting to feel so much better.  I am walking a mile each day to get my strength back.  Once I am released it will be fishing till I drop, and since I will be chomping at the bit I am taking the time to get back in shape.  One good result of the surgery, my little beer belly is gone, we will see how long that takes to return.  Tough job but somebody has to do it.
And there is one more bright spot in this whole thing, fall.  Since it looks like I will be banned from the boat until probably September it will coincide with the opening of dove, and then the rest of the seasons.  One thing about hunting season, it sure does reduce pressure on the water.  Which immediately gets me to thinking about the fall visit from the Austin Boys.  The weather was a little tough last year, but they somehow manage to bring it with them every year. So while it will be tough waiting this out, it is coming to end, just not soon enough for me.  So keep stopping in and thanks for reading my stuff.
Good Luck and Tight Lines