FISH CATCHING TRAVEL
Brought to you by 
** For a super deal on your Wade Right use promo code FCT15 and get 15% off on your online  order.
Thought I would get back to writing after a tough few weeks.  More on the that later as there are a couple of things that I just can't help but comment on.
It Is Dangerous Out There
While I was half in the bag on pain meds the Boss read me the enforcement figures for the July 4th weekend.  Since I was having trouble remembering my own name I had her text it to me so I could comment on them when I was out of the rabbit hole with Alice.
TWPD reports they did over 17,ooo boating checks over the holiday.  There were 33 boating accidents, 7 non-boating deaths, (Not sure how they classified these, maybe drownings?) and a total of  55 DWI arrests.  These figures can be interpreted as either great, or concerning.  Not having the total numbers of tickets issued for violations it is hard to decide what to think.
On one hand they checked a ton of boats, which indicates how busy the weekend was.  And in all those checks only arresting 55 drunks is great statistically.  But no matter how you look at it, any fool driving a boat drunk on the busiest holiday of the summer is one fool to many.  And what to say about boating accidents, 33 again seems not to bad for a busy holiday.  But 33 is to high. While not knowing the character of the accidents, my thought would be that the majority of them could have been avoided.
As they say, liars figure and figures lie.  I know we have had several incidents on our local bays this year, and saltwater anglers (Myself included.) can learn a little from the bass boys.  One of the great results that came out of bass tourney fishing was when they made life jackets and kill switches mandatory.  As a result of that it is common to see bass fisherman with life jackets on, something we rarely see on our bays.  And thinking about it, I almost always wear a jacket on my bass fishing trips, but rarely on the bay.  Maybe that is related to the depth of water most of the bay trips occur on.  The easy answer is "Heck I can stand up", true, unless you are tossed on your head and knocked stupid.  It would suck to drown in 2 foot of water, but it happens every year.  One thing that is constant for me no matter where I fish is the kill switch.  They save lives, period.  At least the boat will not run over me, even if I am unconscious.
I do want to salute TPWD for their service to the boaters of this state.  Not only are they doing their job, they are making it safe for the rest of us.  And who knows, those 17,000 checks most likely saved a life or two that weekend.  So remember next time you get checked, they are doing it to not just to keep us all safe, but also to educate boaters on the law, which many boaters need.  But as long as you have your stuff together it is no problem.  I like chatting with them, usually.  While this might be a little rambling, I hope you get the point.  In my case having a pontoon boat upside down on my head taught me a little lesson.  The 2 life jackets I had on that day saved my life, and whenever I start to slack off wearing my life jacket I just think back to the scariest 30 seconds of my life.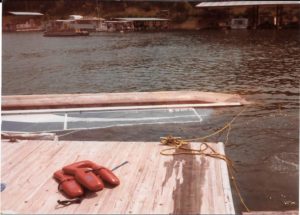 We towed it back to the dock after it got hit by the tornado.  That freakin' thing was on my head.  And there are the jackets that saved my life.
******************
As you know I have commented on TPWD giving a private owner our fish to put in his lake, a place where it costs $7,50o for 2 people to fish the weekend.  My problem was the giving of state property to a private for profit business.   Think about it, if the state gave state owned assets away to Exxon Mobile there would have been a big stink.  Since that initial stumble an agreement was made with the owner, and it looks like it will end up having some benefit to state fisheries.
What brought that on is this comment I got from SA Joe.
I read the massive number of comments on the link above, and like all good discussions of policy, this one had as many opinions are there were folks commenting.   The only way things work right is when all sides are explored and everybody gets to put in their .02 worth.  (Read: our freakin' government.)  As I said above, my only problem was them initially giving our fish to stock the most costly private fishing hole in the world.  I never thought there was some nefarious dealings here, it was just a tone deaf action by both parties.  After it was outed an agreement was reached and it looks the end result will be more fish for Texans, thanks to the stocking of fish from La Perla Ranch.  So congrats to TPWD and La Perla for teaming together to improve fishing for all.  I will take a wait and see stance, hope it works out for us.
*****************
I am not going to spread the worst fish video I have seen.  (If you want to see it just goggle shark dragging or some variation and you will find it.)  In it some real a$$holes have a shark tied off the stern and are dragging it on a rope 20 feet behind them as they run wide open.  It is disgusting, and so are they.  And once their identity was released further posts have revealed further behavior that is just as flat out disgusting.  The Florida Wildlife folks are looking in to it, but unfortunately it might be tough to find a particular crime to charge them.  How they can do something so reprehensible is a comment on how they were raised.  This behavior is the very thing that the animals rights wackos use to paint us all.   So good luck to the officers of Florida Wildlife, keep after these idiots, if they do things like this they will do anything.  Sickening!
****************
It has been tough to read and see the online fishing reports.  (Especially since I bought the most expensive rod I ever purchased, right before I got sick and have not got to use it yet.)  The trout fishing has been very good with lots of big fish caught this year.  And even with the wind making it tough to trout fish some days, redfish have been a good fall back position.  Viewing pictures and reading reports there has also been some great flounder caught, not to mention tarpon being around POC.  So get out there and get some, and make sure you get an early start.  Many limits are being reported first thing in the morning.
****************
So here is the update on my recovery.  It has been 2 1/2 weeks and I am feeling better each and every day.  I knock off a mile walk every morning, staples finally removed, and I am released to drive.  It is nice not to be home bound.  But, and there is always a but, I am banned from the boat, any boat.  Oh the horror!  The surgeon is a fisherman so I can't B's him, he knows what it is like to bang across the bay.  So there will be no boat rides as driver or passenger for around 4 more weeks, yikes.  Additionally he says I have to have someone with me the first couple of trips.  As much as it pains me I am sticking to the plan and following directions, which is hard for me to do.  Cooperating and toeing the line will get me back on the water faster and this whole thing will be just a bump in the road.  And to top it off both of my parents have had surgery this month.  The good thing about is that should just about cover it for our family for a while.  Luckily we are all to tough to keep down and they are doing great.
I can not thank all of you who sent me good vibes, but trust me I read every one.  Nice to know you are out there.  It has been hard to get back in the swing of things on the blog, tough when I have no reports to share.  But I am sure there will be some fishing related drivel coming out of my mouth as I increasingly go bonkers not being able to take the boat out.  But he says I can wade when I get my strength back, so look for that at some point.  It has been decades since I was shore bound so I am going to have to put my thinking cap on and figure it out.  Might be time for some beach fishing at PINS.  So thanks again to all of you, it is so appreciated.  Keep stopping in and thanks for reading my stuff.
Good Luck and Tight Lines