FISH CATCHING TRAVEL
Brought to you by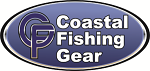 ** For a super deal on your Wade Right use promo code FCT15 and get 15% off on your online  order!**
It was great to hear from Chad.  He is kind enough to send the occasional reports with great details.  No big shot guide or rich kid with daddy's boat, this is a fisherman. He is the kind of guy who does not flaunt his stuff, in fact until this year fished out of an aluminum boat, but with my begging he is kind enough to teach us something.  I do not care who you are, when you read his reports there is plenty to glean.  And with me out of action for a little bit it is nice to have a good report to share with all of you.
Hey, a fast recovery is being prayed for you my friend! I spent 2 1/2 mo in the hospital in 2015 and nearly lost my life and leg and foot. But god is good and after a yr I recovered. So hang in there my friend.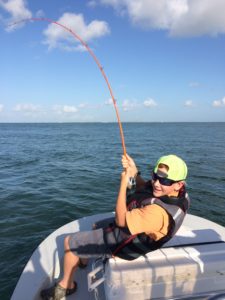 Taylor putting the wood to them!
On the flip side the trout action in poc is on fire!!! My fishing partner and I have been getting great results, fishing croaker in the surf and bays. My son went to Colorado for a week and hooked a few brown trout and a couple rainbows. After 3 days there he told me he had yellow mouth fever so upon his arrival Sunday, we hitched the boat and loaded the rods for the cure.
Sacking them up.
Yesterdays trip to poc was outstanding. Surf was flat so at dawn patrol we found what we were looking for. Baitfish jumping in a back current coming out the breakers is best I can describe, we anchored and game on. After a quick fix of 15 in the box we headed for the bay. Coming back through the jetties we saw the birds feeding on chad the jacks were blowing out the water. A quick change to a silver spoon with steel leader meant time to hook a jack daddy. After a 50 min battle with one about 40lbs on 12 lb big game green we boated and released. So what to do now one jack is about all a man wants or should i say can stand on trout gear anyway.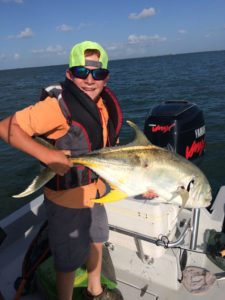 One jack is enough, but fun on trout stuff, for a minute!
It was towards greens with hopes to hook some reds. The reds didn't cooperate but we had a blast seeing who could catch the biggest trout and Taylor won that with a 24″ trout! His personnel best.

Taylor with his POB.  It will be the first of many.

As I get older I only fish conditions instead of spots. What I mean is while moving from one location to another with the boat just on plane, I try to read the water. Looking for slicks, color changes, big schools of active bait. This has increased my catch rate by slowing down and just reading what the fish are showing me. Thanks chad
The couple of years I have know Chad through the blog he is a solid fisherman, an unassuming master trout fisherman, but most of all, a good man and father.  This man is a shining example of what our sport should be.  He catches fish in all conditions at all times of the year.  So re-read the last paragraph, it is a great piece of advice from someone who is a clear cut above other trout fisherman.  And it sounds so easy, and of course I can hear some of you now saying crap like "Who does not know that?" or "What's the big deal?"  If that is you I call bullshit.  First that technique does not work well at 70mph!  Second, think about it and be honest with yourself, when was the last time you actually slowed down, did not head to the last place you caught them, or that great spot, trimmed out flat flying, and just actually paid attention all the way there?  Tell me you do not as a rule drive by miles and miles of bank without giving them a second look.  So take it for what it is worth.  Chad has no sponsors, no ax to grind, no look at me bragging on Facebook, his results speak for themselves.  And his couple of past posts I put on the blog are a how to on croaker fishing.  So thanks Chad for your continued educating us.  And I will be back in action soon.  Looking at your pictures has me wanting to sneak out of the hospital and catch a few!
******************

The greatest tackle show on earth starts this week in Florida and Michael the designer of the Controlled Descent Lures and owner of My Coast Outdoors is introducing his great plastics to the international fishing world.  Here's to a great show, hope they realize what a fish catching innovation the Controlled Descent Really is.  If there ever was a new product that deserves recognition it is your cool lure.
*********************
I am now 2 days post-op.  Still the old IV thing and hooked up to the pain pump, but a couple of other not so pleasant things are done, thank God.  Just have to keep getting up and move about.  I am being a good patient, unusual for me, and if all goes well I could be free by the end of the week.  And I want to thank so many of you who have emailed or sent me your kind words and well wishes here or on Facebook.  I won't put them all up, it would be to self serving, but suffice to say you don't know what it means to me.  If I started naming you all it would take a page, but you know who you are and you have my thanks.
And I do want to say a kind word about Detar Hospital, they have been great.  From the ER, through Surgery and now the floor, I have been pleasantly surprised.  My past experience at other hospitals clearly left something to be desired, but not here and I am grateful for that.  There has been a couple of nurses who have been especially caring and compassionate, and as soon as I get out of here I will be contracting their supervisors letting them know how lucky they are to have them.
So I may not be on the water, but I am keeping up with things online, and the fishing on the Bay is on fire.  So if you get out on the water drop me a comment, my turn to fish vicariously through you all.  Nothing else to say but keep dropping in and thanks for reading my stuff.
Good Luck and Tight Lines