FISH CATCHING TRAVEL
Brought to you by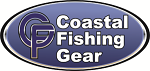 ** For a super deal on your Wade Right use promo code FCT15 and get 15% off on your online  order!**
My buddy Clyde made his annual trek to Canada, which he has been doing for over 25 years, and it was another successful trip.  Muskie Bay is the place, Crow Lake and Lake of the Woods give you all the water you could fish in a  lifetime.  One thing I love about Muskie Bay, if you ever wanted to cross a muskie off your bucket list this is the place.  And I can not say enough how great the folks at Muskie Bay treat you.
Great fish!
Muskies are a definite bucket list fish.  They are the top of the food chain in the north woods, and most days are completely oblivious to the boat.  If you like the visual, which is a huge fish opening his mouth and eating your lure at boatside with  a couple of feet of line out, this is the fish for you.
Here is his comments on the trip:
This year at Muskie Bay the light colored jerk baits were the way to go.

We walleye fished one day and caught them jigging aggressively in 6 foot of water.  John's daughter and granddaughter went this year and after a lessons started wearing them out. It was nice to have some youth around.  The walleye bite was excellent on light tackle with jigs and plastics or Berkeley power minnows ; lots of 25 to 30 inch pike  on light tackle ;very slow on buzz bait.

Paul, Chris and Jake were good hosts and these lakes are fish factories.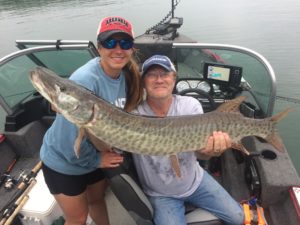 Now that is a freakin' stud!
I am sure the gang at Muskie Bay did their usual bang up job.  If you ever wanted to take that bucket list trip to Canada this is the place.  They are great folks and will do whatever they can to help you boat that fish of a lifetime.  And to your comment on having youth around, that is what it is all about.  Sharing the love of the outdoors with young folks, and when we are dead and gone they will be taking their kids and family on these kinds of trips.  And the beat goes on.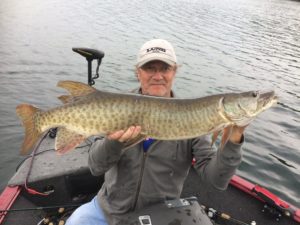 Muskies are the great predator, and they know it.  It is so cool to see them follow the bait all the way to the boat and then eat.  One of those great moments in fishing.  And as these pictures show, they come in all sizes and colors, one of the most beautiful fish swimming.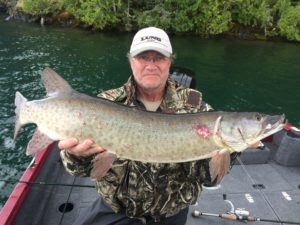 One solid muskie!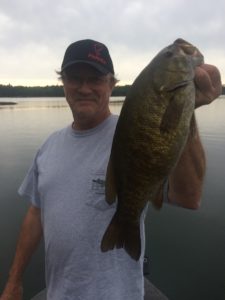 And there are plenty of smallmouth available.
Though muskies are cool, there is a world of nice fish to be caught out of Muskie Bay.  Perch, largemouth, smallmouth, walleye, lake trout, muskie, plenty of fish to keep an angler on Crow and Lake of the Woods busy.  The smallmouth fishing on Lake of the Woods is world class.  It is possible any day to catch a 100 smallmouth in a day, it really can be awesome.  So looks like another great trip, maybe someday I will make it again.  That's the dang problem, so many fish, so many places, so hard to choose.  Thanks for the pics.
******************

*******************
Speaking of Lake of the Woods, it is where I caught my biggest muskie 4 years ago.  The reason I wanted to show it to you (besides it still blows me away) is that almost every one of the dozen or so I ever caught came on bass fishing lures and tackle.  It you can throw a jerk bait you can catch almost everything that swims up there.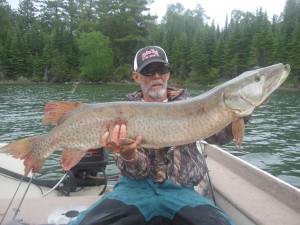 This one came on a Red Eye shad in a foot of water.  The point is you don't have to go hog snot crazy with tons of tackle, a good braid and wire or heavy fluoro leader with your flippin' stick and you are good to go, except for the huge net.  In fact most of them I was lucky enough to boat came on regular medium heavy equipment.  And the great benefit is you continue to catch pike, smallmouth, and the occasional walleye, then out of the blue it happens.  Cool stuff.  So if you ever wanted to cross one off your bucket list just do it, and Muskie Bay is the place to get it done.
If you want to get your fishing juices flowing check out their webpage.
There are dozens of Canada posts on the blog, so if you want to see or know more just put muskie into the search box on the right and there is plenty of information about fishing there.  And the first article I wrote on Muskie Bay is in the Fish Catching Travel section at the top of the page.
*******************
It is noon on Friday.  I just got back from all the pre-op stuff at the hospital prior to heading to surgery Monday morning.  It has been a struggle, and it continues to be one.  Though the Boss works there and has been in health care for 35 years, it is unbelievable what has transpired.  Everyone has their hand out, it is crazy.  And how poor folks without any experience in the system navigate I do not know.
The  punch line is today is my last chance to fish for a little.  So even though it is hot and humid I am hitching the boat up and headed to Coleto.  Not sure how long I will last but suffice to say this will be it for a while.  Like I have said in the past, every day on the water is precious, and when it is taken from you it confirms that, fish while you can.
I guess this is time to fill you in.  I go for major surgery Monday.  I will be in the hospital for a week, yikes!  Then it will be 3 weeks of laying around on my ass doing nothing,  After week 3 it will be 3 more weeks of limited physical activity.  The worst part?  The surgeon says I can not even ride in a boat for up to 6 weeks!   Wtf.  Guess they don't want my guts slipping out and landing in my lap – for the love of God!  He did say I can wade or pier fish, but none of those back breaking rides across the bay.  Obviously he is a fisherman.  There is one bright spot, as long as it goes like he says it should cure me and I should be good as new, so it is better than I feared.
Unfortunately the next fishing report will be it for a while.  I guess if I have to be laid up hot summer time is the best timing, if there is a good time for this.  So keep stopping in and thanks for reading my stuff.
Good Luck and Tight Lines