FISH CATCHING TRAVEL
Brought to you by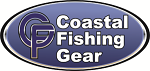 ** For a super deal on your Wade Right use promo code FCT15 and get 15% off on your online  order!**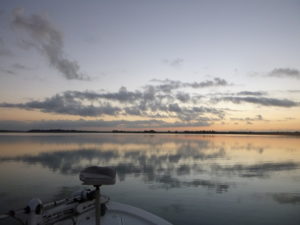 A great morning to be on the water.
Since I have to go to the dentist, the principal's office, or court tomorrow, (read surgeon) and take the drilling, my punishment, or go to jail (read the bad news) it was time to at least get in a little fishing before whatever might be coming.  So while I was not feeling all that hot I was on the water at 6:20.
The morning was beautiful with almost no wind.  The lake has come up a little with the water temp at the ramp 92 degrees, way up lake it was 88.  The water up lake has a nice color to it, and that little bit of added cover didn't hurt anything either.  So it was straight to where l knew a few were, and they were there.  To bad it just did not go all that well.
The only good one I could get in the boat.
Starting with a buzzbait I finally got a nice one after about an hour.  It was not one of those little pull it under bites, she smoked it.  I kept after it a while and finally switched to the white swim jig with a white trailer, and the bite was on.  It turned out to be one of those good news/bad news things.  While I boated a good 6 or 7, I had multiple disasters, all because of a lack of concentration.  That little bit of feeling ill had me off my game just enough that I paid for it.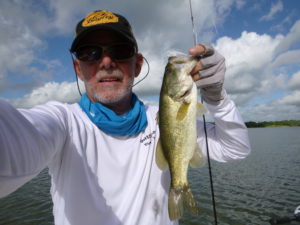 Of course this size stayed on.
Almost every single bite, and I had a bunch, came within 5 feet of the bank.  Unfortunately in one stretch I lost a big one, then another, then actually broke another one off.  At this point I was definitely frustrated and not feeling worth a hoot, not the best combination.  After the one broke the line it was time to go a little heavier instead of the 12lb line.  I switched to the bluegill swim jig with the crawdad trailer on braid with a 20lb fluoro leader.  Though they definitely liked it as well, another good one came unbuttoned.  It really turned into a lose em' fest.  Missed, lost , broke off, jumped off, it all happened.  And of course the small ones all stayed on.  I can not even guess how many managed to get off, unfortunately it was more than I boated.
So at 9:30 I called it a morning.  The fishing really was pretty good, to bad I wasn't.  It really was a lesson in how important concentration is to fishing.  As I always say it is the little things, and today I failed miserably in that department.  Not checking the line after a few fish, improper drag setting, letting them jump, not setting the hook hard enough, it all happened.  But don't get me wrong, it was actually a good bite, to bad I did not get the job done.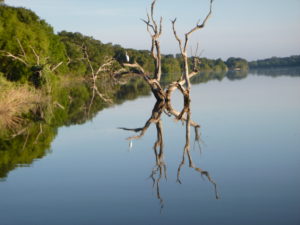 A last word on Coleto, they are catching crappie from one end of the lake to the other.  I actually saw one boat catch one when I went by, the another hit a pile and caught one across from me.  Considering we are in full on summer the fishing is pretty good.  This little rise did not hurt anything and there might be a pretty good catfish bite for a day or two.  So if you like freshwater Coleto has plenty to offer right now
******************

*******************
First I want to thank all of you who have sent me words of encouragement.  And one I got from Ervin is really on point, especially after my short trip this morning.
Doug, here's best wishes for kicking whatever's ailing you so you can get back on the water soon and keep these reports flowing. I've never commented before, but I really enjoy reading you stuff and I've been learning a lot. I really appreciate you sharing your knowledge. This getting old isn't for sissies, is it?
It always makes me smile and feel humbled when I get this kind of comment.  It really is the plan to share some real information that hopefully folks can take to the water and catch a few.  Though clearly not Van Dam, or the best trout fisherman on the planet, I have caught my share the last 60 years, and if by reading this folks catch even one more fish then mission accomplished.
And your comment;  "This getting old isn't for sissies, is it?", is one of the more timely and astute things anyone has said to me in a while.  At times I  sure see why folks just basically give up, though clearly that is not in the plan.  In my case it really is time to man up, so I will do what I am told, and start planning my next trip.  Thanks for your kind comments.
******************
And as usual it was good to hear from Jim.
Doug I know you'll hang in there buddy.  I'll be sitting here waiting for your next post whether tomorrow or six weeks from now.  I headed to Swan Lake leaving Seadrift, I say near but right off of Mission Bay, so we were 4 fisherman fighting the wind and the fish.  We ended up with three fish which made the size limit and we're happy with that.  The sun was hot and the wind beat us up a little bit, but we're back at the house drinking a beer.
Sounds like a wonderful time.  Nothing like getting your butt kicked coming back across the bay.  It is not always about catching them, though of course that helps, some trips just end up being classified as an adventure, and it sounds like that covers your last trip.  But when you can head to the house and finish the day sharing a cold with friends it somehow turns things into a great day.  It is all in the telling.  Keep in touch.
*****************
It really is driving me nuts seeing all the bay pictures online.  A great motivator to get this stuff dealt with and get to feeling good again.  It was nice to have a good bite this morning, not to mention plenty of deer, I scared the crap out of a big bunch of hogs, alligators on the prowl and birds feeding everywhere.  Saying that reminded me that several of the fish came from the areas with the shorebirds working the bank.  Guess everyone was on the chew this morning.  Not sure when I will get back on the water but it will be as soon as possible.  So hang with me a little bit and thanks for reading my stuff.
Good Luck and Tight Lines