FISH CATCHING TRAVEL
Brought to you by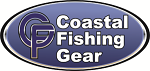 ** For a super deal on your Wade Right use promo code FCT15 and get 15% off on your online  order!**
Here I sit Tuesday morning watching the radar and it could not be situated any more right smack on top of POC if it tried.  My plans to make the bay have been thwarted so far this week.  We needed the rain but I really wanted to fish the bay.  I got up early yesterday and the rain was on top of POC, so after a couple of hours I decided to just hit the lake for as long as it would hold off here in Victoria.  Suffice to say that went over like a lead balloon.  One of the responsibilities of having the blog is telling it like it is good or bad, at least if you want some credibility.
To make a boring story short, I fished from 7 until 11:30 and caught a total of 4 bass.  Unfortunately they were to small to even qualify for a picture.  It would have been embarrassing.  The first mistake was when I decided to start in the plant arm.  With the fish biting the last 2 trips until about 9:00am it is imperative to be on them first thing.  So once I did not find them it was all over but the crying.  The few I did catch came on white swim jig, and for some reason they were not the least bit interested in buzzbait.  This was definitely a day where I should have started in the area where I knew the better fish were and got it while the getting was good.  Simply a case of me over thinking it, or not, whichever way you look at it.  Not sure why it was slow, but it was.
*******************

********************
I could not be any more excited for Michael of My Coast Outdoors and his Controlled Descent Lures.  He is at the ICAST show highlighting his new bait.
Beyond excited to have Controlled Descent Lures in the New Product Showcase at this year's ICAST event. It's truly a dream come true and we cannot wait to experience it all. For those that will be attending and can cast vote, please check out our Controlled Descent Jerk Shad. Forever thankful for your support. www.mycoastoutdoors.com
. #getinhaled#mycoastoutdoors#controlleddescentlures
Good Luck, hope you sell a semi full!  Just when you think there is nothing new under the sun something like the Controlled Descent Lure pops up, great concept and they catch fish.  Driving me nuts right now I am not waist deep in the bay tossing one!
********************
When I was putting in at the lake Monday a guy came over and introduced himself.  I love meeting all of you and in this case it was Johnny, who I "knew" from the blog and the occasional pictures and reports he has sent in the past.  Nice to put a real face to the name and I enjoyed speaking with him.  Love of fishing makes us all comrades.  He is catching them on swim jig and had a 4lber his last time out.  So it was great to meet him, and the rest of you hollar at me anytime.
I noticed he is running a Bass Cat, manufactured in Mtn. Home, Arkansas, my old stomping grounds.  It was a reminder of how influential that small area of the country was to bass fishing.  The first Bassmaster Tournament ever on Beaver, Ranger Boats. Champion Boats, Bass Cat, Sam Welch invented the first real bass jig, Rebel Lures, Norfolk Bass Club had Rayo Breckenridge the second Bassmaster Classic winner as a member, and on and on.  It was a cool time to live there as bass boats went from stick steering cigars to 20 foot v's with a 200hp, it was a real race.  And having a tournament partner who as a plant manager at Ranger  had the best and latest, I had the pleasure to fish out of the new stuff.  It went from glass rods to Fenwick graphite blanks that we spent $50 on and tied ourselves,  which was big money in those days.  And in the mid 70's they introduced the Lew Speed spool, I had 2, the first real low profile reel.  That all adds up to why I still have this love of bass fishing, it was a cool time to live there.  I am sure many of you who have lived here all your lives have seen those same changes, which are still going on in the saltwater arena.
********************
There was a story online the other day that is as worrisome as can be.  Those worthless freakin' Big Head and Silver carp have taken over thousands of miles of rivers, in most cases overwhelming all the rest of the fish and leaving nothing but carp.  In an effort to keep them out of Lake Michigan, and then the rest of the Great Lakes, they have erected a electric fence across the Chicago River in an effort to stop what could be a true environmental disaster  Unfortunately a mature carp was found above the fence.  After the decades and millions of dollars bringing the fishing back to Lake Michigan it is disheartening to think about what could happen.  Pray that is doesn't.  Many of the lessons we have learned about the introduction of exotics are hard ones, and this may end up being one of the worst.
*******************
So here it is almost noon, the weather has settled on top of POC and has not moved for hours.  I just could not take it anymore, boat already hooked up with the bass stuff in it, so with an order from the Boss for a fish fry tomorrow, I again gave up on the bay and headed to Coleto.  There was no question big weather was on the way, it was just when and how bad would it be.  It was cloudy and rained a little off and on during the afternoon, and about 3:30 a big front blew in.  As the wind picked up there was a slight change to the north with a little cool in the breeze, I new it was coming so I headed for the ramp.  I made it just right and as soon as I got it on the trailer here it came.
What made it different from Monday morning when I caught very little, was I stuck to what little pattern I have shallow, and it worked.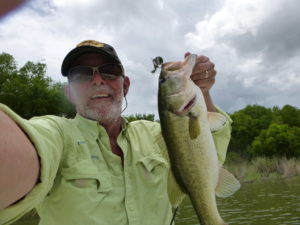 Love it when this size eats a buzzbait!
As the buzzbait bite comes to a close, with the deeper summer patterns taking over, there are still a few bass shallow.  Only fishing 3 1/2 hours I concentrated on patches of green grass.  Though the falling water at the lake has gone out of most of the green stuff, there is still some available.   The fish are in it, and you have to throw the buzzbait right in it, same with the swim jig.  Most of the fish I am catching on the swim jig hit it right off the bank, same with the buzzbait. The bites are clearly a reaction bite, put it right in front of their face with no time to think and they will eat.  You can almost reel it a couple of feet and then burn it back as they are not chasing.  Most of the swim jig bites have come on a jerk, then fall, right in front of the cover, so give it a jerk before it is over 2 foot off the bank.
The best on the swim jig today.
I am ok with the short afternoon results, I think it was 6, half on buzzbait and half on swim jig.  If the storm had not blown in it had the makings of a pretty good day.  As I have not fished in the evening I was wanting to fish later to see how the bites is at dusk but heavy rain combined with some thunder and lightning is my clue to quit.
Today I am spending some time with the Boss as she is off.  Looking at the weather it is finally settling down and I am anxious to get back to the bay.  So keep stopping in and thanks for reading my stuff.
Good Luck and Tight Lines