FISH CATCHING TRAVEL
Brought to you by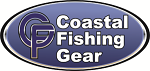 ** For a super deal on your Wade Right use promo code FCT15 and get 15% off on your online  order!**
Since the last time I hit the lake it was basically over at 8:30 it was on the water as it just cracked daylight.  In fact I was fishing at 6:15.  Since there has been no rain lately I assumed that the upper end would be clearing, and it was.  The water temp at the ramp was 87 and from then on most of it was in the 90 degree range.  And with the lake clearly falling, and the one ramp starting to silt in, I wasn't sure how it would go.  The lake needs a little rain.
Weather
96/77  Mix of clouds and sun.  Winds 10 – 20 SSE.  0% chance of rain.
Lake Level    .
5/8/17 – 97.17 msl    Today  – 96.45  (Down 3/4 of a foot in 6 weeks.)
Solunar Times
10:32A – 12:32P
4:16A – 6:16A  (Were biting as soon as I started.)
I didn't catch one on my first cast, but it was close.  Starting with a buzzbait, duh, the second fish broke the wire so I had to put on a new one.  I got lazy, and it ended up costing me.  Switching a skirt to a toad on the new buzzbait, they have been liking it the last 3 trips, I did not take the time to put on a trailer hook.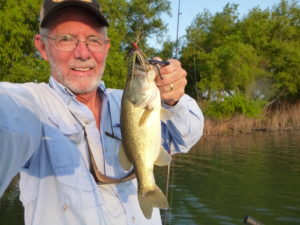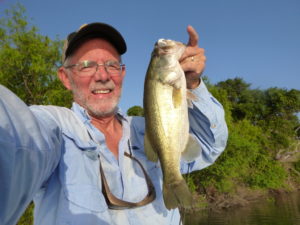 Not fast by any means but they did bite.
I caught a couple of small ones and had two smash it and not even hook up at all.  At this point it is getting apparent that it needs the trailer.  But I make another cast and there she was, blew up all over it and in the boat she came.  One thing can be said about the lake right now, keep it in the water and there is a pretty good chance to boat a big one.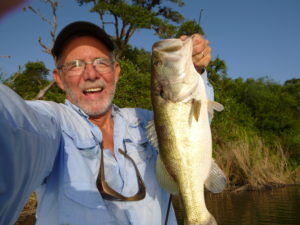 I just love it when this size explodes on it.
So now of course there is no need for a trailer, right, until 5 casts later.  The minute it hit the water it disappeared in a big boil and I just did not get a good hook set on her.  All the way to the boat, looking good, and she just pulls off.  My fault all the way.  Last trip I took a minute to straighten the trailer hook and caught the biggest fish of the trip.  Today I got lazy and did not take a minute to put on a trailer and it cost me dearly.  Like I always say, it is the little things that separate a good fisherman from a great one.  Everything on every cast has to be perfect.
The bite was on until about 8:30 or 9:00 like last trip and then it slowed to a crawl.  The wind came up and with white caps and a high sky the buzzbait bite was clearly over.  I decided to fish a little more swim jig down lake as I caught one on it earlier.  So I headed to a main lake deep channel bank and fished the grass edge.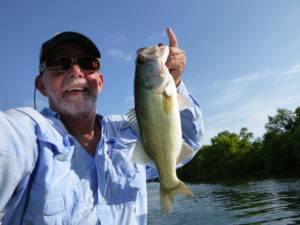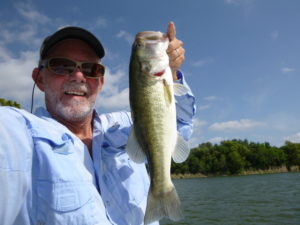 A nice average for today.
From 9 until I quit at 11:30 I had 3 more bites on the swim jig and boated 2.  Of the 3 or 4 on swim jig today they definitely wanted it jerked erratically while reeling.  The last one came right to the boat, freaked out, grabbed it, and I flipped her in the boat.  Love seeing them eat like that.  With the bite slowed and already above 90 degrees I called it day.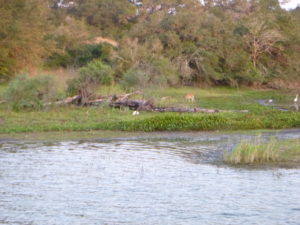 Everybody was eating this morning.
All in all a great morning.  Deer were moving everywhere and a really small fawn was hiding in grass, in the water, and I scared the crap out of it as it did not hear me coming.   Life was moving everywhere today, it was that kind of a morning.
The better fish were on the deeper banks, with falling water and high temps that only makes sense.  Today there were a couple of places where I got 3 bites on the buzzbait.  I should have boated a few more, they gave me plenty of chances.  If I had to guess it was around 10, half of which were small.   But any day I boat a big fish is a successful day.
On a more general note I spoke with a guy at the ramp who had been here the week.  They are big jug fisherman.  They had a really slow week compared to their usual success.  He said he normally needs a gaff but they did not boat any that size this week and their numbers were down.  And from what I gathered they fished from the campground to way up lake.  They use a specialized rig to fish channel edges, great for big cats.  So not quite sure why it was slow for them, but it is changing as summer comes on full bore.
On the other hand the crappie are still biting.  Most folks on the lake are chasing them, and I took a peak in the trash can at the cleaning table and they are definitely biting.  So if you are looking for some tasty table fare they are out there to be caught right now.
*******************

********************
My buddy Faye sent me this.  Pretty impressive.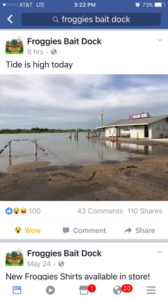 Though I really wanted to fish the bay with the water this high you just don't know what to expect, at least I don't.  So combined with the potential winds today the lake was a little better alternative, and it ended up working out just fine.  I will be interested to watch the posts from the bays this weekend and see how it goes.  Even with the high water being the weekend there will be folks out there.  Monday I will be there and it can not come soon enough.
*******************
My buddie's stepfather has a nice spread with a good quail and turkey population.  So he decided to thin the critters out a little hoping to keep nest predation down and ended up catching a bunch.  Amazing sometime how many animals are out there trolling around and we just don't see them.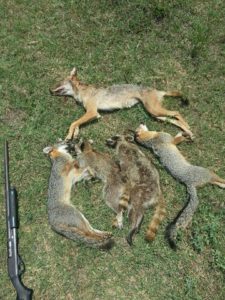 Some grey fox and a couple of coons.
************************
I am so happy to be back in business.  If the rain will just hold off the first couple of days Monday and Tuesday I intend to get back to the salt.  Got a new rod, some new Controlled Descent Lures, and a new attitude.  And there is lots of other places to go and fish to catch, every day I get to spend on the water doing the thing that we all love is a blessing and I am just plain lucky.  So keep stopping in and thanks for reading my stuff.
Good Luck and Tight Lines