FISH CATCHING TRAVEL
Brought to you by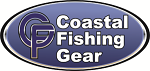 ** For a super deal on your Wade Right use promo code FCT15 and get 15% off on your online  order!**
********************
It was good to hear from Chad the Mad Trout Fisherman again, and he sent us this detailed report.  Folks Chad is a croaker pro and has shared his knowledge with us in the pat and you won't get any better tips than from the Mad Trout Fisherman.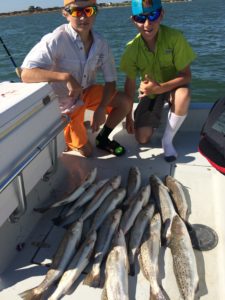 Hey Doug I couldn't agree more about the Facebook post i don't have it myself but my friends are always talking about it. I still read your blog, but haven't posted in a while. I spent a week in poc last week with my son Taylor, and a few of his friends came down. As you know I love turning little fish into big fish!

Croaker season is the upon us as water temps began to soar. There is nothing better than taking 12 yr olds out to experience a smack down on some healthy specks. As for me and my fishing partner we both did a upgrade on our boats. I bought his 22ft gulf coast and he got a 23ft Shoalwater cat with 120 hrs on it. Practically new. Fishing has been catching for us when we are able to do a few things, find water that's clear and off color near by with bait being present. The size of hooks really need to match the croaker. meaning i may use 3/0 one day and 6/0 the next.

I found that the really big croaker that I usually let go when I see them in my bait bucket can be really effective on big trout.  By placing the hook in the eyes and working them like a big crank bait has paid off big time.

Throw them far where you see big mullet, let them sit for 3-5 seconds then reel them as fast as you can for 10 ft stop them for 3-5 seconds and repeat. Note when you stop them be ready for your rod to be jerked out your hand. By hooking them in the eyes it allows the to look natural coming to you and you can get several more cast out of them. Important note about your bait, all bait stands ain't the same. You want your bait to be frisky and no red spots or tails missing. My suggestion is really pay attention when they are getting your bait out the tanks. If you see this, ask to get them out of another tank or go to another bait stand. At 8 dollars a dozen. Its okay to be picky. Heck don't you check the eggs at the supper market before purchasing. The croaker clickers we prefer have to be made. Ill send a picture with this post and tackle box has everything you need to make them. The clickers really do make a difference.

The size of fish this year beats last year the but quantity of schools of fish is way down in my opinion. But the fish that hatched five yrs ago hatched in a drought. So keep that in mind. Please be considerate on the water and if you are a shoreline burner, quit being so thoughtless as our young kids cant wade deep so stay a hundred yards off the shoreline. Thanks chad
Where to freakin' start on this great report.  First, I love the way you not only spend really quality time with your son in the outdoors, but you are taking the time to spread your love of fishing and hunting with his young buddies.  Nothing is more important to your son and his friends and I can only imagine how excited they must have been.  I can just see them at the cleaning table playing it cool.
Second, all the "look at me" posters on Facebook are just that, posers.  There are so many great fishermen out there who do not blow their own horn, they just catch fish and go on.  I am so appreciative with you sharing your fishing knowledge with all of us.  There is way to much bragging and not near enough sharing of information.
Next, I remember last year when you were kind enough to share how you were catching them, and I immediately applied it to my fishing and it worked.  So if you are reading this and fish croakers pay attention, this is information that will put fish in the boat, period.  And it must be cool to crank it fast, then stop it, and have one knock the crap out of it.
I wish I had something to say about how rude folks can be to waders, but no matter how many times folk say it, some folks just do not get it.  Why in the world when there is acres of water in the bay and someone runs close has always puzzled me.  Education is the answer, but unfortunately you can't fix stupid!
And last, congrats on the boat.  I know it is nice to upgrade, but it is not the boat folks, spend all the money you want on some high dollar boat, but Chad has been catching fish like this for decades, out of an aluminum jon boat.  It is not the size of the boat but the size of a fisherman's knowledge, and you have my sincere thanks for sharing your knowledge with us.
*******************

And I got this comment from SAJoe, who is rubbing it in.
I guess I'm having to rub it in some while you are laid up.

Headed north to Chicagoland and Mazonia gravel Pits, Been doing 50-75 bass a day. Its a blast when they come look at the bait in clear water, pop it once and they attack it.

The in-law ponds on their community act like they never see a lure, lizard, craw. Should count how many bass i catch walking around their 3 ponds.

Sorry to rub it in. Not really….but my thumb needs reconstructive surgery cuz its worn out from lippin them
Rub it in all you want.  I cut my teeth fishing creeks, ponds, and pits.  Some of it was in the "good old days" when bass fishing was nothing like it is now.  Nice to know there are some places left like that.  So get em' while you can.  Good to hear from you.
***********************
And you wondered why it does not run right.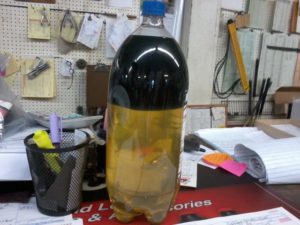 I figured as long as I was going to be laid up for a few more days it was a good time to take the flats boat in for it's 100 hour service.  Sitting on the counter was this liter bottle with I am not sure what.  Angie said they took 7 gallons of water out of that fuel tank.  So if you find that great boat that has been sitting remember this, that could be what's in the tank, or even worse, what is in your tank right now.
***********************
What a great report from Chad.  Like I always say it is the little things that make the difference, and that technique of reeling them fast and the stopping the bait must be so much fun.  I can only imagine the anticipation.  Reel, reel, reel, stop, then THUMP.  Oh yea!
On the medical front I finally am done with the medicine from hell, and I am getting back to normal.  I get to spend a little time in the hospital in the morning for a test, then I am free.  Free to do what?  How about a stinkin' beer?  Not trying to tell on myself, but I have to admit is has been a while (maybe 30 years) since I went 14 days without a beer.  So after tomorrow's test I will admit that a cold one sure will be nice.  But better than that, I can get back to doing what I do, fishing.  Somebody has to pay for this, think I will take it out on the trout!  So keep stopping in and thanks for reading my stuff.
Good Luck and Tight Lines