FISH CATCHING TRAVEL
Brought to you by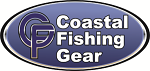 ** For a super deal on your Wade Right use promo code FCT15 and get 15% off on your online  order!**
********************

I did want to comment on Michael Okruhlik, the owner of My Coast Outdoors and designer of the Controlled Descent Lures, going to ICAST.  The biggest and best trade show in the country, it is a great place to introduce new products and is attended by the who's who of the fishing industry.  Good luck and hope you have a good show, it is a big step.  It is a great product and should be well received.  And we will be looking forward to your Facebook posts at the show.
*******************
A Reader's Amistad Report
I get the occasional question about fishing somewhere and it is so nice to hear from folks after they get back.  And folks, I told you it was good!
Hi Doug, your tips on Amistad were great. My buddy Joe and I went Tue-Friday and caught them until our hands were sore. Probably 40+ fish for each of us each day. Biggest was 3.5 lbs but many in the 2.5 – 3# range….and LOTS just short of 14 inches.

Joe with some good ones.

We fished Castle Canyon and Devils River, where we liked the rocks and banks better…and had more success. Every point had 2 fish on it. Some on crankbaits (KVD 2.5 square bill in Sexy Shad color) but mostly on plastics. Lizards, senkos, flukes, it didn't seem to matter as each caught fish.

And Roy with a nice mess.

I did some scouting too, searching out the status of Amistad Resort and Anglers Lodge. The resort is boarded up and chain link fence surrounding it. Angler's lodge has been bulldozed over. So no lodging that is set up for fishermen. I stayed at the La Quinta, right next door to the Ramada Inn. Nice enough room, but would have been a real problem if we were trying to leave for a tournament. We parked the boat and unhooked it and then parked the Tahoe next to the boat. Luckily, the vehicle parked ahead of the boat left just as I was contemplating how to hook up the boat. It was still a challenge to extract the boat from the cars tightly parked around me. We managed but it wouldn't have happened at a 6am tournament time, where many guests were still parked. I think we were the only boat in the entire parking lot. If our club were to have a tournament at Amistad, I'm not sure if there are many places that can accommodate boat and truck parking.

Indian Cliffs on Devil's River

I'm headed back next week…Tues-Thursday and will make a few scouting trips to other hotels to check out parking situations. I'll give you an update after that visit. Thanks again for all your info and inspiration!
Thanks for your kind comment, looks like you guys did great.  And I love the picture of Indian Cliffs, a must see even when I don't fish that far up.  Last trip I did, and actually caught a few in those very trees.  I really appreciate your follow up and if any of the rest of you have any suggestions for places to stay let us know.  I actually stayed at Angler's Lodge and it was by far the dirtiest place I have ever stayed, so no great loss.  Keep in contact. 
**********************
It has been tough being stuck at home but it is coming to an end.  As soon as I get off this medicine from hell it will be directly to the Gulf.  What has really made it worse is the report from the Austin boys on the LLM.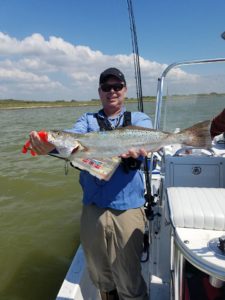 Congrats to my buddy Todd on his personal best!
According to their Facebook report they caught 2 personal bests along with somewhere around 150 yesterday, nothing like an epic day to keep the juices flowing.  Hope to get a full report on where and how when they get done smacking them.  Way to go guys!
*******************
Again thanks to all who sent me well wishes.  I got his comment from Jim, who has divined the issue pretty succinctly.
Sounds you are on your way to recovery Doug; good to hear. Be cautious about going full throttle after you get on the water if you know what I mean. I need your inspiration!
I will do my best to keep it to a dull roar at first, but I have to admit seeing all the reports, the bay is on fire, makes me want to hit it hard.  It always amazes me when you have a little sick period that you really don't know how bad you felt until you feel good, and I am feeling good.  Time to get out the stuff and get organized!  Can't remember that last time the boats were not in the water for a couple of weeks.
********************
One thing about having the fishing channel when you are out of commission is there is something to occupy the time.  Of course the downside is it just might make it worse in some respect.  Can't go, so watch, then want to go, but can't go, ends up driving me nuts.
********************
Monday is the last day of the meds, though according to the info the effects could linger another 3 days, though I have no intention of lingering around the house.  So while I am not sure when I will be on the water, it is coming.  I really appreciate you all sticking with me, we will be back on track this week.  So keep stopping in and thanks for reading my stuff.
Good Luck and Tight Lines