FISH CATCHING TRAVEL
Brought to you by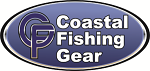 ** For a super deal on your Wade Right use promo code FCT15 and get 15% off on your online  order!**
The best laid plans of mice and men, in other words when I get up early tomorrow morning (Monday) it will be turn on the radar and look out the window.  Then it will be fishing POC, I hope, or the lake if it looks to sketchy.  Or maybe nowhere, as a 60% chance can mean all out flooding, or not a drop, often times depending on where you are standing at the moment.  So I will get both sets of stuff ready to go, because unless it is to damn ugly it will be fishing somewhere.  (The forecast below is for POC, I just checked Victoria and it has a 90% chance of heavy rain, possibly over and inch, so we shall see.)
Weather – POC (Tuesday)
82/67    50% chance scatter thunderstorms in the morning, then cloudy.  Wind ENE  5 – 10.
Tides
High   8:12 AM     0.8
Low  10:25 PM     0.1
Solunar Times
Best:   9:04A – 11:04A
Well guess what?  When I got up Monday at 5:00 it was raining and blowing.  I flipped on the radar and it was covered up and would be for hours.  With more rain possible in the afternoon I did the rational thing and took care of a couple of things that needed doing.  So it is Monday evening and I am going to POC tomorrow no matter what.  Lets see how that works out.  I do not have a clue.
*******************
So it is Tuesday morning, I am up at 4:30 and ready to go.  Unfortunately I am not feeling all that hot, but I am going.  The drive to POC is a breeze and I am at Froggie's as it barely cracks daylight.  Load the stuff up, back the boat in, and the trim only goes down so far, then makes a weird noise, and stops.  So I try it a couple of times but the engine will not go down.
I pull back out, look it over and try to get it to work, no luck.  Time to go the house where I can do a complete check.  I thought the fluid was ok, but who knows.  Driving all the way back home to Victoria, then the diagnosis.  There is a horizontal rod that connects with the piston on the trim, and it had worked its way out just enough to hit the inside of the motor bracket.  It turned out to be simple fix, so the only thing left to do was hit the lake, I sure wasn't driving back to POC after I missed the perfect morning.  Bad choice.
Getting there about 9:30 the lake was clearly up.  Since I have a fish fry request for the holiday weekend it was going to be a meat hunt.  The fish decided that they were not having any of it.  In 3 1/2 hours I caught one 13″, and not another bite.  Buzzbait, crankbait, swim jig, and pitching plastics were an almost perfect strike out.  There was not a fish in visible cover.  I can count on 1 hand how many times that has happened on Coleto.  At this point the wind is not blowing, it is hot and humid, I am wishing I was wading, and I don't feel perfect.  Then I see the biggest freakin' snake I have ever seen in a brush top, but by time I got the camera out it was gone.  Dang it.  I saw 3 snakes today, unusual for Coleto.   But it gets better.  The boat has a livewell that self fills on plane, but it does over fill at times and put water in the bilge, plus I just washed it, so I was pretty sure there was some water in the bilge.  As I put it on plane for a move I hit the switch and nada.  No noise, and no working bilge pump.  There are several things you can do without on a boat, but a bilge pump is not one of those things unless you are nuts.
At this point I am done.  Time to go back to the house and replace the bilge pump and make sure the other fix is still good.  I probably spent over 3 hours on the road, went to 2 places, had a small, but important, screw up at both, used over a half a tank of gas, and had one bite.
But the real problem?  I was at Froggie's at the absolute perfect time, the wind was fine, and looking forward to a great day, hopefully with cloud cover and big topwater bites.  Instead it was turn around and go back home.  I guess considering how often I go something like this is bound to happen sometime.
*********************
I was really glad to hear from my buddy Voe.
Hello Doug,
Extremely glad to see you had a very exciting trip to Amistad. Still enjoy reading about the fishing excursions. Have been interested in that new soft jerk bait you have been using. Just need to get off my lazy ass and order it.
Everything on this side of the world is good Mary and I have spent the last year getting this house back into shape and it's looking pretty good.
On the fishing front, I have been using the kayak about once a week and having good results. Bluegill chatterbait is the ticket for me right now.

Take care and say hi to Nancy,
Voe
Great to hear from you and that things are going well.  We had just started really fishing together when he moved.  In that clear water you fish out there a Controlled Descent in a pearl/white jerk shad would be killer and easy to see on long casts.  So when you catch one send us a pic or two.  And now that I think about it a bluegill chatterbait might have been killer on Amistad, there sure were lots of them shallow.  Thanks for keeping in touch.
****************
I spoke with a couple of guys working on an older Carolina Skiff at the ramp.  It was a 96′ which is 4 years older than mine, but what made it interesting, it had a full tunnel with sponsons and a step in the back.  I have seen lots of Skiffs, but this was the only one even close to that.  I am sure it ran fast and shallow, and as I well know, they are rock solid and will be around and in service longer than most any boat ever made.
****************
Today was not so fulfilling, in fact it sucked.  The mechanical aspect is no big deal, does not require professional services, so that is good, but it functionally ruined my day.  I guess the boat and trailer is going to get the once over to make sure the rest is up to snuff.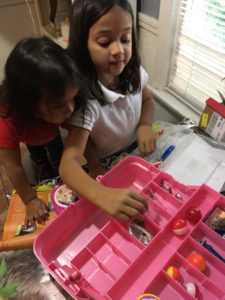 Mia showing Baby Wren her tackle box.  Think about it folks, she is getting her stuff ready on Tuesday for the weekend.  Looks like we may have a fisherman.
And I have some things to get ready for the grandkids.  Mia is the oldest and she loves to fish.  Do you have any idea the pressure on Grandpa?  With 3 days on Travis I should be able to get her a dang fish.  To give you an idea how hard core that little 6 y/o is it took her over 5 hours to catch one out of a pond.  Now that is dedicated.  The rest of you have a great holiday weekend, and be safe.  As usual it will be crazy out there.  So keep stopping in and thanks for reading my stuff.
Good Luck and Tight Lines