FISH CATCHING TRAVEL
Brought to you by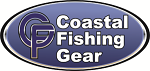 ** For a super deal on your Wade Right use promo code FCT15 and get 15% off on your online  order!**
Today was as good as I could hope for on a short day.  The plan was to fish a half day, and then make the 6 hour drive home, basically a pretty long day.  The weather looked like it was going to be cloudy with a chance of rain, and as I loaded the truck for the drive to Rough Canyon it started to sprinkle.  I was first at the ramp, the wind was blowing about 15, and it was perfect as I slid the boat in the water as it cracked daylight.  With a short day there was going to be no experimenting, just re-fish where I have been catching them.  Crank and wind as fast I can.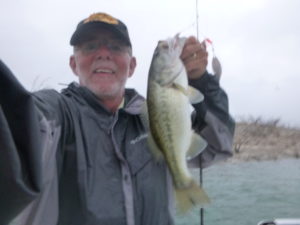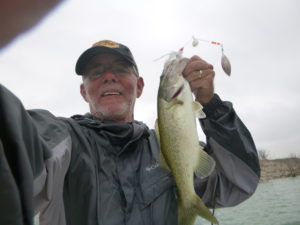 I love buzzing that spinnerbait, the bite is usually explosive.
Funny how things work out.  The best bank was one where I have caught them in the past, and it is right across from the ramp.  It had what turned out to have a long stretch of prime habitat.  They wanted points and rubble, in whatever combination you could find it.  And with the wind blowing on it spinnerbait and paralleling crankbaits was a no brainer.  The only change today was I wanted to throw the Bagley Sunny B 05 in the Shad (SD).  Over the prior couple of days there were fish chasing small shad and it is a perfect imitation.  And it is a really easy bait to crank, good after buzzing that huge spinnerbait for 2 days.  They definitely wanted the spinnerbait making a big wake and it had to be moving the minute it hit the water as most of them were right on the bank.  At this point I was flat wore out.  Pulling that number 5 willow leaf blade is work, but when they would eat it was awesome.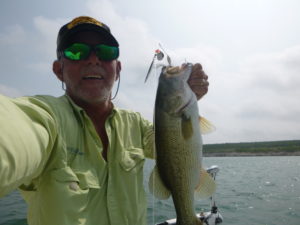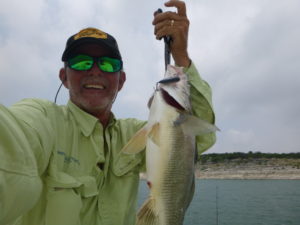 I vote for the fish on the left!
For the 6 hours I fished I alternated with both baits.  The fish were related to points, and if it had big rock on it there was a fish.  The pattern was so specific that you could almost call your shot, but when you missed one you had no one to blame but yourself, it was that specific.  And like so many other days, there just might be a fish on the back side of a windy point waiting for bait to blow by the point.  I basically caught them from the moment I started today until I quit, in fact it was that way the whole trip.  There were actually fish in the coves, but I maximized my time by fishing long stretches of rubble, then the point, then hopping across the cove and fishing the prime real estate on both sides of the point.
I had the good fortune to first fish Amistad 10 years ago or so, it was one of the hottest lakes in the country and then it started a period where it got tough.  If I remember correctly the last trip I made there about 6 years ago it was tough.  Well I can tell you, no more.  The sheer numbers of fish, especially the small to mediums was impressive.  It is on the rebound big time and the future looks bright.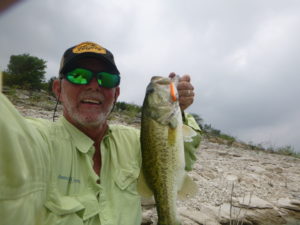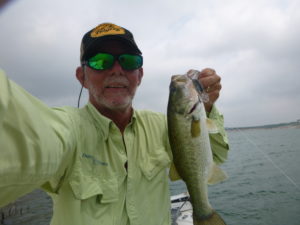 They liked the Bagley Sunny B.
The Sunny B caught fish of all sizes, including bluegill, which are everywhere, not to mention a drum, but it turned out to be different day, same result.  Yes it happened again, I lost the biggest fish I had on today.  The Sunny B is a smaller crankbait, with a tight wobble that drove them nuts, but the hooks are small, matching the bait.  It ran a good 6′ deep on 10lb. line, which is a good match.  So shortly after I started throwing it one knocked a foot of slack in the line and it was game on, for a second.  It was clearly another big fish and I got in to big a hurry.  You can not horse them on a small crankbait, and I did just that.  I can not think of a trip where I actually managed to lose all the big fish I had on, 3 this trip, but as my buddy Tad used to say;  "With your superior skill you managed to F' it up."   From then on it was nice and easy and most of the rest of them came to the boat.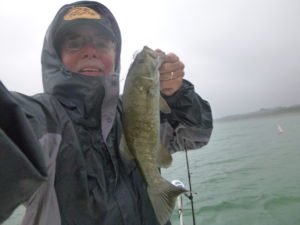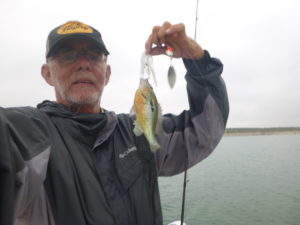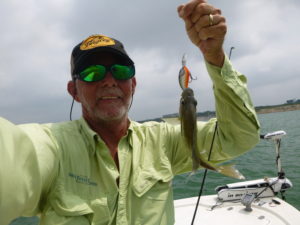 The bluegill were aggressive, should have thrown a bluegill swimbait.
They bass ate the Bang O Lure on top, the Sunny B and the 1.5 square bill, a Pointer jerk bait, and the big bladed spinnerbait.  And on all of those I caught bluegill/bream, it must be full of them.  And today I caught 5 or 6 smallmouth, and though small, they are one beautiful fish.  And of course I handled the big drum no problem, just the way it goes sometimes.
In spite of those 3 moments, it was a great trip.  Over the years I have gotten over losing big fish, fish enough and it happens.  I have learned to take it all in stride, it is exciting when it happens and not the end of the world.  But I will say the first one I lost on day 2 was a real giant, guaranteeing I will be back.  Any time you can cold fish a lake and catch fish from the minute you start, until you quit 3 days later, is a success.  And I can only imagine what the guides who fish it regularly are putting in the boat right now.
Amistad is a really special place to fish, the wildlife, the scenery, and the clear water make it one of the country's best all around fishing experience.  And having very few houses near the lake, along with fishing it during the middle of the week, was like having my own reservoir.  It really was good to know that the fishing is better than it has been in a while.  And for a totally impromptu trip with zero planning it could have gone a lot worse.  I have always liked doing that and will get back to it in the future.  So I am already thinking about Amistad early spring white bass, stripers, and jerk baiting for big bass.  The fishing was good enough that it will be back on the schedule on a regular basis.
******************
This week has some thunderstorms in the forecast for most of the week, we will just have to see how that goes, but I am headed to the bay.  With early morning clouds the topwater fishing promises to be good, and low light never hurts.  So time to look back at May in the search history and read about where it was good the last couple of years, then loading the boat and making it happen.  So keep stopping in and thanks for reading my stuff.
Good Luck and Tight Lines