FISH CATCHING TRAVEL
 They liked that Knocker B today.
POC
I love it when a plan comes together and today was a perfect example of that.  The weather forecast was good, the tide was dropping all morning, and the wind was perfect, in both speed and direction.  I have been looking at today all week thinking it was the day to hit the bay.  So it was back to lure fishing out of the boat.  Sometime it is best to do what you are good at.  I will leave the croaker fishing for another day.
Weather
92/73   Partly cloudy with showers and thunderstorms in the PM  SE wind 10 – 15  Chance of rain 60%
Tides
High   7:31 AM     0.8
Low   6:28 PM     0.0
Solunar Times
Best Times      5:29A – 7:29A       5:57P – 7:57P
Good Time     11:19A – 1:19P
It was just cracking daylight as I zipped over to Big Bayou.  I immediately noted the water temp was down over 4 degrees from last week.  With the water projected to be moving for hours this morning it was definitely a drain kind of day.  And it was a beautiful morning, to bad it is still humid as hell.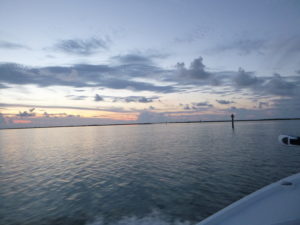 It should have been perfect for topwater and they actually cooperated.   First it was a long stretch headed to a drain, though not a bite until I got to the drain.  I put 3 or 4 keepers right off the bat and some smaller ones on the topwater.  Of course I missed a bunch, it comes with topwater fishing for trout.  Just easing the topwater along in a walk the dog pattern fairly slow they were blowing up on it.  I lost my big Strike King topwater on a huge lady fish, the first of several today.  (And as an aside I ended up losing another topwater later when against my better judgment I tossed it into a school of big jacks, stupid.  I saw several bunches smashing bait today.  The last thing I wanted to do was spend a half hour chasing one of those things when the real fish were biting.)  But before I left that drain I threw plastics for a while, and they liked that just as good.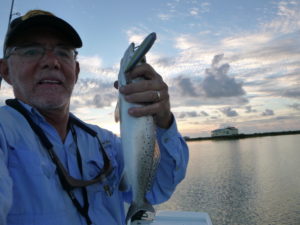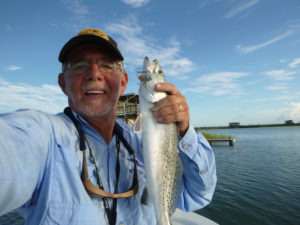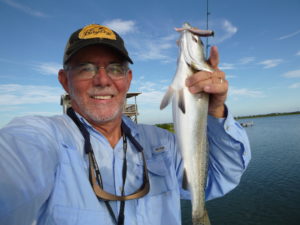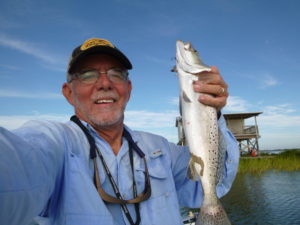 The first drain.  You can tell it was early, my Cocoons were  not even on yet.
After  catching about a dozen out of the first drain it was time to move and see if the bite was on.  I hit a couple of more drains then I hit my favorite deep bank and had a real bite on the plastic.  This was the heaviest trout I have caught in a while.
A quick CPR on a nice thick one.
It was probably around 9 when I just started hunting and pecking.  It was not fast by any means but several things happened that made it an interesting day.  First, in Chad's report the other day (Thanks Chad.) he said they found the fish near the bank, so I started fishing shallow grass and they were scattered here and there right on the edge.  I did not fish anywhere today without catching at least one or two where ever I tried.  Once they got off the topwater it was the 3″ red flake white bottom paddle tail on a 1/8 jig head.  The tide was moving a little to quick to fish the deeper banks with the 1/32, which is basically a wading jig head.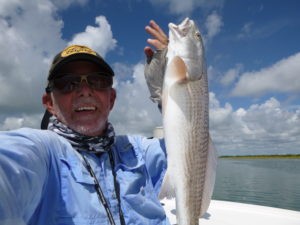 The biggest red of the day.
The other really interesting thing was the trout bit until about 10 or so, and then just one here and there the rest of the morning.  But as soon as the trout quit it was like someone threw the switch and the reds started.  In fact I got bit consistently for several hours.  The reds were not interested in topwater or spinnerbait, but they were liking that plastic.  I re-fished several banks that I caught a trout or two and then the reds were up on it and the trout were gone.  Interesting.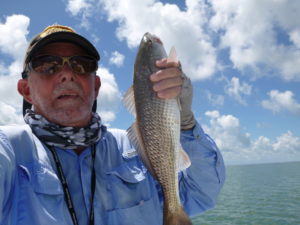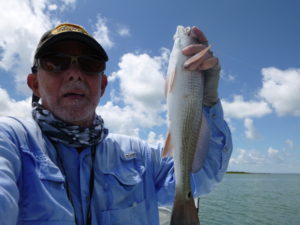 I caught 4 or 5 this size.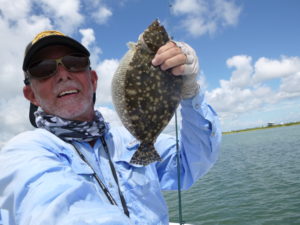 I even caught a flounder.
One thing about fishing drains is you have to be there at the perfect time, and that is when water is running out of them.  The fish are usually there, it is often a figure out what bait they want thing.  Today was nice as a few ate topwater right off he bat and let me know they were there and then the rest came in the same places on plastics.
And the Power Pole was a integral part of catching them out of the drains today.  Being able to position just right was helpful, so I could throw across current and work it just like stuff riding the tide out.  When it is working like that it so reminds me of fishing rainbow trout in the White River.  Working the bait off the bank and letting it almost swing with the current, and it worked today.  But once that water stops running in the drains, the fish leave, end of story.  Today's fishing was predictable, and watching weather and tides was the key.  And there is a lot to be said for confidence, it sure is nice when it works out.
There was bait everywhere, besides trout and reds, I caught a wad of other stuff.  Fish of all kinds were active and I boated an easy 20+ today, no counting the junk fish.  Not bad for a short day.  I gave it up around 1 and they were still biting a little when I left.  But as forecast there were rain showers all around, more towards Victoria, and it was 92 degrees when I took out.    So it was an excellent day and I am looking forward to many more this fall.
********************
And here is a comment from Joe Bass on the upcoming weekend.
"What you talking about Willis". You heading up this way to fish Lake Travis? Lunch on me when you come thru San Antonio unless you go another way. Do your research because that lake might get REAL crazy around Labor Day. The idiots come out that weekend, many hours to get boat in/out of water. I don't go those weekends.

Side note: Do you use a line threader thru your live bait to the hook is near the rear? I have a friend that bought one for $16 but started tinkering and has made some for alot cheaper using wire leader, crochet hooks etc….
I am absolutely positive there will be a crazy crowd.  Rich people behaving badly.  I am taking the boat but it is primarily a weekend with the grandkids who will spend the weekend swimming off the dock.  When it comes down to it if I actually get to fish I will be surprised.  As far as a bait needle I have never used that technique but have seen it used in offshore fishing.  Heck for me to have fished with live bait 3 times in the last month is something.  It has been 20 years since I used live bait that many times.  Not saying I may not give it a go in the future, but for the time being I will stick with lures.  And thanks for the lunch offer, just may take you up on that some time and keep those comments coming.
********************
So there you have it.  It was a fishcatchingtravel good time and it really got my bay fishing juices flowing.  It will not take much more falling water temps to really get them moving.  So next time you check the tide and see it falling most of the day, with light winds and cloudy skies, quit the job, sell the kids and go fishing.  They just might be biting.  And as I say so often I can not thank you all enough for supporting my blog.  We just hit our 500,000 visit since I started this, who woulda' thunk it.   I truly appreciate your readership.  So keep stopping in and thanks.
Good Luck and Tight Lines.