FISH CATCHING TRAVEL
 Makers of the best balsa baits on the market.
The fishing today was a little different than the last couple of time I hit the lake.  Getting there as daylight cracked it was apparent the lake has come up just a little.  I was worried that there was some color along with it but after fishing up both arms no problem.  It has taken a while but the lake is clearing real nicely.
Weather
91/77  Generally cloudy with a 20% chance of rain   Wind 10 – 20 SSE  (Not a cloud in the sky and the wind did blow about 15)
Tide Times
19      Low  12:43 AM     0.1
19     High  10:27 AM     0.6
19      Low   1:32 PM     0.4
19     High   3:59 PM     0.6  (One of those tide days that are basically flat.)
Solunar Times
Best     11:41A – 1:41P
             12:08P – 2:08P
Good     5:55A – 7:55A   (Close but none of these times made a difference today.)
First it was way up the plant arm and a little buzzbaiting.   I probably fished about 50 yards when a good one just jumped all over it in a foot of water.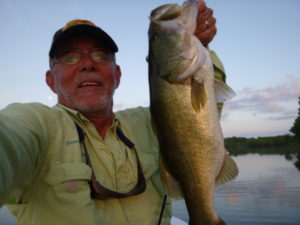 Love it when one this size explodes on that buzzbait.  This was definitely a big girl.
So things were looking up.  I fished with the buzzbait for another good hour and was surprised when I only had 2 more bites and boated a small one.  At times I can be a little stubborn in not putting it down quick enough but not this morning.  What the heck, might as well re-fish the bank where the big one ate it, only this time pitching the Rage Craw into shallow cover.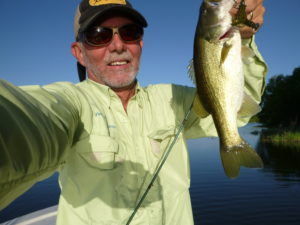 This one ate a Rage Craw.
I stayed shallow and over the next hour I caught 4, 2 small ones, lost 1, and had 1 big one break me off in a tree.  I have been pitching with 2olb Big Game, which is normally plenty for Coleto, but toss it into a big tangle of wood and you are taking your chances.  I have not been using a flippin' stick but might start carrying one for just those places.  Today the bite pitching was good, a couple smacked it and the rest were already swimming when I lifted up first time.  No matter what you have about a second to set the hook or they are gone.  I felt a couple of others that let go of it as soon as I felt them.  But it is still some serious hand to hand combat.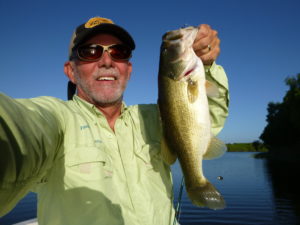 Pitch the right bank and there are some good ones up.
The fishing was real consistent until about 10.  I probably boated 6 or so, and had some great bites.  And then, I don't know if it was my bank choices over the next 3 hours or they quit, but from around 10 until I quit at 1 I did not have another bite.  I mean zip, even after running up the other arm to the one place they have been all summer, I could not buy a bite.  Before quitting I threw a little spinnerbait on a real windy bank, and that went over like a lead balloon so I called it a day.
One bright spot in the lake fishing right now is that the bigger fish are starting to make an appearance.  While the numbers still reflect that this is summer, anytime you can boat a big fish is a good day.  Why they quit today I do not have a clue, but it was like someone just turned off the faucet.  There were folks out today, and they are still catching crappie.  And I saw several bass boats getting a jump on the weekend.
My weekend is going to consist of painting, not my favorite activity by any means, but it will be good to get it done on the weekend.  The weather will play a big role in where I fish next week.   The forecast still includes a 50% of rain for the first part of the week, so if there is a day with good clouds there is a trout drain calling my name.  So keep stopping in and thanks for reading my stuff.
Good Luck and Tight Lines 
We got some good news this week when Joy, my mother-in-law, got to return home after breaking her hip.  So here is wishing your recovery stays on track.  Glad you are home.
And my brother Kelly, who has been laid up in bed for a month, may be able to get up and around on Monday, so here is hoping you are getting back to good as new.