FISH CATCHING TRAVEL
 Makers of the best balsa baits on the market.
********************
It looks like our really hot stretch just might have burned itself out.  Temps are expected to stay in the 90 range with a chance for some badly needed rain all week.  We got a little yesterday and according to the forecast the rain will be around today.  So with that forecast it was time to hit the lake.  Bass fishing is always better when it is cloudy and a little drizzle never seems to hurt either.  And with the temps staying in the 80's I had high hopes to fish past noon without burning up.
Weather
Scattered thunderstorms  88/73  40% chance of rain  Wind E 10mph
Tides
15     High   9:14 AM     0.7
15      Low  10:38 PM    -0.1
Solunar Times
Best  8:44am – 11:10am   9:10pm – 11:10pm     Good  2:31am – 4:31 am
I was determined to fish, rain or not.  When I left the house a little before daylight it was drizzling and by time I hit 59S it was raining hard, hard enough to wonder if it was going to work out.  On arrival at the ramp it was lightly drizzling, and it never did more than that all day.  In fact, it never sprinkled after about 9am in spite of being cloudy.
So I decided to just get it over with, take a chance, and run all the way up lake.  First thing I noticed turning the big corner in the Coleto arm was it had more color than the other day.  Obviously the rain the last couple of days is about to muddy the river back up.
I started with buzzbait and caught a couple but it was slow,  so I did some pitching.  I probably stayed up lake about 3 hours and put 7 or 8 in the boat, though only one was a good one.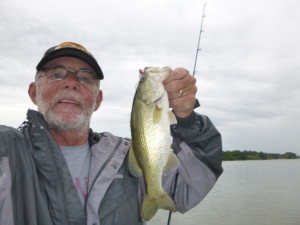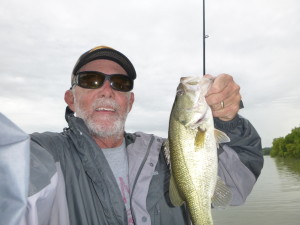 The first couple on buzzbait.
They were not exactly hitting the buzzbait with wild abandon so it was time to switch to plastics.  There is still plenty of cover in the water up lake, and like it has been there are fish on it.  Today it was a Rage Craw in watermelon red on a 1/4 slip sinker.  You had to pitch it right in the cover on the bank, and except for 1 all the bites were in the first fall.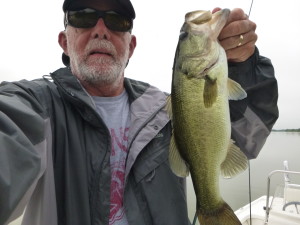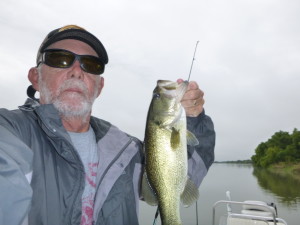 Pitching to cover is hand to hand combat.  The first one is the biggest on the Rage Craw though most were the size of the second one.
I caught maybe 6 pitching and nothing more on buzzbait.  So it was time for a move, and I mean from one end to the other.  I decided to head way up the plant arm and on the way I hit several banks without even a bite.  When I got to the channel right below the plant I had 6 or 7 bites pitching and only boated a small one.  So I kept working the creek and finally got a great bite on a buzzbait.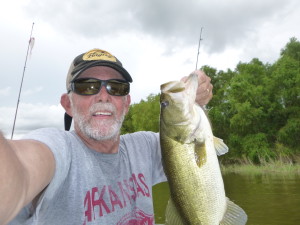 The first big fish in a while, he smoked it in 2 foot of water.
By now it was well after noon, it had cleared, and the wind was not blowing.  The one above hit it about half way back to the boat, and there was no missing him.  So even though it had cleared and was calm, I managed to put a couple of more in the boat on buzzbait before I quit.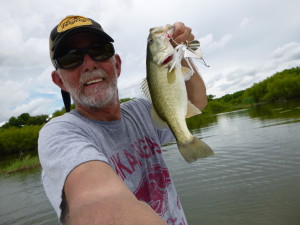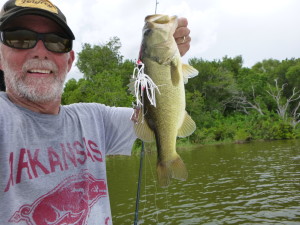 The last one was hooked in the top of the head.  What a tussle.
A couple of things were clear by time I quit.  The fish caught pitching were smaller, though I caught a lot more than on the buzzbait, including 5 in a row that did not measure 12″.  And the bite was nothing more than a tick, and if you did not instantly set the hook they were gone, unlike the last couple of months where they would take off swimming with it.  And though the buzzbait bite was slow, it seemed like the ones I wanted to catch wanted the buzzbait.  And I think I only missed one, not bad for a buzzbait.  The last few came in an area way up the plant arm where I have not fished since spring.  Whether it holds or not will be really rain dependent.  With rain forecast all week things will surely change, we will just have to see how it goes.
I did see a large snake swimming the lake, which is the second one I have seen this month.  I rarely see them on Coleto, probably because they don't live to long swimming.  And the turkeys up lake have been carrying on more than usual.  I saw them fly down this morning and they never shut up the whole time I was up lake.  It is awesome to not only catch a few fish, but to see all the other cool stuff that calls the lake home.
All in all a good day of fishing, and my best 5 will do.  I started at 7 and quit at 2:30 and basically caught fish off and on all morning.  Pitching will definitely put fish in the boat, especially on the deeper banks.  As far as the buzzbait goes, shallow flat banks with bait and cover it is definitely the ticket.  Switching back and forth depending on the bank was the way to go today.  There are several ways to catch fish right now, we just need fall to get here.
*******************
Python
My wife has a cousin in the Everglades who is apparently going through her training to provide echo tours in the Everglades.  As part of that training Trisha was taught Python handling skills.  There are plenty of them there.  Just another screw up by man.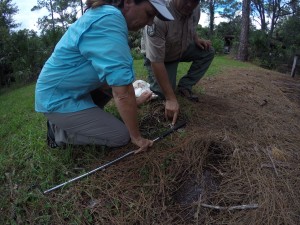 Pin it down.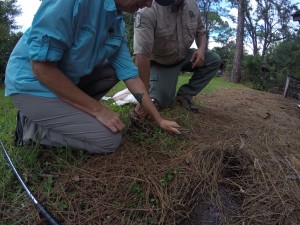 Look close, she has it by the head.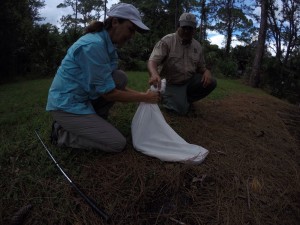 In the sack you go.
These animals were held as pets and then released by irresponsible owners like many of the invasive species in this country.  From Pythons to walking catfish, none of them have worked out, whether by folks just letting them go, or by game and fish departments with good intentions.  We all have a responsibility to not spread invasive species which will alter our wildlife forever.  So congratulations Trisha, looks like fun to me.
******************
As a big football fan I was happy to watch a couple of NFL games this weekend.  Dak Prescott, the first year guy from Mississippi State, looked fabulous at quarterback for Dallas.  That could be really important before the year is out.  The Hogs had their spring game, and I think A&M did too.  The Hogs lost some major pieces on offense so we shall see, but I don't expect them to lose 5 of their first 6 again.  But we love us some Bert and  he has continued to add real beef to the line.  Stop us if you can.   And A&M, not sure what to think of them.  There is something going on that their quarterbacks left the program quicker than rats deserting a sinking ship.  Spoiled brats or a problem with the program? Only time will tell.  Kevin Summerlin could be on a short leash this year.  So it will be interesting to see how their year goes.  Have to pay for that big ass stadium.
*******************
Not a clue what is next.  It could rain for days, or just shower some, totally depends on where you are.  I have a little painting to do, and have put it off about as long as I can, just waiting on new doors.  Other than that there will be some fishing somewhere, somehow.  And if you have something to say drop us a note.  So keep stopping in and thanks for reading my stuff.
Good Luck and Tight Lines
(To my brother Kelly, hang in there, it should only be a week and you will be up around.)