FISH CATCHING TRAVEL
 Makers of the best balsa baits on the market.
Coleto Creek
We are still in the throes of one bad ass heat wave.  They are talking a true 100 degrees many days with a heat index off the chart.  And with the wind finally not blowing it gets hot, fast.  And it was the same today, good thing I started early.  The lake was first this week, with Aaron and his dad on the way it will be Gulf fishing this week.
It was barely daylight when I dropped the boat in Coleto.  On first look it seems to have stabilized as far as water level, and it is definitely clearing a little more each week.  After catching that nice one the other day with a huge crawdad in it the 2.5 Strike King square bill was first up.   One actually jumped on it right off the bat, a catfish.    I choose a shallower bank way up lake so it could grind in the bottom, unfortunately they were not interested.  So time for a buzzbait.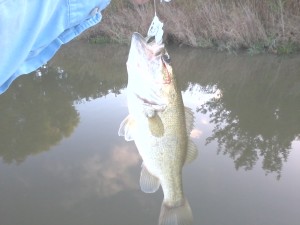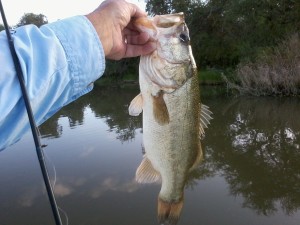 They were eating it and I think I missed one all morning.
There will be a few pics but the battery on the camera was dead, nice planning, so I took these with my phone.  The problem, at least according to my wife and every friend I have, is that my phone is an older flip phone.  They keep telling me IPhone, but no IPhone can sit in the water at the boat ramp for an hour or two and live to tell about it.  So anyway, that is why these pics look like they do.
Basically staying on the shady side and flipping it as close to the bank as I could get it resulted in some really great bites.  And most of them came in the first foot or two and were latching on.  It is real clear that the fish are biting better than they were.  The action was consistent all morning so I stayed with the buzzbait until about 9.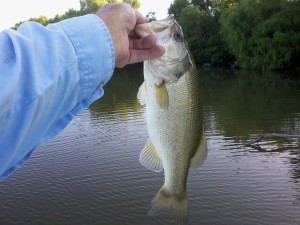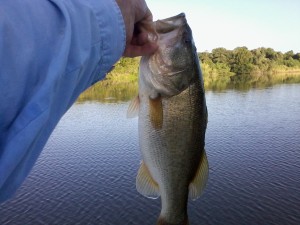 It was a good average size this morning.
After they slowed up on buzzbait it was time to change to the senko style plastic.  I have been using assorted companies. as long as they are 5″ watermelon red.  And it has been important to use the 1/4 weight, it is definitely better than a lighter weight, and I am throwing it on 20lb mono.
One thing that was different than it has been is I had many more bites off the cover as  I worked it back to the boat, though cover is still where the money is.  A good tangle of stuff, with a little water by it, has had fish on it and did today.  I actually refished the bank where I only caught a catfish on crankbait and caught several bass on the plastics.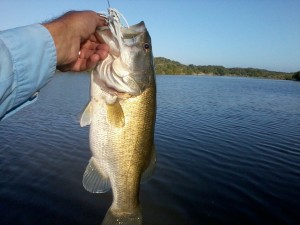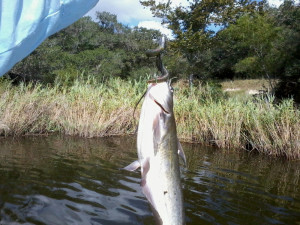 Started and ended with a catfish.  With a bunch of nice bass between.
The fish bit until I quit at 11:30.  In fact I managed to drop the biggest one of the day back in the water around 11:00 when I was trying to get his picture with the phone.  And the final fish of the day was another catfish on plastic.  After catching a bunch of them last week, if you like catfish they are biting on Coleto.  And the crappie are still being caught, so things are shaping up nicely on the lake.
I lost track of how many I caught, but it was very consistent all morning.  My limit would not have won a tourney there, but I would not have been embarrassed. They are biting so much better than they were.  Over the years I have seen a big raise really hurt the fishing and this year it was like they did not move up from their location prior to the rise.  Now the lake has fallen back to them, not sure if that is correct, but it sure seems that way.  One thing that happened today was several of the bass were puking up smaller shad, something to think about.
********************
Chad, who has been catching them in the surf, responded to my plea for info on croaker fishing.  He went above and beyond!
We had another great day in surf on thursday, low winds allowing us to anchor and throw into the second gut. 4 man limit by 9am with solid 20″ to boot. I like to use a 4/0 widebend hook depending on the size of the croaker i will use a 5/0. I use 12 lb big game on a bait caster allowing me to easily press the thumbar and let the trout run with it. I use a 7 ft rod that has lots of backbone allowing me to get a good hookset. Depending on current or tide movement i use 1/8 to 1/2 oz slip sinkers on my mainline with some red beads above and below my slip sinker. Which keep the slip sinker from fraying my not at the swivel . From there is 30lb leader line and the hook. As the month of august comes to an end the croaker will be getting bigger and bigger. Which means a few things allowing the trout plenty of time to get the croaker in his mouth. As well as a double hookset. Which allows you to pull the hook out of the croaker on the first one and penetrating the hook in the trouts mouth on the second one. Another thing is only put water from ur bait supplier in ur live well with water temps at 89 dgr its a big mistake to pull up to your favorite spot and pump hot water in ur livewell only to find out they dont want to be in a hot tub and die. A few frozen water bottles in the cooler has saved the day for me many times. Adding only one at a time throughout the day keeps my bait frisky and ready to entice the fish. No livewell no problem a good ice chest works great with proper ariation. My favorite besides the high dollar oxagen set up, is a 12 volt mr bubbles it doesnt run your water threw a motor that constantly heats uyour water as the motor runs all day. It just adds oxagen to the water and please do not stick your hands in there to get croaker . Use a bait net to get them. Ive seen many of good trip come to an end when somebody with a oily reel or sunblock all over there hands and arms decides he will just reach in and grab one. Thanks chad
NO – Thank You!  Hook size, line size, weights, rigging, and rod all make sense.  Basically like a freshwater Carolina Rig.  And the hook set is something I would have messed up first couple of times for sure.  It has to be real hard to not set the hook when one thumps it.  But the most important information is how to keep croaker alive.  And it is funny you recommend a Mr. Bubbles.  I am looking at one with a double stone that will work with up to 50 gallons and plan to put it in a regular ice chest.  (Note: made it yesterday.)  And the frozen water bottles is what I have used in the past for summer bass tourneys to keep them calm.  And I always thought you used the bait net to make them easier to catch, not that any fisherman has dirty hands.
For me the bait handling methods you use are the most important part of your comment.  Just the bait handling suggestions can save big bucks.  A friend of mine was fishing a tourney so they bought $100 worth of croakers, ran 50 minutes and their bait was dead.  So they turned around and went back and had to buy another $100 worth.  Hell, just last week we managed to kill 5 dozen minnows in about a minute by dipping them in the lake right after we bought them.  Lesson learned.
I really want to thank you for your suggestions.  It is really great when you can share your knowledge with others and this is the perfect example.  The information is real practical stuff that really helps a guy like me, and I am sure others, who don't really have a live bait background. So I will be giving it a go several times this week and will report on how it goes.  And any time you want to share a fishing report send it on.
****************
And on our continuing knot storyline here is one I had not heard of.
I use the fishing fool knot to tie a hook or lure with braid, fluorocarbon, or mono.
I learned about this knot while watching an episode of knot wars, where the fishing
fool knot won for the strongest knot in all three line categories.
You can look it up at netknots.com.
This is probably the easiest knot I have seen to tie braid to a lure.  It won Knot Wars and is perfect for slippery braids.  I can tell it will be my favorite from now on.  Thanks Randy, a great suggestion.  Feel free to comment anytime.
https://www.netknots.com/fishing_knots/fish-n-fool-knot
******************
Jay commented on Friday's trout pictures.
Good looking trout!
Thanks.  It was nice to have a good consistent morning, it was the kind of day that gets me motivated to keep after them.  Hopefully there will be lots more before the week is out.
******************
A great start to the week.  I am really looking forward to trying out the new bait tank and actually fishing with croakers.  The real tough decision is where to go.  I can think of lots of places to try them and will be hashing that out in the next day or two.  Tomorrow will be get stuff done day, and then let the fishing begin.  And with the boss headed out of town for 5 days later this week there will be lots of fishing to come.  So keep stopping in and thanks for reading my stuff.
Good Luck and Tight Lines