FISH CATCHING TRAVEL
 And check out the Shaky Jigs – I use the 1/16th!
Being without the flats boat the last 3 weeks it was great to have it back.  So it was time for a little fishcatchingtravel, and like I said in my last post I am getting my mojo back!   So even though I knew POC would be a zoo, the weather was right and I could live with the tide.
Weather
Partly Cloudy   High 97   Winds SE 10-15mph   10% chance of rain  (It blew <5 most of the morning.)
Tides
Low   1:39 AM    -0.1
High  11:03 AM     0.4
Solunar Times
Best    1:02A – 3:02A
            1:25P – 3:25P
Good  7:14A – 9:14A  (The bite was on!  Couldn't have been any more right.)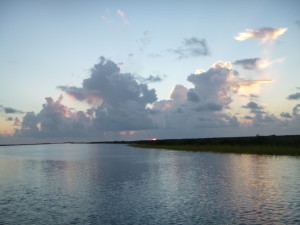 What a great sunrise!
When I got to Froggie's this morning it was a freakin' mad house.  Friday used to be at least livable down there, and now it has become as busy as the weekend.  So I dropped it in the water and was the last guy to get to park in the big line in the lot.  There were already tons of folks fishing with more coming.
I have been a little peeved at myself for fishing like crap the last couple of times on the Gulf and today I was determined to do a better job.  So it was off to Big Bayou for a little topwater at daylight, then plastics.  They may be a little off lures, but it started off pretty quickly and only went up from there.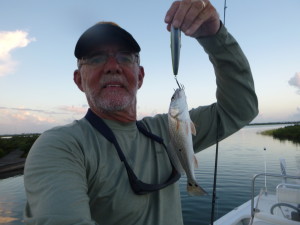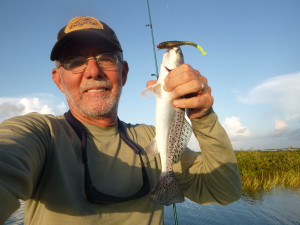 That red's eyes were bigger than his stomach.
The first drain was full of trout and small reds.  If it says anything it is a great sign of things to come.  5 or 6 jumped on but nothing worth talking about so I moved to the next one.  One thing I want to point out, today it was current.  Even though the tide was coming up water was running out of the big flat into the cuts and the fish were positioned at the mouths.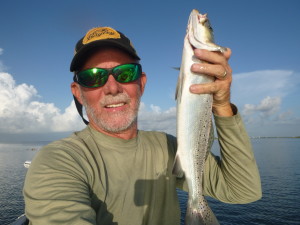 My last bite on topwater and the first keeper.
The next drain produced the one above and some small ones so I moved on to the next one, and boy were they there.  Right at the mouth were the water was wrapping around the point I could see them eat.  Using a red paddle tail on a 1/16, I was jerking it hard and I could see them roll over and eat it, I love that.  And the Cocoon's were invaluable today, I would not have felt a couple but I saw them and was able to get a hook in them.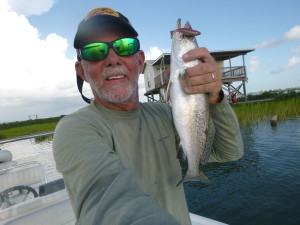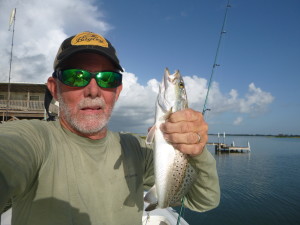 They were jumping on it pretty good.
After an easy limit came over the side I just started working the edge of the grass as the water kept coming up.  It was not a real smoking tide, it just kept coming up.  From there I just kept hopping drains, points, and oyster.  In a couple of places both trout and reds were on the shell chasing bait.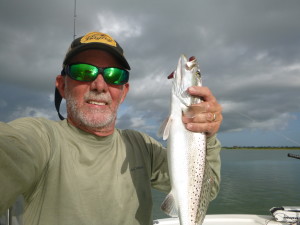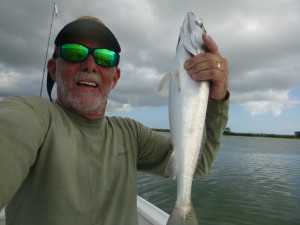 It was just a nice run of good trout today, to bad I was not keeping fish.
They came from deeper places, shallow places, and other places in between.  I had planned to wade but there was no real reason to jump out of a perfectly good boat when they were biting like this.  It was the kind of bite that lets you know they are on – THUMP!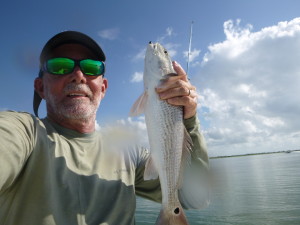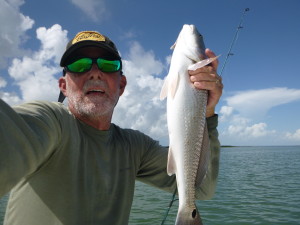 It wasn't just trout today. 
I never did specifically fish for reds today, I did not have to.  Counting small ones it was at least 6 or 7, most on the plastics.  If you had the water wrapping around anything, point or bar, there were fish there.  I don't think I fished a specific place without catching something.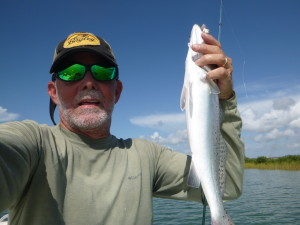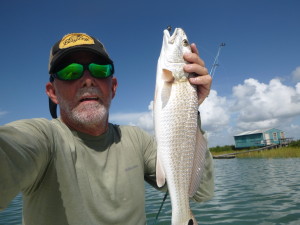 Here is a couple out of the 3 or 4 I caught on my last stop.
The water color today was just awesome, as nice as I have seen it in months.  It was the kind of day that makes POC famous.  Good structure with water moving = fish!  And one of the time periods I have some trouble with, a rising tide, did not hurt me today.  Once I figured out the wrap around current, really the fish told me, it was easy to duplicate and I can actually say I fished pretty well.  You always hear the term in bass fishing, duplicating a pattern, today it was a slam dunk.  The only real mistake was when a really big red on the 8lb line broke me off.  They really do not stop all that well when they don't want to.   Also the Power Pole played a part today.  I was able to stop the boat and position for the perfect cast after I would catch one, and it worked like a charm.
And speaking of decisions, I made another good one today.  Heading down Port Lavaca highway I kept going back and forth for 20 miles – Keller, Indianola, or POC?  Keller is on for sure next week, and I was thinking of giving that a go.  But I heard an awesome report from out in front of Boggie so wading the Powderhorn Ranch shoreline was an option.   Finally I got to thinking about Bobbie's comment the other day so POC it was.  The decision was made because I wanted to get back to my basics.  Fishing from the boat using the trolling motor is what I do best, and it worked great today.  Not sure exactly how many I caught, but they bit until the tide was full up when I quit at 11.  Both fish and the weather was flat out hot.
It is probably pretty easy to tell I had a good time today.  That is what makes fishing what it is, even after a little down stretch all you have to do is keep after it.  You never know, but it always comes around, and for me things are looking up.  We caught a nice bunch of crappie and cats 3 trips ago.  Yesterday the bass cooperated, or I fished better, whichever.  And then today good fishing on the salt.  And with my first real go with croaker coming next week it is hard to not be excited.  Variety is the spice of life and that goes for fishing.  It is ok to concentrate on your fish of choice, but fishing for lots of different stuff takes me back to my first days, if it swam I tried to catch it.
*******************
After I gave a shout out to RO for the stripers he is catching I got this comment from Jay.
RO is a HELL of a fisherman.
Taught me all I know about trolling but definitely not all he knows.
He was probably doing one of three things;
Jigging a spoon
Topwater
Trolling pet spoons on three way swivels using a 20-30′ red taildancer.
His trolling methods have worked here in N. Alabama since I moved here when nothing else has.
Great endorsement.  Not only is he a hell of a fisherman, but last time I saw him in Austin he fixed my eye, he is also a hell of a surgeon.  But most of all he is a good guy.  As far as the three ways, the years I was guiding for stripers those are the three ways I put them in the boat.  Topwater at night, my favorite, trolling, which I did with downriggers, and the most productive way while it lasted, deep jigging.  Every fall around thanksgiving our stipers and whites ganged up and we caught them from about 30 – 50 feet deep.  It would last about a month, but it was common to literally catch a ton each morning before 9 day after day.   So that will do if for today's episode of the RO fan club.  Keep in touch.
*******************
If it were not Friday it would be back to POC tomorrow.  But I think there are 2 tournaments at least this weekend and it will be crazy out there.  So if you are out there be safe and courteous.  Organize the boat before getting on the ramp.  Give people plenty of room both underway and when fishing.  There will be enough tom foolery out there without adding to the confusion.  I know one thing, come Monday at daylight I will be thrashing them somewhere.  So keep stopping in and thanks for reading my stuff.
Good Luck and Tight Lines