Fish Catching Travel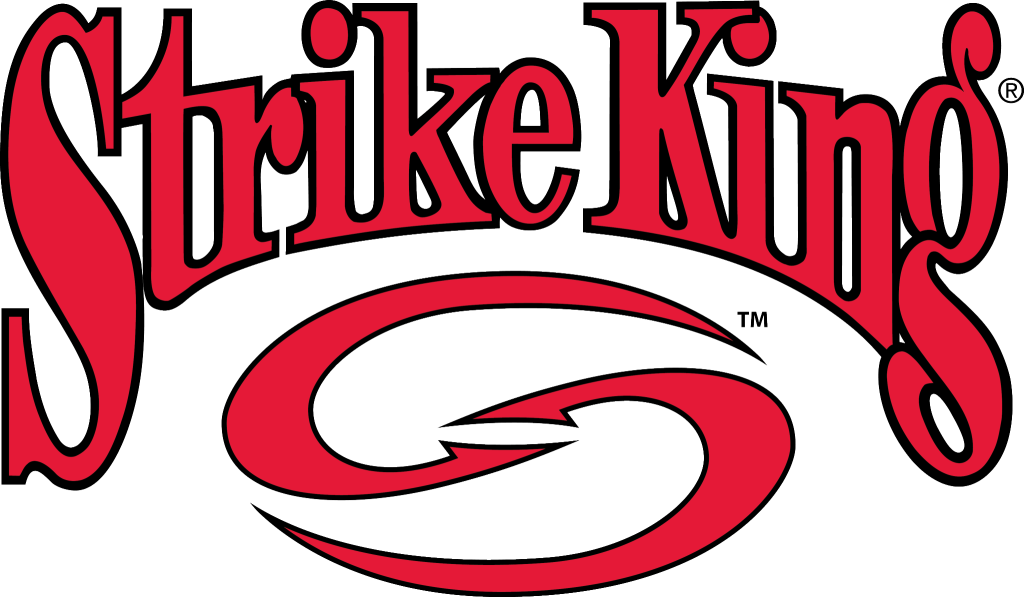 Time to throw the Swimming Jig!
Weather
Friday   10 % Precip. / 0 in  
Clear  74/53   Wind NNE to SSE  5 -15 
Best Times  6:20A – 8:20A    6:46P – 8:46P
Good             12:06A – 2:06A
Tides
F    4      Low   8:04 AM    -0.3     High   7:25 PM     0.4
(Tide notes:  Ed sent the following question:
Just wanted to ask what app do you use to get tide info?
                          http://www.saltwatertides.com/dynamic.dir/texassites.html
Hope that helps.   Notice how the tide times correspond with the solunar times?  And while we are at it the tide is slowly swinging around with the low getting later in the morning.  As the low gets later in the day the better I like it and the more I will be fishing the bay.  Watching how it all works together can really help you identify those days when you should be on the water if at all possible.  And some of my favorite saltwater conditions are right around the corner. )
The Lake is getting more and more consistent.
My initial plan was the bay but after cleaning up the flats boat I decided to change boats so I got out the skiff, and of course all the trailer lights were not working.  So I took it easy this morning, knowing the bite on the lake was fairly good there was no hurry.  When I say there are times when you should be doing something specific now is one of those on Coleto.  I love throwing the Swim Jig and they will bite that thing right now on the lake.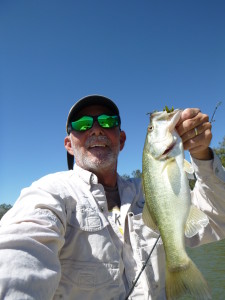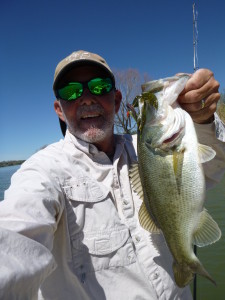 The first couple were on the bluegill color Swim Jig.
The water has fallen maybe and inch or two and as a consequence a good thing has happened, the lake is really starting to clear.  How clear, I got to watch at least a half dozen come out of shallow, and I mean shallow, cover and eat the Swim Jig, it was thing of beauty.  With it super sunny and clear the 1/4oz white Swim Jig with a 3 1/2 inch pearl swim bait for a trailer almost glowed and I could see it quite a bit of the time.  Today it really helped to have mirror Cocoons, it was awesome to see them roll up and smoke that Swim Bait.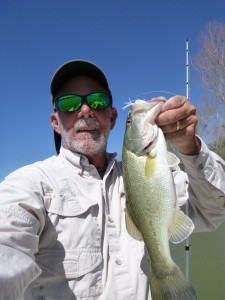 You can just see the jig barely sticking out of their mouths, they were eating it.
I started with the all white and did not have a bite for the first half of a big spawning cove above the bridge, so I tossed the bluegill with a watermelon red KVD craw and caught one on my first cast.  A couple of more came over the side pretty quick, and I got to see the first one roll up out of a shallow log and eat it.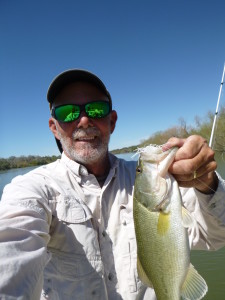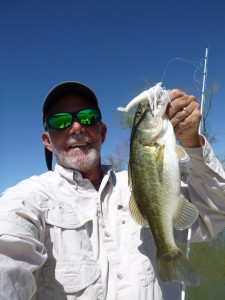 Love that Swim Jig.
Then it was a flat main lake bank, and for some reason I picked up the white one again and it started.  Basically during the good fishing time above a good dozen jumped it in a couple of places.  They were all shallow around isolated cover on flat places.  In one spot where I caught 6 the boat was sitting in 3 foot of water and the fish were shallower than that in the middle of the afternoon.  One broke me off, and I deserved it.  Throwing it on 12lb line you can only catch so many in shallow cover without a retie, and so when it happened I had it coming.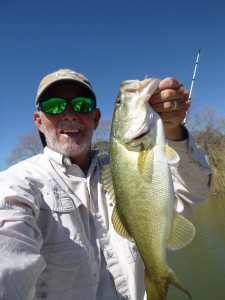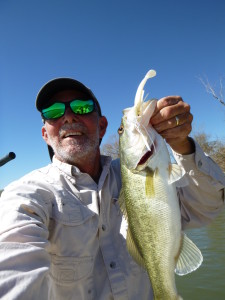 They were choking on that thing.
A moderate speed retrieve with erratic handle turns making it dart forward and then stop provoked the best hits.  And if you put it perfect on the right bush it was a certain bite.  I missed several, and lost 3 or 4, and for the amount of time I spent fishing it was a good bite.  While no real big girls gave it up, there was plenty of bites and the size was good enough to keep it interesting.  And having a nice one roll up out of nowhere right next to the boat was a bonus.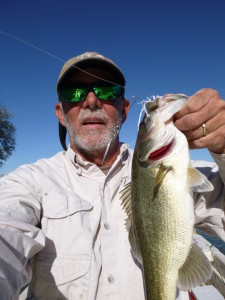 And even added one on a spinnerbait.
So for an old bass fisherman it was a really fun day.  Swim Jigs are a real tool in the spring, and while not the easiest bait to fish, it is one of the most consistent.  Patience is the key, you have to keep cranking it, vary the retrieve and color, then remember what the hell you were doing when you caught that one, and you are in business.  I guess the thing I like about it the most is how subtle a bait it really is, and knowing when it got to that cover and I ripped the handle one was going to roll on it.  Doesn't get much better than that.
Don't think that is the end all on Coleto.  Today if you are good at fishing the bass assassin type baits in a real erratic pattern it would have been deadly.  And the other which I will throw next time out is the bubble gum trick worm.  I fish it on 10lb line with a weedless hook.  For the next month that will catch fish, especially in areas with a little deeper cover, so if you have never tried it now is the time.  And the topwater early and late should really come in to its own.
I hope whatever fish or fishing turns you on is in your near future.  Looks like the weather is going to hold and the fishing both fresh and salt is only going to get better.  So if you want to add to the confusion let us know.  And I am interested in knowing if anyone has caught any crappie on Texana yet?  There are a few other comments and pictures I want to share with you but thought I would get this post up before I call it a night.  So there will be more in the next day or two.  Not sure what is next, but a bent rod is at the top of the list.  So keep stopping in and thanks for reading my stuff.
Good Luck and Tight Lines