Fish Catching Travel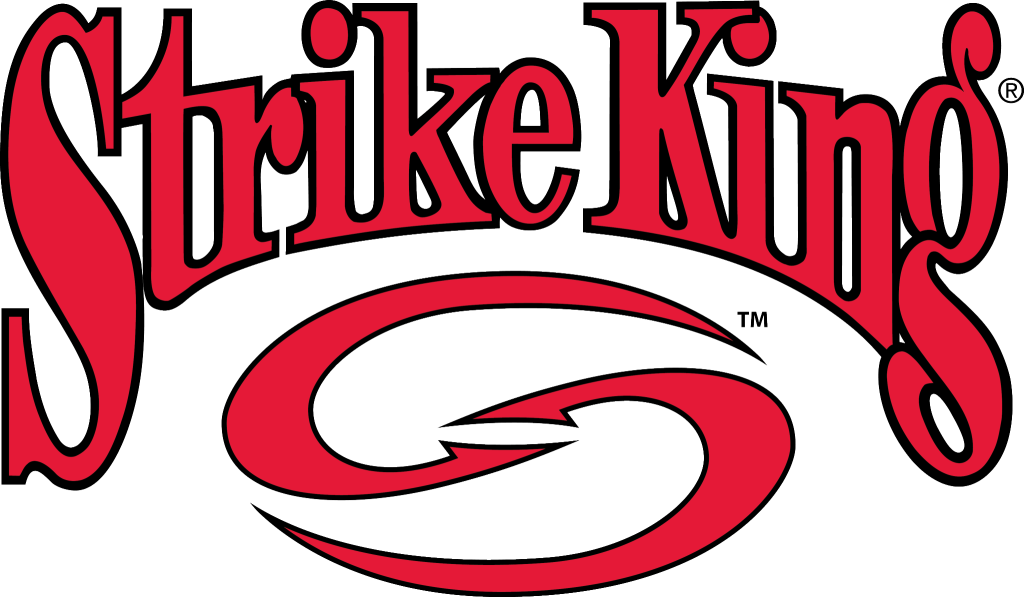 The Best Baits on the Planet!
Wednesday Mar. 2
o% precip  Partly cloudy.  76 degrees  Winds ESE 10 -20 mph.
Tides    Low 5:45 am  -0.3           High 5:39 pm  0.3
Best Times     4:44A – 6:44A
                         5:08P – 7:08P
Good Times           10:56A – 12:56
Man I hate it when that happens.
I really do try to fish both fresh and salt about the same over all so I can at least give you some idea what is going on in either place.  It was so good at the bay last month that it would be nice to see if they were still biting like that. So today I decided I needed to get back to POC and run my old route.  And that is exactly what I did – Big Bayou, Mitchell's Cut, and the Oil Cut.   My plan was based on the wind forecast, 10 -20 mph, a chance it would not be to bad.
The minute I pulled up to Froggie's at 7:30 I knew it was gonna suck.   First, there wer only 2 trucks and trailers in the lot.  When I pulled up to the ramp the wind was flat out howling over 20 right down the barge canal.  I mean it was humpin' and with the tide coming back it was something.  I should have just left it on the trailer, but no, I thought I would give it a go, I was already here.  So in the water it went.  The tide was really low and the water was ugly, but it just did not get through to my pea drain – Conditions Suck.
About half of Big Bayou was the color of a nice mocha, great for drinking but not trout water by any means.  And the wind was howling right down the channel so it was make a cast and hop it once, and you were already by.  If I was a bait fisherman maybe anchoring with live bait was the option today, but trying to fish out of the boat with lures was tough.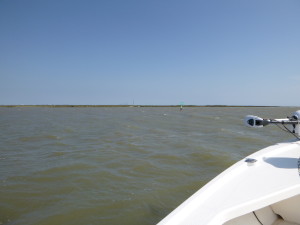 Can I get some cream with that coffee?
I did miss 2 in there, but with the huge bow in my line it was just impossible to feel them in time to set the hook.  From there it was Mitchell's Cut, which had some protection from the wind.  I fished the whole east side without so much as a bite.  Real unusual for that stretch, so it was off to the Oil Cut.
I finally caught a rat on a spinnerbait, but that was it.  I saw another one make a pass at it, but did not hook up.  Whether it was plastics or Redfish Magic they were not having it.   While days like this are few and far between, it was just to windy, so I called it a day after about 3 hours.  There was just no where to get out of it.  When I got back to the ramp there were still only 3 trucks and trailers at the ramp, and when I pulled out that left 2.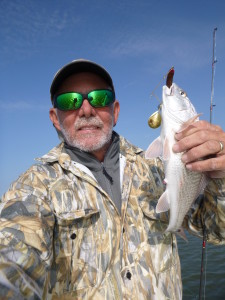 Here is what a grown man did all day.
Lately I have been thinking about making a new policy, if the wind is projected to top 20mph just don't go to the Gulf.  Today that would have been fine, because 20 was the least it blew, and all from the wrong direction for POC.  But many days it is projected to hit something like that and it isn't to tough, but today it was worse than that, it ran me off.  One thing that is becoming so obvious is how bad the tide was today, coming up all day.  It is the exact opposite of what I am looking for, falling all day.
So I really did not add anything to the book of fishing knowledge today.  It was a waste of time and money, and even worse, I did not get my string stretched.  But as it always seems to do, it just makes me more determined to get it right next time.  There is no specific plan for today, the wind is expected to hit up to 35 mph according to the news last night, which they now say will be up to 15 mph.  It must suck to be the weatherman.  I hate that this is all there is to the report, but it is what it is.  And it always seems that the occasional day or two like this is necessary to remind you they are fish and sometimes they are just not having it.  So keep stopping in and thanks for reading my stuff.
Good Luck and Tight Lines