Fish Catching Travel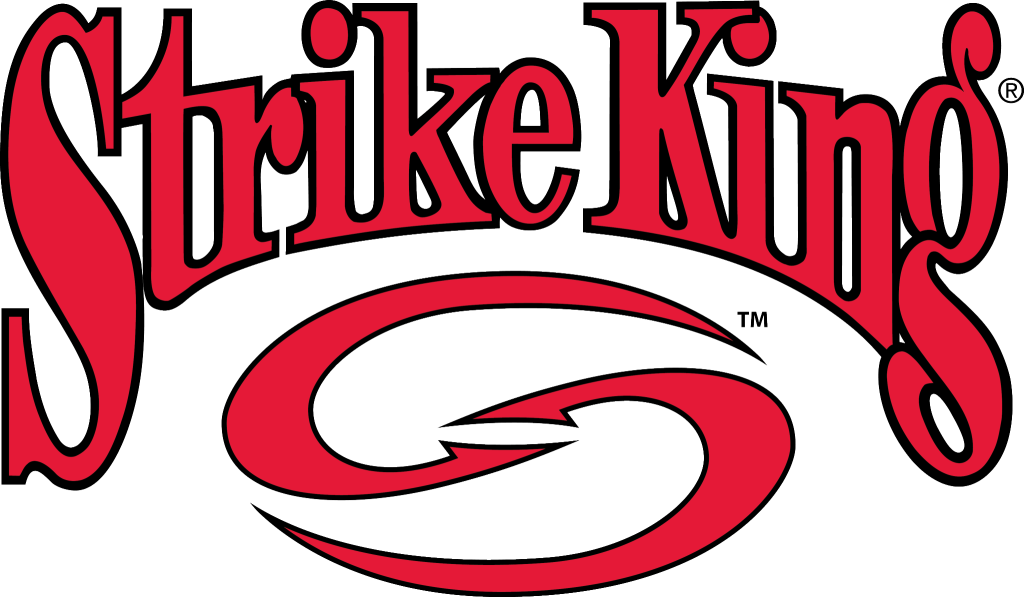 The Best Baits on the Planet!
Weather Report
Mon 20 % Precip. / 0 in
A mix of clouds and sun in the morning followed by cloudy skies during the afternoon. High near 80F. Winds SSE at 10 to 20 mph.
Solunar Times
Best Times:
3:08A – 5:08A
3:30P – 5:30P
Good Times:
9:19A – 11:19A
Tide Times
M   29      Low   3:32 AM    -0.2
29     High   5:57 PM     0.2
I spent Saturday afternoon hanging out at the lake with my buddy Jeffish and his son Korbin.  Korbin is fishin' crazy and when I said he will be the Bass Master Champion in 2030 I was not kidding.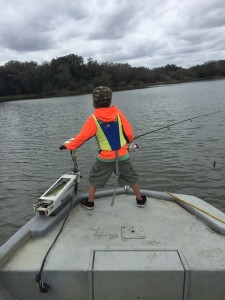 Freakin' Awesome!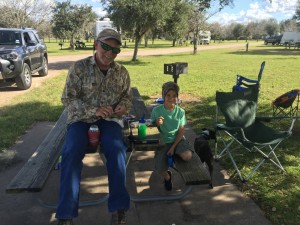 Hanging with the Pro.
Korbin is living proof if you give them a chance to really enjoy the outdoors they will.  Camping, fishing, or just hanging out, there is nothing better than sharing the outdoors with good friends.  And nothing is cooler than Korbin on the nose of the boat, running the trolling motor, and getting ready to cast.  I think I was 21 before that happened to me, and look how I turned out.  Thanks for the pics Dad.
********************
The Boss was off today so to be home early enough I decided to fish Coleto.  The weather report looked good, and since I was going to quit early it was good the minor period was a couple of hours in the morning.   When I got to the ramp it was cloudy, almost misty, and calm.
First it was a big cove I have not fished this year, and I caught one on topwater almost immediately.  The rest of the way out did not result in any more bites so I eased over to a really flat point and picked up the Swim Jig.  And of course a good one jumped all over it.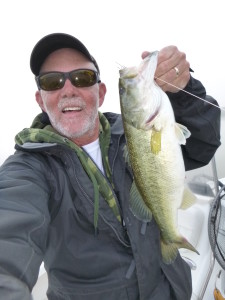 My second bite.
It has become real apparent the last month that topwater, spinnerbait, plastics will all catch fish, and I have spent some serious time fishing all of them.  But looking back on it if I had stuck with the Swim Jig I would have caught a lot more good fish.  The better fish are still few and far between, but the majority of the good ones are on the jig.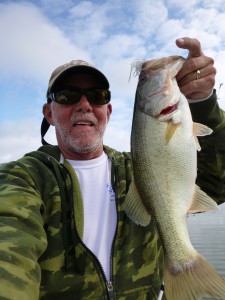 Business is picking up.
Today it was just like it has been, I caught at least one fish everywhere I fished.  That included mainlake points, coves, long flat banks, scattered bushes, all would produce a fish, but positively identifying one place that is better than another is almost impossible.  So for me there has been no real pattern, just fish places you would in the spring and be ready for the occasional bite.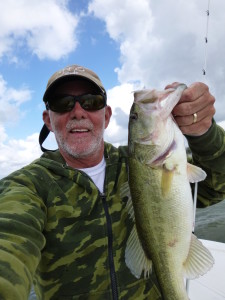 A better average than the last few trips.
Before I quit at 1:30 it was around 13 or 14 over the side.  One on a topwater, 2 on spinnerbait, and the rest on the Swim Jig.  Today I switched to a 1/4 ounce Tour Grade white Swimming Jig and put a fat 3 1/2″ white swimbait on the back.  I fished it at a moderate speed, occasionally hopping it up, cranking it fast and then stopping, or twitching it, again they do not seem to have a preference.  And if you feel anything set the hook, about half swam right toward me when they ate it.  The moral of the story, just keep it in the water.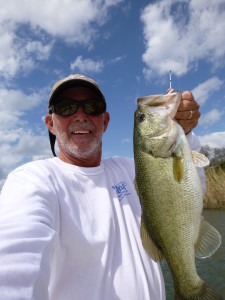 That was was one solid fish!
The water temperature was from 65 to 69 depending on where you were.  The fish did actually bite best during the minor period, but I did catch one on the first place, the last place, and most places in between.  The wind did come up to 15+ and most of the fish came on places with at least some wind on it.  I wish I could be more definitive on the pattern, but if you want the bigger fish the Swim Jig is the way to go.
There were folks cleaning crappie when I took out, and a guy I spoke with at the ramp was catching them and whites up lake.  The bass fishing is still somewhat inconsistent, but sticking with it usually will produce a few good fish, as today proved.  It seems that the fish and the fishing have not really caught up to the water temperature.  When you fish the highland lakes like I used to where the water temp drops into the 30's, even freezing at times, the fish become increasingly more active from 55 degrees up, peaking at the spawn around 65 degrees.  That just has not been the case this year on Coleto.  So it is a learning spring for me.
Tomorrow it is off to the Gulf.  The winds are supposed to stay less than 10, so the day has potential.  I think I may do the old route, Big Bayou, the Oil Cut, and Barroom Bay, which I have not done in while.  But it pays to stay flexible, so the wading stuff will be in the boat.
And thanks to those of you who commented on advertising.  I really have kept it simple here, and at time it seems I should ramp it up a notch, but it has worked just fine the way it is until now, so I will keep mulling that issue over.  But no matter what we sure appreciate your continued comments and participation, it makes this a much better site.  As soon as I get done laying the smack down on some trout and reds tomorrow I will get the report out.  So keep stopping in and thanks for reading my stuff.
Good Luck and Tight Lines