Fish Catching Travel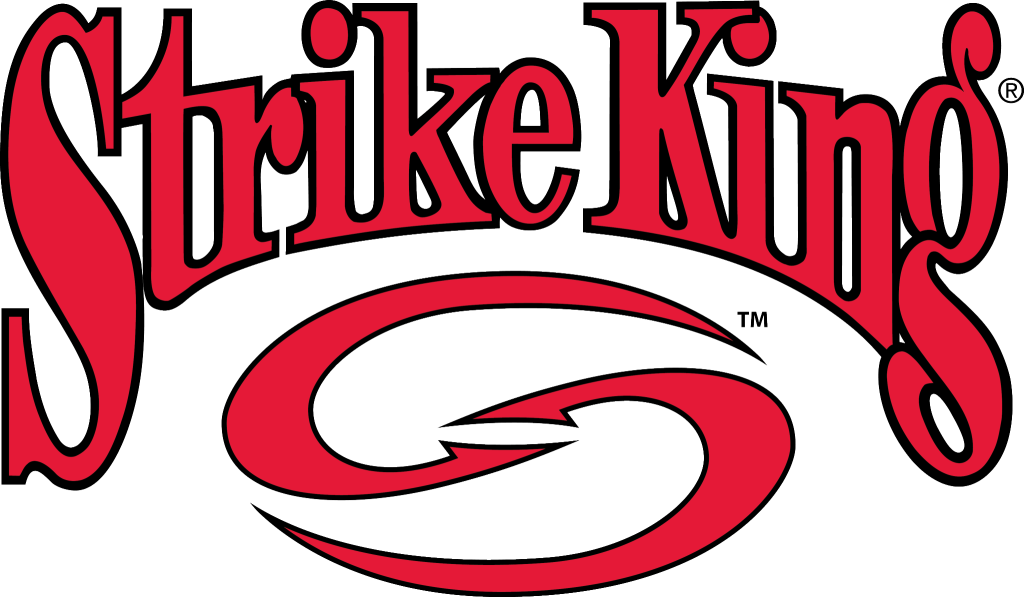 The Best Baits on the Planet!
(The Shoedog has been on a road trip which included stopping in Arkansas, my old stomping grounds.  He and out buddy Clyde fished Norfork Lake yesterday, where I tournament fished and guided for over 20 years.  He was there to find a place to stay that could accommodate a number of folks and was hoping to fish a day or two.  Well here is report #1 and it looks like we might be moving our trip up a week or two.)
Norfork Lake Arkansas – Day 1
Clyde and I got on the water about 8:30 today. We left out of Buzzards Roost boat dock on Lake Norfork. We went back almost into the back of that arm of the lake as Clyde had been catching some there in the days before the last cold front. It had been in the upper 30's the night before and we were looking at high skies with a warming trend.
I started with the smaller 3 hook Smithwick suspending Rogue and Clyde started with a pearl grub. I caught a nice largemouth right off the bat and we then had an unusual thing happen. A kayaker that we had passed on the way back in the creek decided he would paddle down the bank and cut right between us and the bank. We had given him a very wide berth and had gone past a small cove and left at least 300 yards before we went to the bank, but for some reason, as soon as we stopped and started fishing, he felt some need to paddle right past us as we were fishing. Go figure!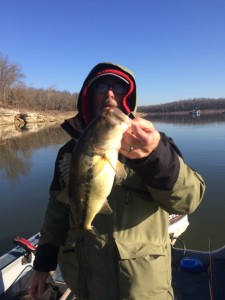 A nice Norfork largemouth.  They love that jerk bait this time of year in North Arkansas.
Anyway- I caught another small bass and we crossed to the opposite bank and I caught another nice 14.5 inch bass. There were knocking the snot out of the Rogue and were pretty shallow for this early in the season and with the recent cold front.
We came on a dock and Clyde caught 2 beauty Norfolk crappies as I caught the dock, the dock cables and everything but fish. So in the first hour we had 3 bass and 2 nice crappies, not a bad start.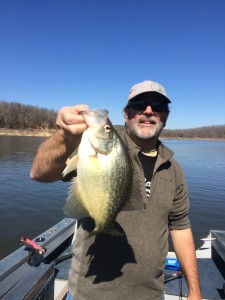 The nice solid crappie Norfork is known for.
We were expecting to catch some white bass back there, but nothing doing. Clyde had been catching them and some nice stripers as well, but in the morning we had no takers.
I caught a few more almost keeper bass and by noon I think we had 6 bass and 2 crappies. Then Clyde caught a nice Kentucky on the same size Rogue, but the 2 hook model, so we had 3 species and a nice first half of the day. We hit the same dock again and I caught a real nice crappie.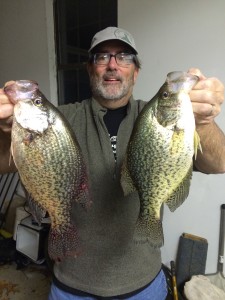 Now those are real crappies.
Then we headed out of the back of the creek a bit. We hit a little deeper banks in Fall Creek and I caught 3 or 4 more bass. Then we headed out into Panther Creek.
We hit a dock and I caught another fat crappie and then we decided to throw the Alabama/umbrella rigs and see if the warmer water temps had the whites and stripers up and at it. When we first got out the water temp was 46 and into had creeped up to 51-52 at this point.
I had limited practice with the umbrella rig, but as redfishlaw can attest, Clyde has been singing it's praise for years. Well, I can say I am a believer now! On the first bank, on my 2nd or 3rd cast a nice 16 inch bass tried to jerk the rod out of my hand!
Then down at the end of that bank Clyde caught a nice Brownie on the rig also.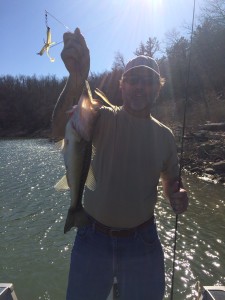 Shoedog catches his first Alabama Rig bass.
We decided to head back into the back of Buzzards Roost to see if the whites and stripers had come up and maybe catch a few more crappie. Somebody was on the crappie dock, so we went done the bank with umbrella rigs and we caught some bass, I added 2 more keepers to the well.
We crossed over again and I caught more bass on the rogue. Then we headed out to an area where he had caught some fish last week. Both throwing the umbrella rig.  Clyde caught a nice white and then I caught one as well. I think I caught a nice largemouth and we were having a good time. Light was fading and a nice breeze came up as we neared a deep bank where he had hammered the stripers a few days before.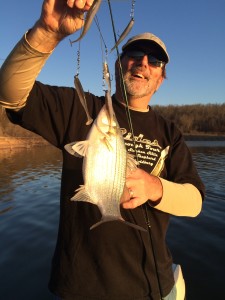 Those big Arkansas whites love that Bama' rig.
Clyde rears back on a big fish and had a tussle with a sweet 10-12 pound striped bass. It was cool. We had orders to bring some filets back to Texas for the CEO of Team Nancy, so that was taken care of. Next I had a nice striper of my own on, about half the size of the first one, but a nice one nonetheless. Another white bass or two and we called it. Fish to clean and a long day of fishing done.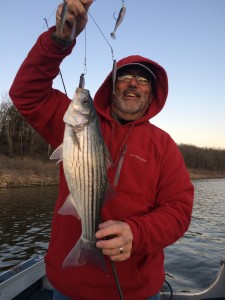 Striper madness!
In total, I think we had 6 species- white bass, largemouth and Kentucky bass, crappie, smallmouth and stripers. We had to work, but for 16 bass, 4 nice crappies and 2 nice stripers and all the rest thrown in, it was a great day on the water.
Tomorrow we will head to the Big Bull, Bull Shoals Lake. We will have some wind an afternoon clouds, so who knows what will happen? Check back for details.
******************
Now that is what I am talking about right there.  It really brings back the memories, and makes me itchin' to hitch up the boat and head that way.  The only thing they did not add to the stringer was a walleye.  That is what makes the fishing up there so fun and interesting, you never know what may be next.  And if you have never visited or fished the North Arkansas area you are missing out.  Norfork Lake, Bull Shoals, The White and North Fork rivers, Crooked Creek and the Buffalo National River, truly the great outdoors and worth a trip anytime of the year.
Thanks for the report and we will be looking for one on the Bull Shoals day.  It can be sooooo good this time of year, especially in the 45 – 65 degree water temperature.  Time to set our dates and get a plan.  My casting arm is itching just reading your report.  The rest of you keep stopping in and thanks for reading my stuff.
Good Luck and Tight Lines
If you want to know a little more about the area read the Twin Lakes article in the travel section of the blog.