Fish Catching Travel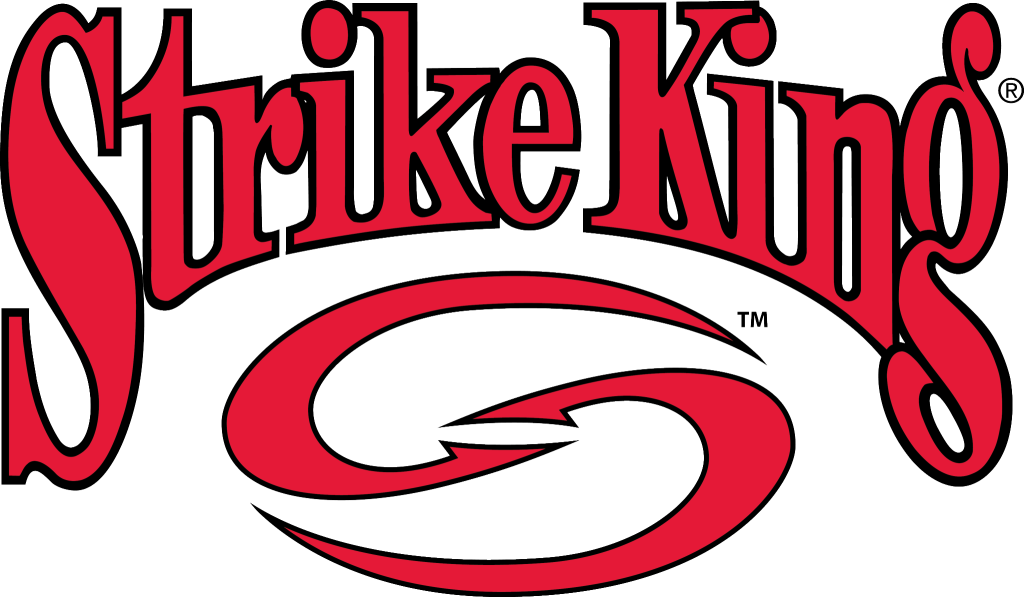 The Best Baits on the Planet!
Sorry you salt heads but things conspired against me and I never made the salt this week.  But do not despair, I will make up for it this week.  But until then it was the lake again after I got up Friday morning not feeling quite up to snuff.  Finally about 9 I decided to give it a go.
On arrival at the ramp the wind was blowing 10+ straight out of the north right in the ramp cove.  The water temperature had dropped at least 5 degrees or more all over the lake since I was there on Tuesday.  There was quite a crowd at the ramp as an out of town bass club was just getting there for their Saturday tourney.
As I got ready to launch the guy in the boat in front of me came over to chat.  He had never fished Coleto and wanted to know if I could help, right down my alley.  So I showed him what I am using, the Strike King Swimming Jig and a Rage Craw trailer and said follow me.  He tailed me up lake and on the way I stopped so he could mark those coves he needs to be fishing.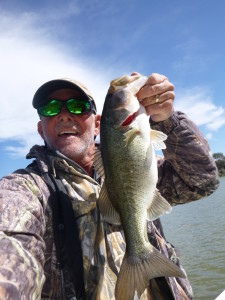 That one will do on a tough day.
I started on the south bank up river and he started on the north bank.  When we talked at the ramp I thought he had a swim jig, but when we got together a while later I had put 8 in the boat including a nice catfish, he struck out.  So I solved that by giving him a Swim Jig and he promptly caught one.  That was the last I saw of him that day but hopefully I showed him enough to have a respectable weekend.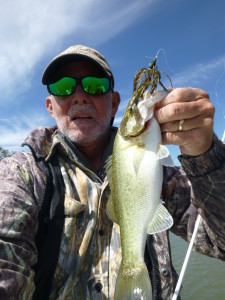 The Strike King Swim Jig was the ticket today, though most were small.
Fishing was a little slower than earlier in the week, it was still one here and one there.  Before the day was over I put 14 or 15 in the boat but it was clearly tougher than it was.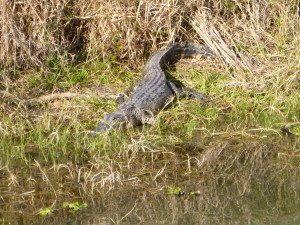 A sure sign spring has sprung on Coleto.
Whether it was the back end of coves or points leading in to them, the fish were still in the same type areas, just not biting with the same purpose they were.  Though the Swim Jig was definitely their preferred bait for the day, the only fairly ok fish came on the spinnerbait out of very isolated bushes.  I did lose one good fish running the Swim Jig by a bush, but as far as  better bites they were on spinnerbait, there just was not enough of them.
I did catch 2 on the Strike King Bleeding Bait spinnerbait today.
As it was getting late in the afternoon I started on a point leading into a really small pocket/cove off the main lake.  As I got to the point headed in a tourney boat I had seen at the ramp was idling towards the pocket, definitely going to cut me off.  What prompts someone to blatantly cut someone off like that?  This cove was small, definitely not a 2 boat place, and they were a perfect example of what has given bass fisherman a bad name over the years.  It was the old I take precedent because my boat payment is bigger than yours.
But then Karma, God, or the what goes around comes around thing, reached out and did something awesome – They drove up on a submerged tree and got stuck.  It was a thing of beauty.  There was no way they did not see me, or could not tell where I was headed, and they were determined to screw me.  So boys, I hope the rest of your weekend goes just like that.  You are the jerks who are the stereotype that hurts all of us.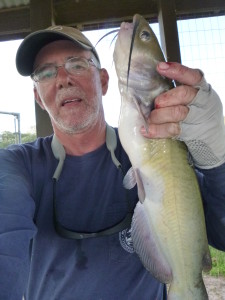 Headed to the fry pan.  This guy thumped the snot out of the Swim jig.
So in spite of water temps in the mid 60's the fish are still somewhat shaky.  I kept alternating quite a bit with the spinnerbait and some with the topwater, but in spite of water temps that would indicate they should be eating it up, it is still slow by spring standards.  I am sure there are some on the beds, but it is still not the wholesale spring bite.  The bite is just good enough to keep it interesting but not the all out spring madness.  It looks like the next moon will be the real spawning run so hang on, it is coming.
*******************
 I got this comment, and believe me it is something I have thought about doing quite a bit over the years.  But it boils down to more work.  (Insert whining here.)
Really enjoy the reports. Since you are so thorough about everything you do have you ever equated your trips to the solunar tables? It would be interesting and informative to see a report start with>>>>>> I went fishing on Monday and the solunar tables were showing major feeding from XX to XX and I caught fish from XX-XX. For us working stiffs only being able to fish on weekends it would be great info for someone to actually verify the tables really work.

Thanks
John in Austin
Well John from Austin, thanks a lot for making me feel guilty.  Over the years I have noticed one thing as far as the solunar tables are concerned:  Just because it is a major period does not mean you will catch squat, but many of my memorable catches come during the major period.  So I guess it is time to add that to the days reports.  I think a basic weather report, tide times, and solunar times.  Actually folks who do religiously keep a log always document that stuff.  So lets see how long I can keep it up.  And thanks for reading this drivel.
*********************
I really, really, really want and need your comments.  I have never really solicited advertisers and would like to hear from you.  The layout of this blog is simple and easy, for me to work and I hope for you to read.  There are several ways for me to get ads on the site but am interested in your take on what I am seeing on so many sites now.  Do the ads usually covering websites bother you?  Do you just ignore them?  How about non-fishing related ads I see on so many sites now.  So before I change anything, or even make a change at all, I want to hear from you.
*********************
The Shoedog is up in Arkansas making some plans for our trip and getting in some fishing, hopefully a fresh report will be coming in the next day or two.  And as busy as the lake and bay have been I know some of you are fishing this weekend so drop me a quick report.  You can put as much or as little in your report, we just like hearing how other folks are doing.
And on a couple of house keeping matters, I often get a question on how to receive alerts or notice of a new post.  To do that just look to the right on the home page and sign up for email alerts, the best way to get notice.  That came up when I met a reader at Academy the other day.  I really do appreciate folks coming up and talking fishing when they recognize me.  I learn something from meeting you all so feel free to holler at me.
I on the other hand have friends camping at the lake so I will head out there for a little bit.  They are wanting to catch a few white bass so I just might hop in one of the two boats and supervise the whole operation.  My next real fishing should be the bay.  It all depends on the rain we have coming early in the week.  We are going to have some warming after these cool nights, and I may actually stay down at POC a night and get in a couple of consecutive days of fishing.   And last but not least we are about to hit 500,000 visit.  That seems almost impossible.  I can not thank you enough for making this what it is.  So keep stopping in and thanks for reading my stuff.
Good Luck and Tight Lines