Fish Catching Travel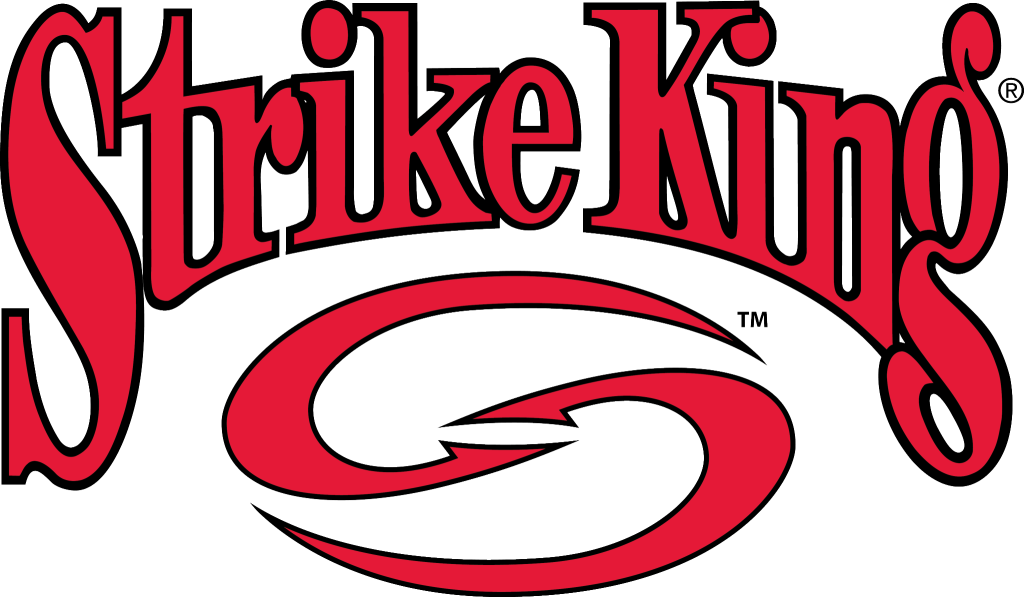 Strike King Swimming Jig kinda day!  Man I love spring!
A Real Spring Bite
Today the fish started acting like spring.  Like I told you last week this day was coming, warm, calm, and misting, just what the doctor ordered.  It was drizzling lightly when I got to the lake and it was like someone turned on the switch, time to bite!  There are not that many days when you can call your shot, but this one was a no brainer.
The first picture is my first cast.  Often catching one on the first cast is bad luck, today it was an indication of things to come.  The water temp was over 65 everywhere, in fact it hit 70 in a couple of places later in the day and the bite was on.  I caught fish in the first place, the last places, and everywhere in between.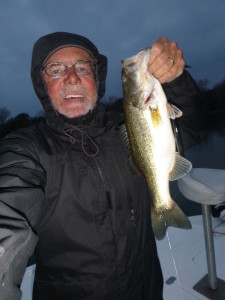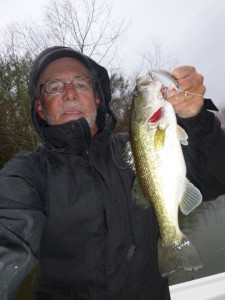 The topwater bite was on.
I started with  a topwater Rapala and they were smoking it along the edge of cover in coves.  Just twitching it along, they were rolling up and eating it.  To make a long story short, it was a real spring bite on a day that I could see on the weather report last week was going to be the day, and the fish did not disappoint.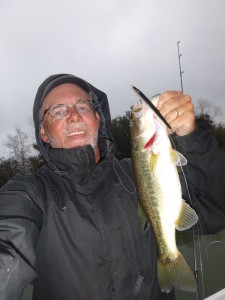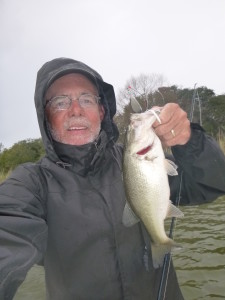 But they would hit a spinnerbait too.
It stayed cloudy most of the morning and the fish bit like it was spring.  I took pictures for a while then stopped and concentrated on catching fish.  A little wind, throw the spinnerbait, good cover, alternate between the Strike King Swim Jig and the topwater.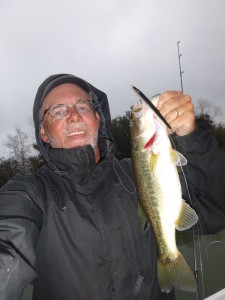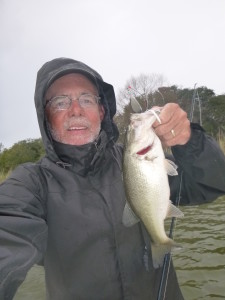 And then the Swim Jig turned on.  They averaged better on the jig.
One thing that became apparent pretty quickly, the bluegill colored Swim Jig with a watermelon Rage Craw trailer was the ticket.  A simple slow retrieve with occasional hops was the ticket, and it was definitely a set the hook if you feel anything bite.  And if you bumped something as you reeled it along it was hang on time.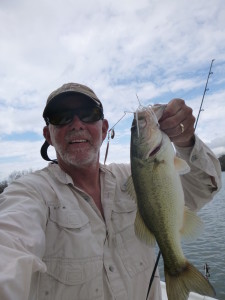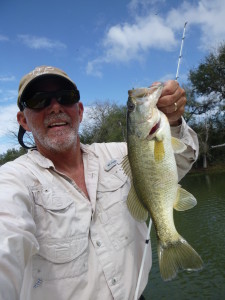 The afternoon fishing was almost as good.
The only thing that did not happen was a really big fish, which surprised me.  It did not help matters that it cleared off and got sunny, but even then the fish did not stop biting.  I try to let you all know where I caught them, today it was classic spring fishing, flat spawning coves, flat main lake banks with cover,  the back of creeks, everywhere they should be I caught fish.  The lake though still has areas up lake that have some crappy color, I am not sure where it came from, and it looks like the lake is falling ever so slow.  And while the better places were a little clearer, I did catch fish everywhere I tried.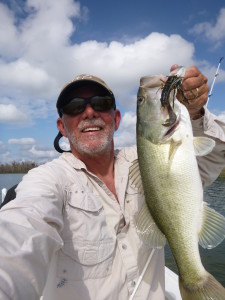 Finally stuck a good one!  My best limit was on the Swim Jig.
I know I said last post that I thought the fish had not really reacted to the quick warming trend, well they did today.  It really was a classic spring fishing day on Coleto.  Most of the fish I caught were females with big bellies looking for a place to get with the spawn.  A good sign of things to come, I saw a couple of beds and a few tilapia swimming around, always a good thing on Coleto.  The topwater caught lots of fish, most on the smaller side, the spinnerbait a few, but the better fish came on the Swim Jig.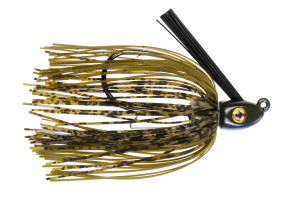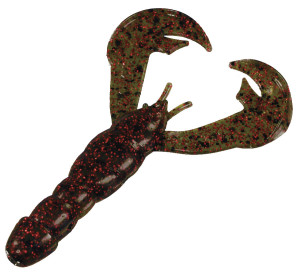 As you can see from the pictures it was hot and heavy with the smaller fish in the morning and the better ones came as the day progressed.  I have no guess how many I caught, but I fished from 7 – 4 and there were very few periods where they were not biting.   Which brings us to this comment I got from Andrew.
**********************
Great article! Got a tournament there soon. Any advice would help considering I've never fished it! In particular areas to fish. Thanks for posting.

Andrew
If you have a tourney coming soon it should be good.  If you have never fished Coleto before the best piece of advice I can give you is do not get enamored with the timber.  It will really be a classic spring pattern and there should be lots of fish on the beds.   And as far as baits, it should be fish what you like and are good at.  Keep reading as I will be fishing it at least one day a week.  I appreciate your commenting.
*******************
I got several of these comments, almost spammed, but I did want to post this for you folks who might be interested in fishing tournaments with vets for a good cause.
The ArmyBassAnglers & the Coalition are not content with just fishing the toughest team tournaments in Texas. More importantly, they use their ability to fish in national team tournaments and the support of some nationally acknowledged sponsors to increase the awareness and generate help for some very note worthy charitable causes and events. More details at http://armybassanglers.com.
So thanks to all of you who sent me this link.  We appreciate your service and I am happy to have you guys aboard.
******************
Our Arkansas trip is right around the corner and I got a fresh report from my buddy Clyde. The water is warmer than normal right now on Norfork and coming up on Bull Shoals.  They are catching whites and stripers and he sent me this one he caught on a umbrella rig.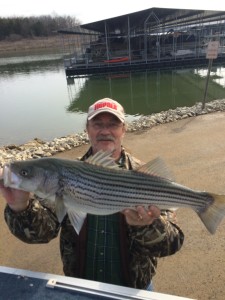 Now that will stretch your string!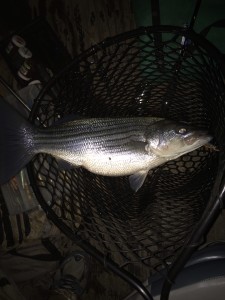 And they are also getting them at night.
The Shoedog is actually up there right now scouting out our place to stay.  When we go, probably April 1, he will staying a month, I will at least be fishing a week.  We are really looking forward to this trip fishing with old buddies.  It is just a month away and it should be more fun than a barrel of monkeys.
*****************
And last I got this comment from my buddy Bobby after I had a little round of losing them on the Swim Jig.
Doug, I had the same problem losing fish!! So I had a thought I put a small treble hook as a stinger hook. I will see how it works next Thursday!!!
I had no problem with losing them today, I think it had more to do with their willingness to eat the other day than any operator error.  I really do think they have been somewhat confused this winter but they seem to be settling into a good spring bite.  So if you try it let us know and we will be looking forward to your report.
*****************
As I write this the front that brought us rain with a lightning and thunder last night is blowing off clear.  With that comes what it projected to be a good 25 – 35 mph winds, gusting to over 40 mph today.  In fact, the weatherman said there will be gale force winds on the coast today, which is why I am sitting at the house.  What will come next I am not sure but it looks like Thursday should be great for the bay and I will be headed to POC.  Tomorrow is up in the air, but hopefully it will be fishing somewhere depending on the wind.  And to any of you with something to say, lets hear it.  Will all love your comments and reports.  So keep stopping in and thanks for reading my stuff.
Good Luck and Tight Lines