Fish Catching Travel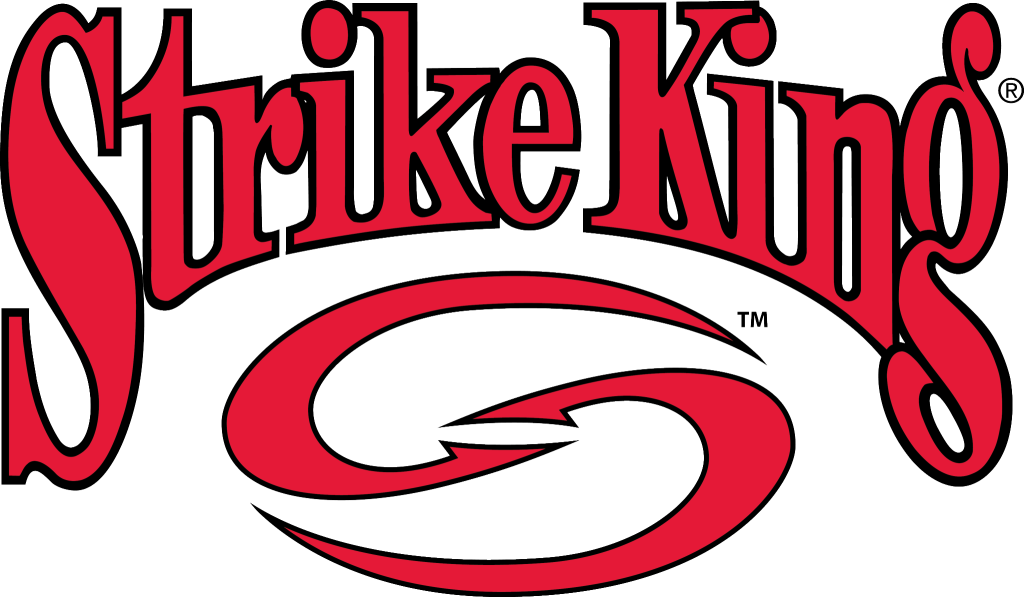 Strike King Swimming Jig kinda day!  Man I love spring!
There were lots of things I thought might happen today when Voe and I hit the lake, but having a super tough day was not one of them.  We started off with a bang and closed out with a whimper.
I can honestly say I am somewhat stumped with the lake fishing.  The lowest water temp we found was 62 and we fished some spots that were as high as 69.  Normally in the spring that would take care of it.  The fish would be on the beds and the action would be hot and heavy.
We started in a main lake spawning cove and it resulted in nothing.  We moved to the next one and did not have a bite until we left the cove and fished the timber point at the mouth and Voe had a bite on his Chatter Bait.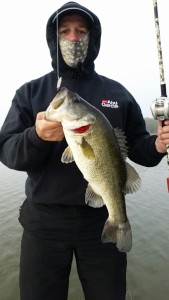 Voe put the smack down on this one the second place we fished.
It was still cool and the fog had just cleared and we were anticipating really getting after them.  After the first couple of places we left them and returned to the big cove we caught them in 2 days before.  We specifically waited until later in the morning so we could be there mid day for the big bite.  It was about 2 minutes after we got there that I caught my first small one.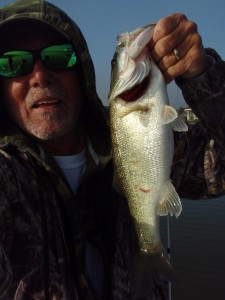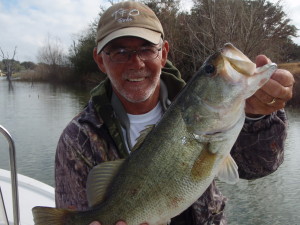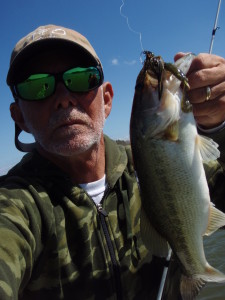 Jim dropped me a note asking about one of my favorite subjects, the Strike King Swim Jig.
I've been meaning to ask but keep forgetting. Regarding the Strike King swim jigs you use:
1) which model do you prefer? The KVD swim jig, the KVD Heavy Cover swim jig or the Hack Attack Heavy Cover swim jig?
2) is there a particular weight that you notice that seems to preform better than the others?
3) do you add a trailer? If so do you prefer a craw worm type or paddle tail type bait.
4) and lastly, do you ever fish them by themselves without a trailer?

Thanks in advance for your time and opinions.

Jim
Great questions and in my case the answers are pretty easy.
 I primarily use the Tour Grade in a bluegill or blue/black, and of course white.  I fish it on 12 or 15lb line most places I fish and it is easier to sink the finer wire hook on the Tour Grade with lighter line.
As our fish spend most of their lives shallow due to grass I like the 1/4 ounce.  And I think that using it shallow you can reel it fast enough with the Rage Craw to get great action.  The few occasions I use it deeper than the 5 foot or so range then I use the 3/8 to get it deeper and still reel it fairly fast.
I generally use the Rage Craw trailer, though use the Lobster and the small Rage Craw on occasion.  On the white, I use a swim bait or paddle tail like the Caffinne Shad in white.  Do note though that in really cool water I alternate with the KVD Chunk which is not as aggressive a paddler as the Rage Craw.
Always, always, always.
I am headed out here in a little bit and hope to fish the new 3/8 Strike King Swinging Swim Jig today.  We are expecting to face high winds today and it will allow me to keep better contact with the heavier jig.  I had some trouble losing fish the other day and the word is the new Swimging Jig keeps them hooked up.  Report to follow.
Thanks for the questions, and basically I try to keep it simple.  In the winter or if I see shad jumping or spawning in the spring, then out comes the white, but basically I like any of bluegill type colors.  Last year when the bluegills got on the beds I caught several big bass shallow in the summer that were up there eating them.  It really is not rocket science, if the fish are shallow it is Swim Jig time.  Like all bait choices, it still comes down to location, location, location.  It is funny how fishermen feel about fishing different baits.  The Shoedog finds it somewhat boring, I find it really subtle and natural, and love the anticipation.  It catches fish, and at times big fish.  And I really can assure you I have thrown multiple other brands and the Strike King is clearly hands down the best of the bunch.
And Jim followed it up with this comment on the current Fayette conditions.
Great report! I have been fishing Fayette every Tuesday for a couple weeks now and agree with you. It's going to be on the next full moon! Been catching "smaller" bass shallow and bigger fish in deeper (10-15ft) water leading into eastern coves. Water temps have been in the mid 60's. Can't wait for the top water bite to kick in.

Am heading up to Toledo Bend Friday for a Fishers of Men tournament Saturday. Weather is warming and has stabilized so there should be some big stringers caught. Hope one of them is mine!

Have a good one.

Jim
First good luck on Toledo this weekend.  5 of the right casts there and 30lbs will be flopping in the floor of the boat.  It will take a big sack, hope you get yours.  The water temp and conditions on both Coleto and Fayette are similar and my observation this year is our pre-spawn period may be a little shorter this year due to the cool water temps and then this couple of week warming trend that may put many of them on the beds this next week.  So folks if you can go, go, the time is now.
**********************
On the trout front the rivers are not quite done yet.
Fished the Lavaca last saturday. Tides real low, kind of a grind on the fish. they were staged on the drop off from 3-6 feet in the river, never found any reds. Ended up with 5 keepers and a bunch of throwbacks. fun day none the less, where to go this weekend, hmmmmmm!!
Thanks Remmy.  That is a report anyone can use to put a few trout in the boat.  With a pretty good report from Garcitas and now yours from the Lavaca there is still a chance to put a few in the boat in either place.  But the end is near so if you like fishing either for trout better hit the water quick, full on spring is here.  Thanks again and comment anytime the mood strikes you.  And the rest of you, a simple report on your fishing can help other folks and we all need a little help on occasion.
*******************
That about catches us up for today.  It really was a disappointing day on the water yesterday.  I am not sure what is going on at the lake right now, but like so many years in the past, it is different than the expectations.  But I will get it figured out, and there will be a day coming soon when it will be crazy good.  So it will be  a weather watch to see what is next at fishcatchingtraverl.com.  No matter what it is fishing time.  So keep stopping in and thanks for reading my stuff.
Good Luck and Tight Line