Fish Catching Travel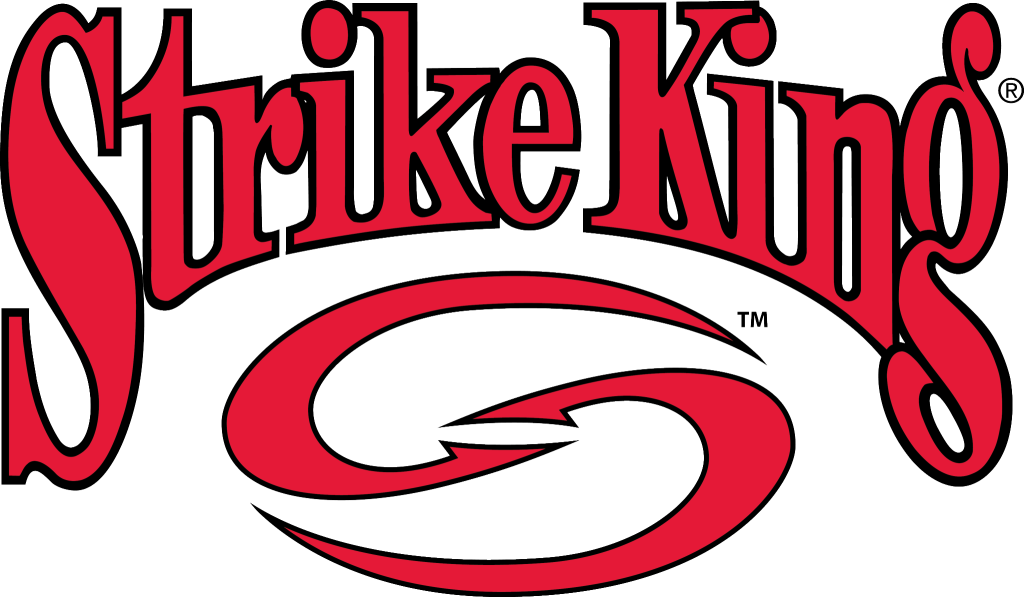 Strike King Swimming Jig kinda day!  Man I love spring!
After a veritable smack down on the reds at the Gulf last week it was time to get on the big bass band wagon.  The water is warming, the weather is unbelievable, and I can feel a big one calling my name.   This is my favorite time of year, fishing is good and getting better everywhere, and it can be tough just deciding where to go.
But my buddy Voe was back in town and up for some bass fishing so Coleto it was.  We got there about 7:30 and it was beautiful, warm, sunny, and dead calm.  I immediately caught one on my first cast, and the curse took hold.  If you catch one on your first cast you need to catch another pretty quick or fishing can suck, and it did, sort of, until after 2:00 in the afternoon.
We fished spawning coves, main lake, flat banks uplake, wood, pretty much all pre-spawn areas we could think of and it was slow.  There was the occasional small one, but it just was not as good as it seemed like it should be.
After catching one on my first cast it was quite a while before I caught another.  Voe was getting bit occasionally, but nothing to write home about.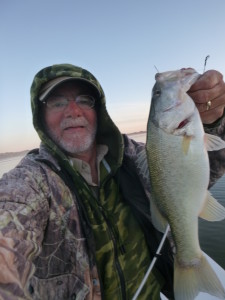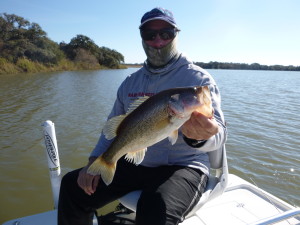 This was it for the first few hours.
Though  I occasionally threw a spinnerbait or plastics, it was the Strike King Swim Jig in a bluegill color with a watermelon red Rage Craw that finally did the damage.  It was a funny morning.  I think we caught around 10 until the late afternoon, and I lost a couple, but it sure seemed slow.   We finally went in a big cove up lake and found them about halfway back on the channel areas.  Though I lost a couple more they started eating it.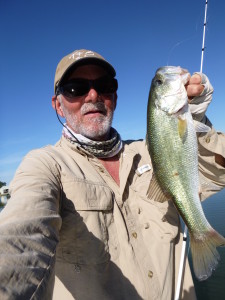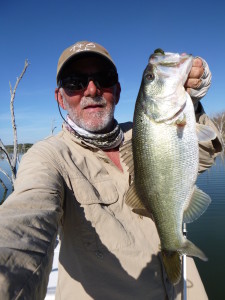 Things improved pretty fast late afternoon.
The second one up there was a fatty, around the 5 lb. plus class.  They wanted the jig swimming fairly steady and not with a lot of action.  By the same token I caught a couple when the jig hit something and they bit.  Voe kept trying different baits, buzzbait, blade bait, crankbait, wacky worm, but none really got them going.  Much of the time we kept the boat sitting in 6 or 7 feet of water.  The fish did not seem to be positioned any place or distance from the bank, and some came the first crank and some halfway back.  They just came when they did.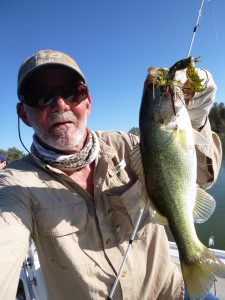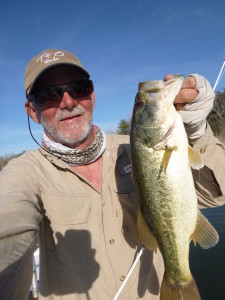 The last couple of nice ones.
We fished the area twice and had bites and fish on the Swim Jig both passes.  It would have been a great tournament place.  Just reel it along close to the bottom and be ready.  I was clearly out of practice with the jig, but by time afternoon came around I was catching them right along.   The water temperature was as high as 68 degrees in some of those places today.  Initially we caught nothing in the back ends, or we caught one, and I mean one small one, most places we tried.  But none were the size we were looking for.  The fish are going to hit the beds with this full moon.  The water is warm and they should move to the banks with a vengeance.
I would guess it was about 15 today, which was ok.  The late afternoon bite saved the day.   One thing that did not help was no wind, it was almost dead flat everywhere.  And the water color up lake is poor, and while we got several bites up there, clearer water helped the bite.   I am so looking forward to the next couple of cloudy days, it has real potential if the water temp stays like it is.  The lake has fallen some and that could have a big effect on things if it continues.  But over all the fishing is ok and it is just a matter of when it really ramps up.  I think I will head that way one more time this week, probably tomorrow.
**********************
Johnny got a chance to fish Amistad and it looks like it went about like the reports I have read elsewhere.
Fishing at Amistad was slow. Went up the Devils river and caught a few on crank baits and swim jig. My best luck was using the drop shot with Watermelon Red Fluke. Caught our biggest fish at a stream coming out of some rocks in the Devils river. Fished around Black Brush.
Amistad is one of my favorite lakes just for the sheer beauty.  We fished it quite a few times several years ago and caught some big fish.  Out last trip a couple of years ago was ok, the Shoedog did catch one big one, but the fishing has declined noticeably the last several years.  Hopefully it will cycle back around soon.  It is such a cool lake.  At lest Coleto is coming on.  Thanks for the report, better luck next time.
*************************
Then next week I will be looking for a light wind day and may try the flyrod for some reds.  They were definitely in my short range off and on for days, and as long as it is just a riffle on the surface they are pretty easy to see.  In fact, standing in the right place would lend itself to plenty of shots.  But who knows?  And the topwater fishing should really be coming on as this weather rapidly warms the water.  Like the lake, get a good cloudy day and it should be game on. How long those reds will  stay ganged up before they spread out is beyond me.  What prompts them to spread out I do not know but if you know the answer let us know.
That will do it for today.  Another trip to the dentist is messing up my day, but tomorrow it will be back at it.  And if you have anything to say drop us a note, we always love to hear from you.  So keep stopping in and thanks for reading my stuff.
Good Luck and Tight Lines