Fish Catching Travel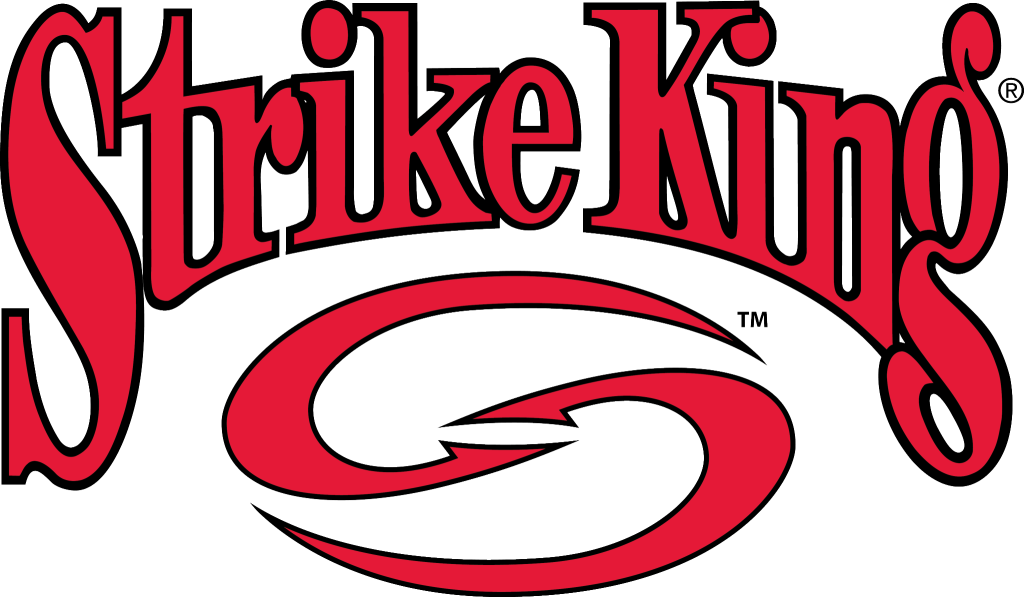 Time to throw that Strike King spinnerbait!  Man I love spring!
There are certain times of years, certain days, a perfect set of conditions, when it is time to do a certain thing as far as fishing goes.  We are in early spring, and the weather is changing every day.  Today was clearly a lake day, unless you like a solid 20mph wind out of the north with a 20 degree temperature drop for bay fishing.  That is not me, so it was back to the lake.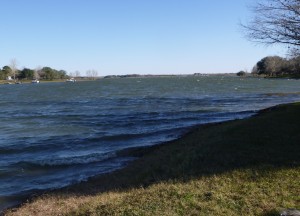 Nothing like white caps in the cove, and it did not lay down any more than this most of the day.
Instead of messing around down lake I just put on my big boy pants and drove all the way up lake before I stopped.  It was a rough ride, not to mention cold.  It really was a big cold front.  And if I was going to fish I was going to spend a little time trying to catch some white bass.  Trolling for white bass is one of my favorite early spring things to do.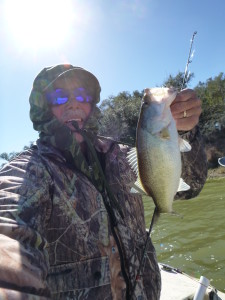 Number 3 out of a small creek.
I started in a small creek way up lake that was probably the calmest place on the lake.  Before it was over in there 3 came over the side, and I missed another one.  That senko has remained consistent and if there is isolated cover you can often get a bite.
After that it was the main river channel throwing a red crankbait.  With the water color like it is a small red crankbait fairly slow is a good choice.  I was letting the wind blow me down the bank, like I had a choice, it was blowing right down the lake.  But a couple of bass smacked it, and then I caught a white bass.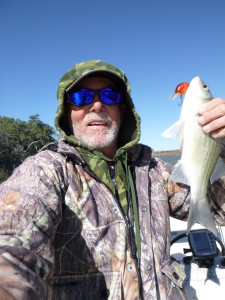 My first white bass.
So it was time to see if I could finally put some in the boat this spring.  Using a small Bagley crankbait on one rod, and a shallow running Shad Rap on another I started trolling.  Usually it is a long cast out and then pull out another 3 long pulls with the rod to get it out about 40 – 50 feet at a slow troll.  Generally baits like that run about 5 foot deep.  So off I went and they started to bite.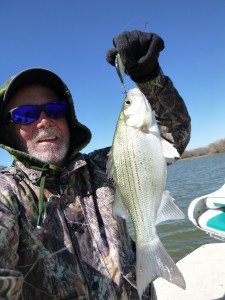 Then it was game on!
They were in an area along the creek channel in 6 – 10 foot of water and when they hit it they knocked the stuffing out of it.  Whether going up lake or down, once I had them cornered  it was about 2 hours of catching whites.  Big ones, little ones, and more in between there were several doubles, and would have been a few more if I had more arms.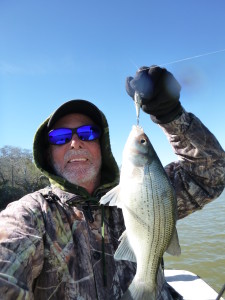 They were smacking that crankbait.
I tried other trolls up and down lake but once I found the area that is where they were.  Before I finally decided to go bass fishing I probably caught 20 -25 whites.  It is so awesome to put the rods in holders and idle along and then seeing them jump on it.  It really was fun, and tomorrow I intend to throw jigs and jerkbaits if the wind is not blowing like a banshee.  I love catching them on jerkbait, they knock the stuffing out of it.
So it was about halfway back to the ramp to hit a main lake bank with some points and pockets on it.  The wind was blowing out of the north right on the bank.  I had only gone a little ways when I buzzed it by a bush and one just annihilated it.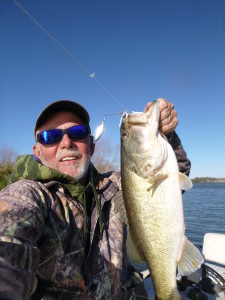 This big girl came out of a bush and just blasted that spinnerbait!  The biggest bass I have caught in a while, but it won't be the last this spring.
I have been trying to hurry spring along, and it is big fish like this one that keeps me fishing hard in the spring.  They are getting ready to bite and even though conditions today were not optimum it was a pretty good day.  It really is a good day when you boat one like this.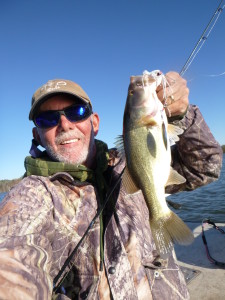 The last fish of the afternoon.
So I fished a little more bank and put one more in the boat on spinnerbait.  When one stops it as you are reeling high speed and making a wake it is a thing of beauty.  The fishing should really take off the next real warm front we get.  Then a cloudy day with drizzle after a 3 or 4 day warming front and the fishing for big fish will really take off.
It was a good day considering I fished 10:30 to 4.  Tomorrow my good buddy Jeffish, who has been laid up with a broken leg is coming along.  Trolling like that he can just get comfy, throw a bait out back and just reel them in.  Not sure what is next after tomorrow but maybe the Gulf on Friday depending on the wind.  It is supposed to blow a little less tomorrow so hoping to really sack them up.  There are a couple of more things to share with you and will try to get them up with tomorrow's report.  So keep stopping in and thanks for reading my stuff.
Good Luck and Tight Lines