Fish Catching Travel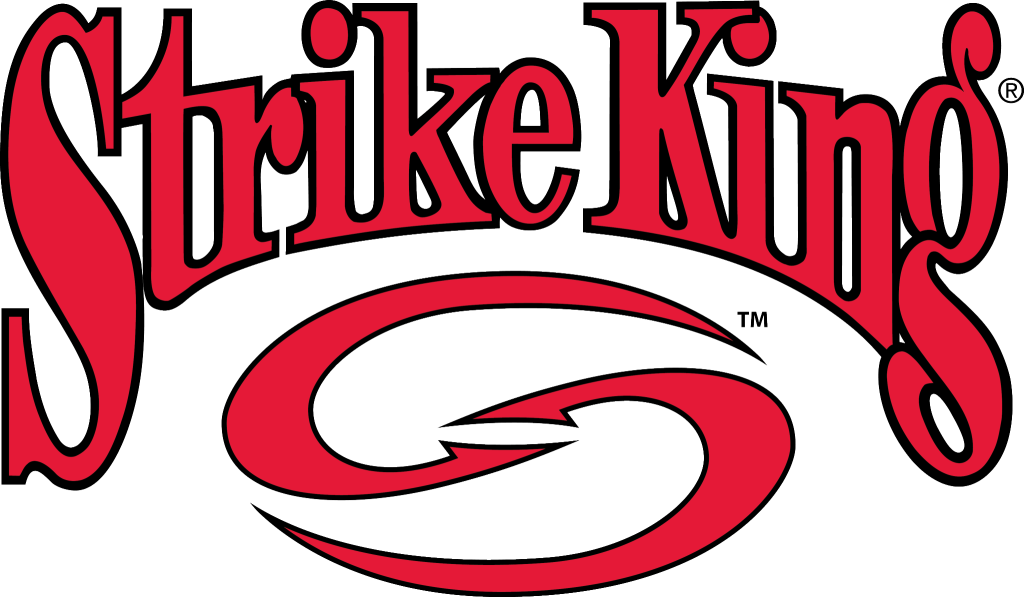 Our good bass fishing is right around the corner and Strike King has the baits for you!
Over the last couple of years the Shoedog and I have fished Somerville a time or two for bass without much success.  We have caught a bunch of whites and the occasional hybrid there, but never really had all that much luck.  Now KVD we are not, but we have caught a couple of bass in the past, it just stumped us.  But we had a trip earlier this year and caught some, and then I got this report from him on his last trip there.
I was lazy this morning and it probably cost me some bites. There was a front coming through mid-day and it was very warm. Over 65 when I left the house at 11 am. The clouds were coming through and the wind was picking up. Supposed great conditions for a bite. Well I got to lake Somerville and it was a bit windy, but not bad. We had heard better reports about the bass fishing and in December we had caught a few nice fish on our first trip there in a while.

I left out of the park ramp by the dam and went out and fished the big island on the way out on the west- always get a bite or two there and the last couple trips have caught catfish there on jerk bait. But, today, nothing. Water levels were probably 8-10 feet lower than last month and water was more off color than usual.

Love those nice spinnerbait fish.

So I headed off to a creek arm that we had caught some in last trip. I started with a white spinner bait with the wind and the chop, even though the water temp was only 53-54 degrees. I started off about 2/3 of the way back in the creek.  Second cast I caught a nice 16 inch bass. I went all the way back on that side of the bank and got back into muddier water and they were definitely not all the way back in the end. I headed back out and as soon as I got back into 4-5 of water with dead reeds/horse weeds (or whatever they are) I got some great bites. In the next 200 yards I got three more nice bass- all right on the edge of the brush and they were whacking it!

Spring is on the way.

The best was a real solid 17 1/2 inch fatty and they were all healthy fish. Looks like good times ahead for this spring at Somerville.

Got some nice bellies on these.

But- as usual- it changed. the front passed and even though it stayed warm, the wind died and the high pressure stopped them cold.I tried the Strike King Swim jig, a KVD jerk bait, nothing. The rest of the day I only managed 2 small bass on a crank bait that I don't even know what kind it has been in my tackle box so long.

Overall a good day- I just should have been there sooner.
Nice job dude.  Things are really looking up for Somerville and it looks like it is poised to have a resurgence.  And then today I picked up a copy of the Outdoor rag and they just had a Collegiate tourney there and it took 18lbs for 5 fish, a nice average.  So those of you that haven't fished it in a while put it on your list this spring.  So thanks for the report Shoedog, looks like I need to head that way soon.
********************
 Over Christmas we had made plans for a couple of days in Ruidoso after visiting our daughter in Oklahoma City but it was during the giant winter storm.  The roads in to New Mexico were closed so we rescheduled for this week.  So we thought we would leave a day early and make a stop in Alpine.  We really like the high desert out here and this is the second time we have been here this year.  So on  the way we stopped in Alpine Texas overnight.
The weather man said there might be a few snow showers in Alpine, and he was right, sort of.  About a half hour out of Fort Stockton it started to snow some, then more, then more.  By time we stopped for gas outside of town it was snowing to beat the band, basically a blizzard.  There were no plows out and it was a mess.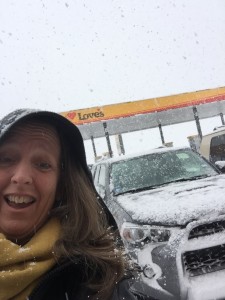 Our gas stop after it had been snowing about a half hour.
As we headed off I10 south to Alpine it really started snowing and the road had not been plowed at all.  You can deal with it 2 ways, either freak out, or drop it in 4 wheel and keep on rolling.  The 4 Runner is a beast in the snow and it was no problem.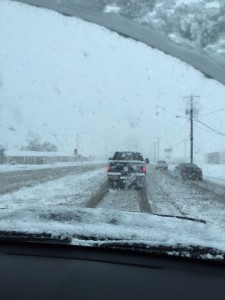 Driving in Fort Stockton, it only got worse, or more fun, depending on how you look at it.
About halfway to Alpine there was a good 6 – 8 inches of snow but people were actually acting like they had half a brain.  Weird I know, but other than almost getting rear ended by a rear end in a Beamer, there were no close calls, and like we used to do in Arkansas with a big snow, it was just 4 wheeling.  The only thing that is a little different, I still can not get over snow in what they call the high desert.
And a side note, one of our favorite restaurants in the whole world is at the Gage Motel in Marathon.  So we headed over to get some supper and on the way I saw a cow elk.  Hope that is a sign of things to come tomorrow as we head to New Mexico.  I love seeing the antelope and the mule deer.  She said she wanted to see a little winter and she sure got her wish.
*******************
On the way over to Ruidoso we took the long way through the mountain and got to see a few elk and a couple of wads of mule deer.  Unfortunately no bulls or bucks, but hunting season just got over and they still are keeping their head down.  Funny how getting shot at for a couple of months has that affect on critters.  But we will be taking more mountain drives so who knows what we will see.  And then we will be on the road home in a couple of days and I am really looking forward to what looks like a warming trend.  The fishing should be in full swing.  So if you have a report drop us a note.  Keep stopping in and thanks for reading my stuff.
Good Luck and Tight Lines