Fish Catching Travel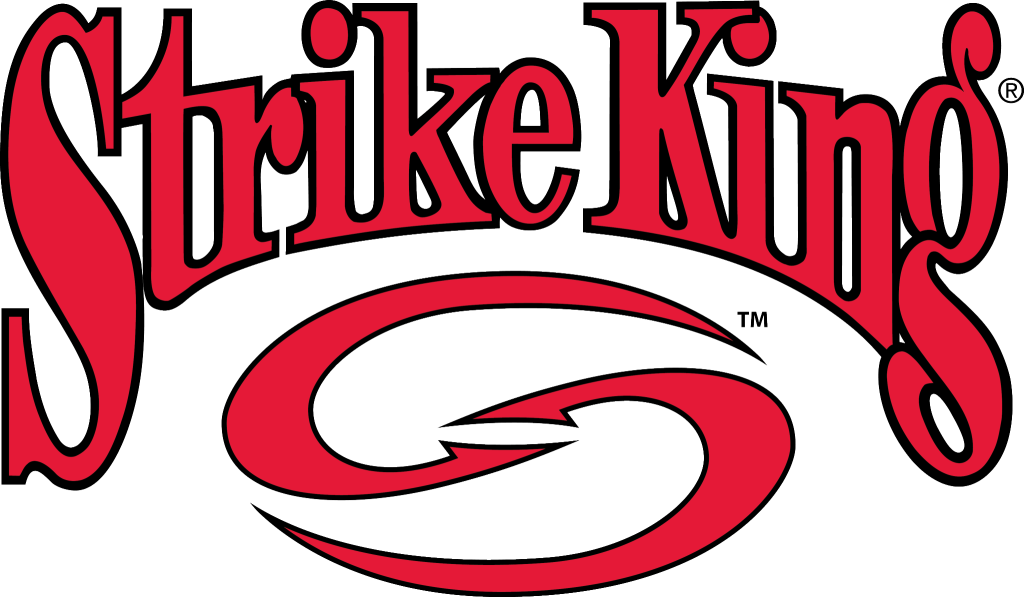 Our good bass fishing is right around the corner and Strike King has the baits for you!
Even though I normally do not fish weekends I really should have got off my butt and headed to the lake today.  I got a report on white bass on the upper end of Coleto and I want to give them a go.  During my time in Arkansas, whether it was Beaver, Norfolk, or Bull Shoals, I always enjoyed the white bass run.  Now I am not sure where they might specifically be located on Coleto, but if they are like white bass everywhere there are a couple of keys to catching a wad of them in the spring no matter where you live.
First, drive up lake, and then drive some more.  In fact, drive until you are worried that you will bottom out, and then start fishing.  White bass gang up on the shoals in the middle of the river, or on the flat banks.  Especially pay attention to flat banks with sun on them and no wind.  Those type of banks warm up faster and more than the surrounding water.  And it actually attracts the shad and baitfish, and here  come the white bass.
As far as lures there are only a couple you need to catch some fish.  Rapala makes a line of balsa bl/silver minnow looking baits.  My favorite is the shallow running Shad Rap.  That said, any good smaller shad colored crankbait or jerkbait will get the job done.  Once you locate a wad of them get out the light action spinning rod, the 1/8th ounce white or Chartreuse feather jig or plastic twister will put the hurt on them once you locate them.
A great fish to take folks after who are not the most experienced fisherman.  Once located the action is fast and the fish are willing.  So if you have never taken the time to do it they can be found on the upper end of almost any reservoir in this country.  Remember, drive up lake, the drive some more, they are way up.  Writing this makes me want to head out, but there is some football to watch today.
******************
Glen dropped me a note after I answered his question on basic trout lures.
All I can say is WOW!
I didn't expect to get that kind of response, but I can't thank you enough. All the info is much appreciated. Thanks again and keep posting.
The column is great and really helps.
Glad it helped out.  Keep it simple and if you work at it you can make those baits work.  It sure is a lot easier and cheaper than live bait.  Usually, lol!
*****************
Glen was one of several folks who commented on that post.
Excellent saltwater 101 post!

Thanks   Jim
That really was the idea, a true 101 class.  Sometimes I forget not everyone fishes as hard as some of us do.  And those of us that do use jargon that we think everyone understands.  So that is the exact comment I hoped to get.  But that was just one of several and here is another.
*******************
Redfishlaw,
Thanks for the lowdown on the baits!
Been wanting to venture to the salt.
Recently moved from Austin area to North Alabama due to aging parents, 59 acres to upkeep with cows. Good thing the TN river is close for cats, Guntersville for bucketmouth, Wheeler and Wilson for smallies and Lewis Smith for 20-40lb class striper.
My brother goes to Orange Beach 1-2 times a year for7 days each. And I'm definitely joining that! This will give me a good start. Since you gave a bait lowdown, anyway we could get a short and curlies on rods and reels…..
I also looked back in your history for something on your "sciff". Found a pick of a Mako. Is it 16′, 17′ 18′ or the 21′. And maybe your observations about it. As I don't plan to put my 35 year old, non-leaking, recently totally restored interior Lund in the salt!!
Thanks! And yeah different but I'm still chomping thru your stuff.
Jay
Nice to know I have readers way off in the hinterlands.  While I have never fished that area I of course as a hard core bass guy am real familiar with all those places you listed.  Austin it is not, but when you can decide to go fishing based on what body of water is hot you are in a great place.  Of all the fishing styles I miss after leaving Arkansas it is the stripers.  I love catching them at night on topwater, how fun is that.
As far as rods and reels I will sit down and write a little bit on the subject.  You actually might  be surprised on my theory of rods and reels.  Suffice to say I have lots and lots, and have not really spent all that much money.  So watch for that.
Speaking of the Orange Beach area the boss and I stopped in that area last year to look around and we really liked it.  There were endless fishing opportunities in the area and we actually plan on returning soon.  We stopped at a ramp in Gulf Shores and talked to a guy who was telling me how good the fishing was.  Lots of access and miles of protected water, it sure looked good to me.  And if you are a tackle store junkie like me be sure to take the time and stop in at L&M Tackle in Orange Beach, one awesome tackle store.
I have 2 boats and often use the term skiff interchangeably.  My true skiff is a 17 1/2 foot Carolina Skiff with a 50hp mercury on the back.  I have owned it for almost 17 years and would never think of giving it up.  It is simple. light, cheap to run, easy to tow, and can take a licking and keep on ticking.  A 50lb trolling motor will tow it for days.  I have used it on rivers, lakes, the Everglades, and everywhere in between.  You could beat that thing with a sledge hammer and not do any damage.  No carpet or fancy electronics, it is as low tech as you can go.  And it usually burns about 6 gallons of gas, on 3 trips!  The major drawback on big water is if the wind is blowing you will get wet, and your teeth may be lose by time you get back to the ramp.
My brother and I bought a Mako 18LTS about 6 years ago, in fact it was one of the first ones in Texas.  It had just come on the market and while it had some bugs, they got worked out and we love it.  On that one we did the works, on board charging, 24 volt trolling motor, front and rear locators/gps, power pole, it is a saltwater fishing machine.   But it also works just great as a bass fishing boat, and has had several real hogs come over the side on Falcon and Amistad.
Now as far as a skiff goes for general fishing I really like the looks of the new Mako 17 Skiff.  Simple, easy to maintain and clean, easy to tow, and with the 60hp 4 stroke it should move right along.  And with the new hull design it should be a lot a drier ride.  It would be a great river boat or catfishing boat, along with a good saltwater boat.  Hose it off and put it to bed.
And last you are  so right about the Lund.  The best aluminum on the market, I see them by the hundreds when we are fishing Canada every year.  I bet yours looks great and very few boats handle big water like the Lund.
Since I bought my first cigar style bass boat with a 70hp, which was something at the time, through my first Champion pad boat, then the Champ V followed by the Black Max engine, to todays 24 foot saltwater boats with 300hop racing engines, the boating thing has gone nuts.   It is easy to get caught up in the flash and speed deal, but it overlooks one very important point:  All the money in the world does not make you a good fisherman.  In fact, we often see that it makes you a horses ass at the ramp, a snotty knucklehead at the cleaning table, and some kind of a big shot at the tackle store, to mention a few.  When it is all said and done there is only one thing that matters, fish on the end of the line.   The biggest payment in the world does not put fish in the boat.  So thanks for your comments and send us a couple of pictures when you catch some of those Alabama fish.
*******************
Last, I heard from Todd of the Austin Boys and they are coming down here in February and it looks like I will get to fish with them a day or two.  Always a good time with those guys and I look forward to it.
********************
And here is a blast from my past.  Our old buddy Jimmy, who likes to fish almost as much as he likes building his rat rods, sent Clyde these pictures and I wanted to share them with you.  Texas it isn't.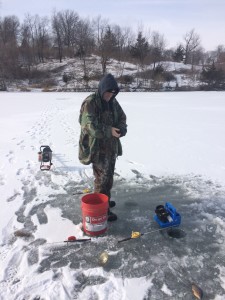 Nothing like the Iowa winter.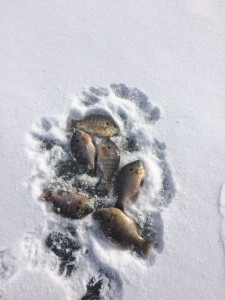 If you have never had a fresh, ice caught, bluegill fish fry you are missing something.
Ice fishing is something every fisherman should try once, but it is just to cold for me.  Watching the storm this weekend out east reminded me how much I do NOT miss winter or snow.  Pretty to look at a light dose does it as far as I am concerned.
*****************
Sorry for the limited number of fishing reports lately, but it is January.  Our weather is as schizophrenic as can be, hot/cold/windy/calm, we have had it all.  We have a little more weather to get past before spring is really here, but it is coming.  I will be taking a little time today getting things back in order for the big spring push.  Tomorrow it will be out early and hard at it.  As usual I have not made a plan yet, but those white bass are calling me.  And after fishing Coleto hard the last few years it is time to see if I can catch a few, or a few hundred.  So no matter where we are on the water I can not thank you enough for sticking with me.  So keep stopping in and thanks for reading my stuff.
Good Luck and Tight Lines