Fish Catching Travel
The best baits on the planet!
There are 2 places I have not fished yet this fall, Baffin and the Lavaca River, and I got one of them done today.  November is always a solid month on the Lavaca and I was excited as I headed to the river.  There were 6 or 7 trucks at the ramp when I got there. I almost put it  back on the trailer and went to Garcitas, it looked that off-color.  So on with the big boy pants and in the water goes the Carolina Skiff.  Beside catching fish, part of this deal is to report to those of you who care what is happening with the fishing, good or bad.
The water color looked terrible, real dirty, until I took off my amber Polaroids, and then it only looked like crap.  The water was off-color with that murky shade that is not on my favorite list.  But with that many trucks at the ramp obviously the fish are in there somewhere.
First it was the Navidad, which has  my favorite bank on the river.  The water color was real murky and the first place did not even produce a bite.  So I motored up river a ways to see if it cleared any, which it didn't, and I fished another spot that usually produces some reds and again, no bites.  So definitely time for a move.
The wind was blowing pretty good as I motored down river and stopped just past the power lines to fish the south bank.  That area is usually pretty productive and finally one committed suicide.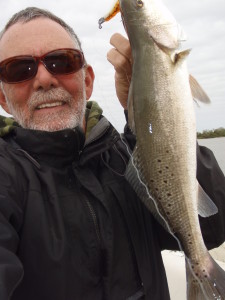 The best one for the day.
The water was just a little bit better, but the wind did not help much.  I put 4 in the boat on that stretch, which has some sand and bare bank.  They seemed to like the chicken on a chain color with a chartreuse paddle tail.  All my bites came in 4 foot of water give or take an inch.  Since the bite was not all that hot I flipped sides of the river and fished the big sand flat further on down.  It was only one bite there, but I did put it in the boat.
This is what most of them looked like.
The next place I wanted to check was the mouth of the slew entering the river near the big house down river.  The tide was flowing out, and the water coming out of the slew was at least somewhat clear.  The wind was blowing right in it and there was a color break and I caught 3 there, most like the one above.
I did fish several colors and styles of plastics but the 3″ paddle was the clear choice.  It was difficult to fish due to the high winds, you just had to suck it up.  And though it was howling I did want to check the bank at the mouth of the lake and so I headed down and stopped just short.  I only caught one there, and since it was blowing I headed back up.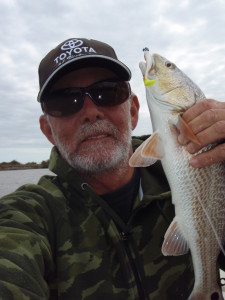 You always hope when you set the hook these are a trout.
I think I caught one more after that back up river, and one rat red.  So today could only be described as a wash.  I fished about 5 hours, but just could not get over the water color, my heart was not in it.  But the point is the fish are there, and they can be caught.  If we do not get a whole lot more rain maybe it will clear some, but they may be letting water out of Texana.  This was one of those days where I wish someone would have been with me, to motivate me to fish harder, but really to keep trying different colors and weight.  So don't write it off if you like to fish it, they can be caught.
A young guy who fishes it some talked to me at the ramp and he said he has been catching them off and on.  His cousin fished it yesterday and had a good day with redfish.  The water color does not deter the reds and with a little effort you can catch them right now.
********************
Johnny sent us this report from he trip to Fayette this last weekend.
Just about got blown off of Lake Fayette this weekend. It was windy, cold, and miserable for us fishing fools. Was able to catch fish at the discharge, the dam, and by the trees along the creek. Spinner bait, crank baits, and soft plastics did not let me down. It was a challenge, but got it done.

The plant was not running so the water temp was between 66 and 71 degrees. Be back again next year.

Have a Happy Thanksgiving!
Thanks for the report.  Sounds like you had to really struggle with the wind, which can be a real hassle on Fayette.  But on the flip side sounds like you caught fish in most places and on several baits, a real Fayette day.  I hope to get up there soon before it gets to dang cold.  So keep those reports coming, we appreciate them.
*******************
I really want to wish all of you a Happy Thanksgiving and hope you get to spend some time with the family, and maybe even a little bit in the outdoors.  I will be fishing tomorrow with my brother the Shoedog in College Station, then Thanksgiving day I will be sitting in a blind all day trying to put a nice fat doe in the freezer.
Maybe they will stop by while I am there.
My lovely wife works the holidays as she does most years to let folks with kids have the time off.  She will be off on Friday and we will have our personal Thanksgiving sitting in front of the TV watching those HOGS!  So have a great holiday, I can not thank you all enough for your participation, it keeps me going.  Keep stopping in and thanks for reading my stuff.
Happy Thanksgiving
Good Luck and Tight Lines