Fish Catching Travel
Catch a couple of new baits today!
The beat goes on, at least the trout beatdown.  Our plan was to fish Garcitas Creek to see if the trout had made their way into the river, and they have.  Whether it is the bay, a reef, a creek, it does not seem to matter right now, the speckled trout are on the chew.  As I have said before, you hunters keep at it, I will cover the fishing thing.
We got to the river at 8 and there were 2 trucks with trailers in the lot.  During the day we saw several boats, and I want to say a word about the folks fishing.  Everyone idle by you, everyone was courteous, and that alone made it a great day on the water.   Speaking of the water it is a dark tannic color but not dirty.  With light winds, it was just a pleasant day to fish.
Starting about half way down  river we fished a long flat bank and maybe caught a couple.  We moved to a point and hit a real wad of them, maybe catching 15 or 20 pretty quick.  From there it was this place and that, catching a trout here and there, we had a couple of keepers about 12:00 and then hit the good place and filled out another solid limit of trout with 3 good reds added to the box.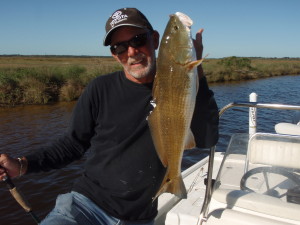 Beautiful color out of the river.
Sorry there are no trout pictures but we planned on the old dead stringer at the cleaning table picture, but we just started cleaning fish and so no picture.  The limit was maybe a little smaller than yesterday.  We hit a bank quite a way down the creek and Shoedog caught a nice red, and I think I put another trout in the box.  After a minute with no bites I said turn around lets re-fish this, and we filled our limit of trout and caught 3 keeper redfish in nothing flat.
Headed to College Station on a half shell.
We were both throwing paddle tails, and for some reason today we both threw the Coocahee Minnow plastic, which I rarely throw , on a 1/16 or 1/8th jig head.   Dark colors and Chartreuse tails were the best.  Tossing it to the bank we hopped it up and let fall down the breaks, and when they hit it, they either smacked it, or knocked a bunch of slack in the line.  We both threw a little topwater and I threw a corky, without success.   The bite though on plastic was fairly consistent today.   We caught fish from when we started until we quit at 3.
We quit a little early today after we went to start the boat and it would not start.  It turned out to be the battery was not producing 12 volts when we tried to start it.  The Opti Max needs a minimum of 12 volts to start, but it will turn over and not start with less than 12.  I called Bob at Victoria Marine, and he gave us a couple of tips and one of them was spot on.  It was the positive connection which was very lightly corroded, so Shoedog cleaned it and it started.  We will just have to wait and see whether it turns out to be the battery is giving up the ghost.  At least we made it home. Nice to know we had Sea Tow if we needed it and Bob for advice.  So a big thanks to Bob at Victoria Marine, helpful as always.
 The trout in Garcitas are definitely  smaller than what we are catching in the bay.  Now since this was our first trip there this year we may have just not hit the perfect spot.  But we did catch an easy limit and lots of smaller ones with a couple small flounder, a few sand trout and a rat or two.  Funny how you can catch around 40 to who knows how many and it seems like you did not hit the perfect spot!  As you know I have been raving about the fishing, and anytime you move while catching speckled trout to find bigger fish you are having a good day.  If you have not been the last few weeks you are missing out, it is flat good.
Tomorrow it is off to the lake with my buddy Voe.  We have a weather change coming and one of these days on Coleto I will hit the front just right, hope that is tomorrow.  I still want to fish the Lavaca River and go trolling with Corbin.  So lets see how the weather cooperates.  No matter what I will be fishing, when it is this good, go, it will end.  So keep stopping in and thanks for reading my stuff.
Good Luck and Tight Lines