Fish Catching Travel
Catch a couple of baits today!
The Shoedog made an appearance today and we headed for the Gulf.  It has been awhile since I had a tough day on the bay, and today did not disappoint.  We headed out from POC to the flats around Army Hole.  The tide was perfect, high around  2 a.m. then falling most of the day.  It was really high and the water had a little color to it.  We jumped in and I headed down the bank and Shoedog hit the mouth of a cut. Once he went 7 bites on 7 casts and caught half a dozen in nothing flat I turned around and headed that way.  He was throwing a 4′ paddle tail and I was throwing a 3 1/2″.  They were knocking the stuffing out of it and it was a good mix of keepers and shorts.  In around 45 minutes he had limited.
Back to the boat for a coolor ride.
By time he got to the boat and emptied his stringer I joined him.  They were eating that paddle tail.
So I went and dropped off my limit too.
So here we are 45 minutes after we got here and we are limited.  We decided to stay awhile and fish so Shoedog went into the cut and I headed out on the flat.  He figures he caught another 25 trout in the next 3 hours before our move.  He also caught a few small flounder.
My best topwater trout for the day.
The wind was blowing fairly lightly  as I threw the topwater.  I caught a few trout smaller than the one above, and also a couple of rat reds on it.  It was just a little to nice as far as the weather went, and though they were hitting a walk the dog retrieve, it was clear they wanted the plastics.  A little wind and cloud cover would have helped the topwater fishing, but we both stuck to plastics most of the day.  Today I used a 1/16th jig head and a chicken on a chain paddle tail.  It was funny how many of the fish I caught in the middle of the day that hit were in a little less than 3 foot of water, as soon as the bait hit the water.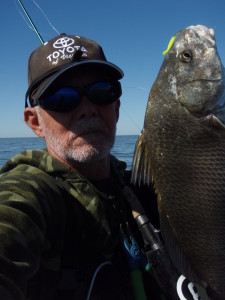 One of 2 Black Drum I caught today.
The other fish were near the grass edge, and the trout were a little farther out.  The current was blasting out and if you got your cast and drift just right it was bite after bite.  Finally I said lets move just for the sake of it, so we headed back to the old stomping grounds, Big Bayou.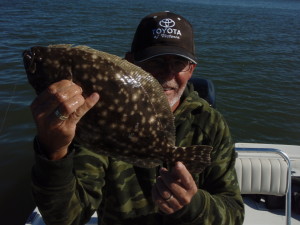 A keeper flounder.  Yum.
We fished a couple of deep banks and the fish were there too.  We had a little trouble keeping them on, the tide was ripping and the wind was blowing the opposite direction making it a little tough to fish.  But we caught some nice trout, reds, and flounder.  With a nice limit of trout for a couple of Aggies in College Station we let everything go, but sacked the flounders.
Some good eating.
There really isn't anything all that radical about the fishing lately, it is just a matter of keeping it in the water.  Plastics, topwater, fresh dead shrimp under a popping cork, it has all been working.  And wading and drift fishing are both working.  As the water cools I look forward to throwing the corky style baits.
My last red, a real borderline, his lucky day. 
We ended up calling it a day around 4 p.m.  I have been raving about the fishing the last couple of months, and I am not exaggerating, it is as consistent as I have experienced since coming to Texas 7 years ago.  Of course it may have a little something to do with us getting the hang of it, but it is more than that.  But still, we caught fish almost all day, just as we have done most every trip the last 6 or 7 weeks.  It really does seem that the populations have grown some and the size length is also up.  A falling tide all day, plus the good fall bite, add up to some of the best fishing of the year.  If you have any thoughts of hitting the bay, do it.  It does not stay this good forever.
Hopefully there are not to many editing errors, but I am tired and going to hit the sack.  It will be up before daylight and off to Garcitas Creek.  Both it and the Lavaca River should be holding fish, and it won't take long to figure that out.  And after the Shoedog leaves it will be a day of somewhere with Voe, and then baring rain it might be some fishing with my buddy Jeffish and his son, Corbin, future best fisherman to ever live.  So keep stopping in and thanks for reading my stuff.
Good Luck and Tight Lines