Fish Catching Travel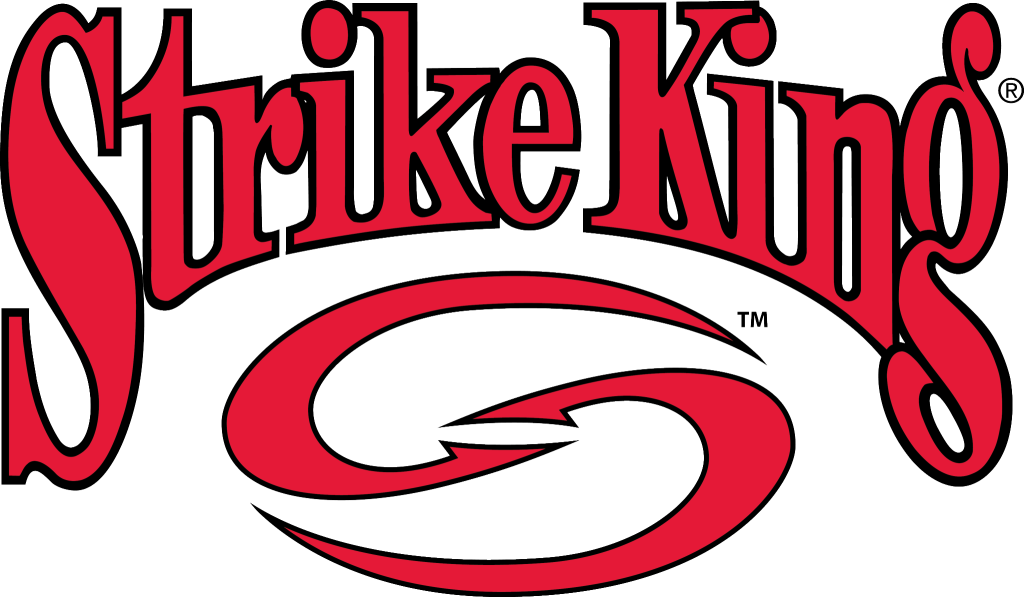 Baits for all your fishing needs
Today I spent all day keeping after the muskies.  I am still trying to catch a real one, and today the muskies were not to blame.  First it was the bay where 2 made the boat yesterday and it was a sign of things to come. Muskie fishing fishing is not easy.
On my second cast with the Suick, a really old school muskie bait I realized I did not have my sunglasses on and could not see the bait real well.  So at the end of the cast I laid my rod down and put them on.  The bait was laying on the water and a huge boil came up as a big one rolled on it.  Dam good thing it did not get it or a couple of hundred bucks would have gone over the side.  Later I had a small one follow all the way to the boat, did the figure 8 but she would not bite.
Then around noon I did everything right, and it came out all wrong.  I was trolling to give my arm a break and when I crossed a point the bait hit grass in about 12 foot of water, a classic muskie situation in the fall.  As it was blowing pretty good I went up wind and got out the big double bladed inline spinner.  These things are like reeling in a car.  As I got to the end of the point a really good one just smoked it, I mean came up and ate it right in front of me, and with my superior skill managed to F' it up.
The point flatted out in 10 foot and led into a little channel about 6 foot deep and so I buzzed it and here comes a big girl, bigger than anything I have seen this trip.  She was waking behind it and took a wack at it, missed, I figured 8″d it, thought she had it, missed her and stuck the bait in the side of the rub rail of the boat.  By time I got that sorted out she was gone.  That was it for bites.  And that is the muskie game.  I am still learning but it reminds me of hunting.  Only so many chances and you better not mess it up.  But even though it turned into muskies 4, me zip, those few moments of shear awesomeness keeps me after them.  What a fish.
On the flip side Clyde and Shoedog carried a motor and tackle over to Jesse Lake off of Crow.  A small lake only accessible by portage it is classed as a no keep trophy lake.  Smallmouth and pike are the quarry and to say it was good would be any understatement.
Now that is a smallmouth.
To make a long story short they caught over 200 hundred smallmouth and a couple of pike in about 6 hours.  Some on grub, a few on jerkbait, but the real ticket was buzzbait.  They said the fish were coming out of deep water and blasting it.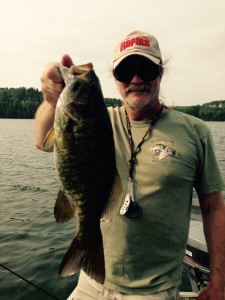 No, this is a smallmouth!
The lake also some really nice pike.  And up here they love that Rapala Husky Jerk in gold, we have caught everything that swims on it.
34″ of talk about ferocious!
The boys are gone and it is just Shoedog and I.  It is a lot quieter here as we kind of have a take it easy morning.  We will be back to muskie fishing in a little bit this morning.  Then it will be the last 3 days, and we will hit them hard.  I have not walleye fished yet not concentrated on the smallmouth and some of that will go on.
The last of the boys take home limit.
Paul, his wife Chris, their son Jake and his wife Ashley are so accommodating.  They had us over for Paul's famous pizza last night and boy was it good.  Jake loaned me a couple of trolling baits.  We all just love coming not only to Ontario but specifically to Muskie Bay.  Time to sign off and head to the lake.  I can not get enough of throwing baits the size of a small beaver until my arms want to fall off and my hands swell up the size of baseballs.  Life is good.  So keep stopping in and thanks for reading my stuff.
Good Luck and Tight Lines
(I am sure there are some serious editing and spelling mistakes, sorry but it is time to go fishing!)