Fish Catching Travel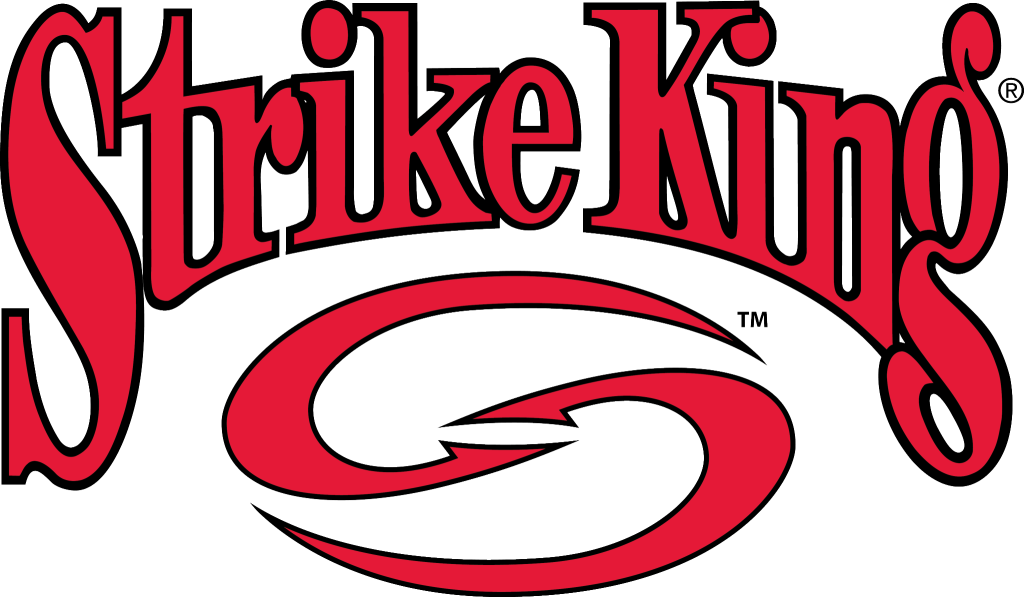 Baits for all your fishing needs.
One of the great things about coming up here is my buddy Clyde's past experience.  He has been fishing this area for almost 20 years and has really fished a lot of it, and believe me that is only a small part.  We started our day off with some lake trout fishing on Crow and then went over to the Sabaskong Bay.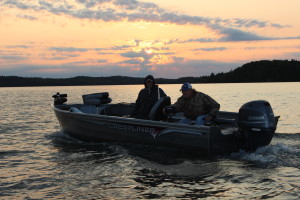 Headed out at daylight.
The plan was to lake trout fish first thing and then head to lake of the woods to walleye fish.  It was pretty good.  To bad I just seem to have lost my mojo.
Shoedog with a small laker.  Not quite the size we were looking for.
Clyde with a couple of nice lakers.
Clyde has his mojo working with the lakers and has caught a couple every morning.  The boats up here are tiller steering and he is able to see his jig in 100 foot of water and when he sees them at 60 or 80 or whatever he reels it and shakes it right in front of their nose.  It is a very efficient way to get them.
About 10 we headed over Saboskong Bay on Lake of the Woods.  The took off for a channel way up lake to walleye fish and we started trolling for northern pike.  To say that sucked would be giving it a break.  Then we fished a big cove with assorted baits without success.  At this point it was time to do what we know and keep it simple.
I remembered a big cove with lots of rocky structure and a good channel looking bank.  We spent the rest of the afternoon until it was getting late fishing grub.  We limited on walleye and I did catch a smallmouth.  As it was getting late it was time to throw a big prop bait for muskie.  The first reef we stopped on I had the fish I have been looking for absolutely blow up on it, and miss.  Dang it.  We went to the next place and another one rolled on it, double dang.  We fished 2 more small places without a bite and the day was over for us.
They also limited on walleye and we met up with them as they were going in.  They had the same kind of day.  Once they found the fish you could not come back and re-fish them.  So not a bad day.  And when we ate the walleyes tonight there was not a bite left.  The fishing for me has not been that great, but the eating has been spectacular.
To make a long story short today (Friday) was nothing to write home about.  Both parties caught smallmouth but the muskies have a case of lockjaw.  Muskies have always been referred to as the fish of a thousands casts, I wish.  Shoedog said lets bet $5 this afternoon on the first muskie, I said heck, I would pay him $5 if I caught one.  But my turn is coming.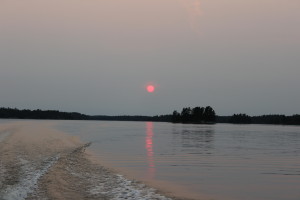 Finally done for the day.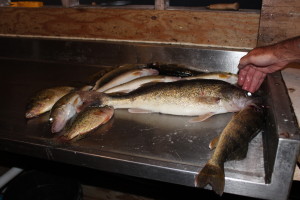 Everybody limited on walleye, headed to the fish fry.
So that catches up the fishing.  Tomorrow we will go way up on Lake of the Woods to fish a place called Bear Bay.  Clyde found it about 10 years ago, and when we fished it last year we caught big smallmouth until our arms were falling off.  Shoedog and I will give the muskies a break and spend a couple of days catching the easy stuff.  Give us time to rest our bodies from throwing muskie baits as big as your head.  They are really hard to pull, but that is the point.  The muskie are fishing for are big, and it takes a big bait to catch them.
Sorry again for the disjointed report and the poor editing.  But here it is again, 10:30 and we will be up at 5 for a 45 minute drive and then a 45 minute boat ride up to Bear Bay.  By time we get back tomorrow night it will be 9 and then we do it all over again.
Finally as the boys fished this one bank there was a bald eagle on a tree giving them hell.  Jim caught a rock bass, which they hate up here as they make a living eating lake trout eggs, so he wacked him and tossed him in the lake.  The eagle sailed right down and circled the fish but the boat was to close so he went back to his tree.  As soon as they moved down the bank he came down and grabbed it.  That is what makes this place what it is.  So keep stopping in and thanks for reading my stuff.
Good Luck and Tight Line