Fish Catching Travel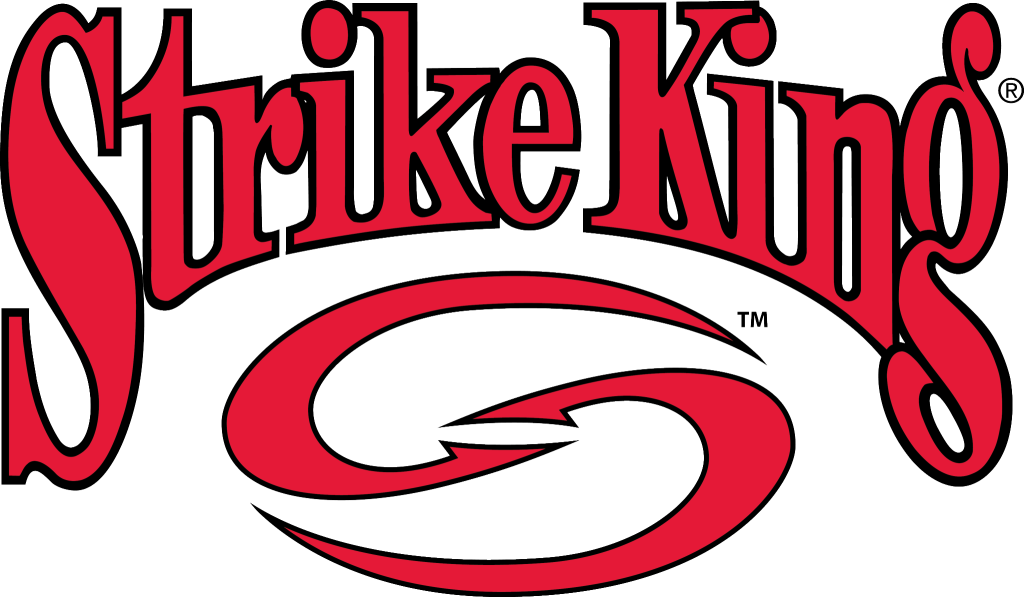 The fish know the difference.
My brother Kelly up in Arkansas posted this to his facebook page, "Now that's funny right there!"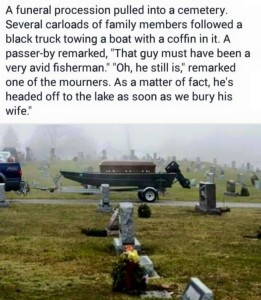 All I have to say about that is it is nothing personal Nancy, but they are biting!
************************
Folks hot does not do it justice.  While the temperature only hit 98 yesterday the heat index was almost 110.  Today it is even worse.  After a fairly cool June with plenty of rain we are stuck in a high pressure system.  As a consequence the wind is blowing out of the SE/W at up to 25 in the afternoon, the humidity is out of this world, and it is now getting dry as a bone here in South Texas.
I just can not get motivated to fish the Gulf.  And this week my 3 regular fishing partners just did not hook up, and as a consequence of that and the heat, I just am not motivated to drive 60 miles, spend $30, and be smoking hot by noon.  Funny how a little company can  keep you fishing longer.  And then my buddy Jeffish and his son Korbin spent a couple of days at a cabin on Coleto so I went out Wednesday evening for some fajitas on the grill.  With a nice breeze and big trees it was livable and we made plans to meet the next morning to fish.  When I left that evening they went to check the 4 jugs they had out and I got this text.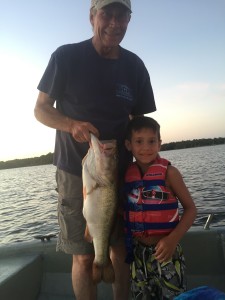 Korbin and Paw Paw.
This picture did not do that fish justice.  It was 24 1/2″ long and was easily in the 8lb.+ class.  It was caught on a tilapia in about 10 foot of water.  As a side note, if you are wanting to do some jugging or trot lining now is the time.  The tilapia and perch had a great spawn and just a couple of throws with the net will get you all the bait you need.  Jeffish likes to chum with cat food and usually had no trouble getting bait.
The next morning they were still sleeping when I got to the lake so I went to throw the buzzbait and in the first hour put a couple in the boat.  Then it was back to their campsite and they were just heading out to check their 2 jugs and then do a little bass fishing so I followed them.  The first was empty but the second had a nice catfish around 7lbs.  From there we both went fishing.
Before I quit at 11:30 I caught 4 on  buzzbait and 4 or 5 pitching.  All of them looked just like the ones from the last report.  I did lose my last 6″ watermelon lizard and switched to pitching a Rage Craw but did not get the bites I have.  But as it was late in the morning it may have had more to do with timing, will just have to wait and see.  When we met at the ramp Jeffish managed to catch a nice 3lber on buzzbait but other than that he only had one or two more bites.  The fishing really slows down as the day wears on, and then starts picking back up in the evening.  The Wednesday tourney took over 14lbs with a 5lber as big fish.  That is about what I have been catching in the morning, so overall the fishing is pretty good considering the heat.
********************
Speaking of Coleto fishing and my impending trip to Canada I got this comment from Rusty.
Glad to hear Coleta is starting to get better, Fayette Lake has slowed down last week or so.  LCRA dropped the water level down quite a bit  (I think anticipating heavy fall rains) and the fish are trying to adjust.
Well,  I'm heading to Northern Ontario, Canada tomorrow for some cooler weather and awesome fishing.  I don't have to tell you how much fun it is.  I probably won't sleep much tonight knowing that my fingers, hands and shoulders are in for a tough 7 days.
Tight lines!   Rusty
Good luck on your Ontario trip.  And the wear and tear on hands, arms, shoulders, and back is hard to describe to folks who have never made that trip.  Not only do you fish hard, for us it is usually over 10 hours a day at a minimum, but you catch so many fish, some of them really big and toothy, that your hands take a beaten.  And I love it.  And folks Rusty is a Fayette regular who fishes it maybe as much as anyone.  He also gets to Coleto and Bastrop and you can take his information for gospel, he gets after it.  Let us know when you get back, it will just fuel my fever for our trip, which is only 24 days away.
*******************
I do want to address an issue which has come up with the instituting of the 5 fish trout limit.  A recent article in a major publication detailed the survival rate of released trout, and it was somewhat higher than I might have thought.  But there is no way on God's green earth that dragging around a trout on the stringer, then releasing it for a bigger one is a good thing.  The stress on stringered trout, especially in warmer weather, is high.  If you have done any amount of wading you know how the trout are when you get back to the boat.  Is it so important to trade a 15″ for an 18″?  Are you so fish hungry that another 3 ounces of filet is worth it?  So do what you want, it is legal, but it is in the catching.  Next time you are tempted to do it think about what you may be doing to the one you let go.  Just saying.
********************
For all my bitching and moaning about the weather I will get over it.  The water is really crowded on the weekends out of POC.  There are major tourneys almost every weekend, including this one, so I will give it a couple of days then start back in.  And hunting season will be ramping up in a little over a month, and the waters will seem almost empty compared to right now.  Stick with me, there is lots of fishing to come.  And if you have any reports or anything to say let me know.  We all love hearing from you.  So keep stopping in and thanks for reading my stuff.
Good Luck and Tight Lines