Fish Catching Travel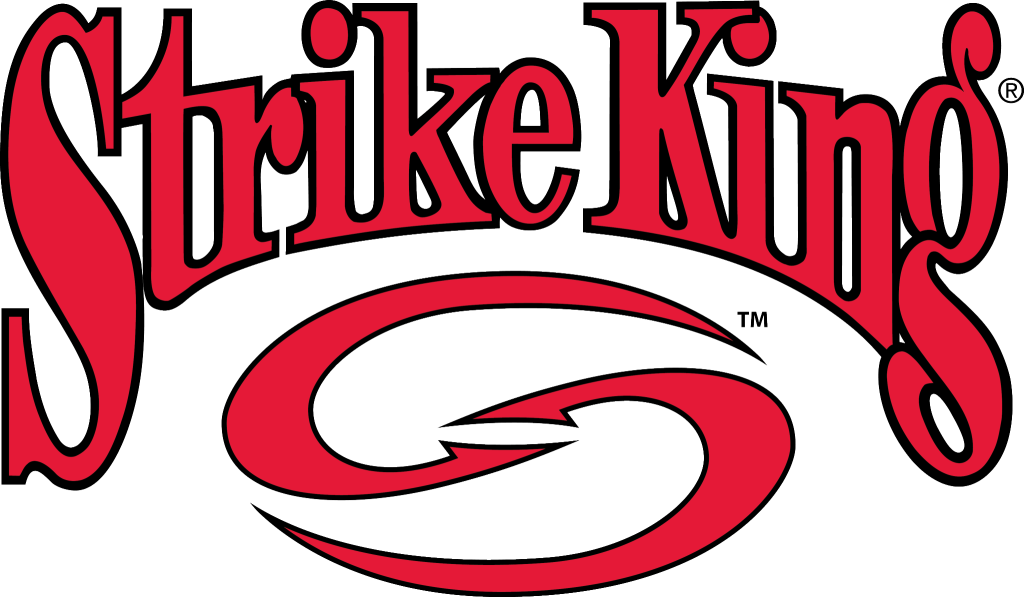 Try some today – they work!
I had something to do Thursday afternoon, so with a short day it was the lake.  I have been catching them pitching soft plastics the last couple of trips so that was the initial plan for the day.  The water seems to be finally clearing some so I headed way up lake.  First it was the bush where I caught 3 the other day, but only one small one ate the lizard.
I kept moving up lake catching a little one here and there on the plastics to I decided with the water clearing why not the buzzbait.  On the first bank I tried this one ate it and 3 missed it, or I missed them.
They were all small until I threw a buzzbait.
Then it was working back down lake as the sun came out.  Alternating between the plastics, which kept producing a small one here and there, and the buzzbait.  A couple fell for it in a big cove that has held fish all spring.  With the water stabilized they have not abandoned the coves yet, some even coming all the way in the back.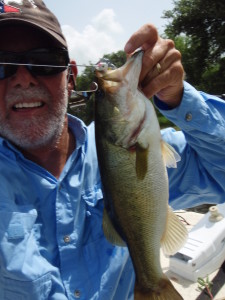 All the keepers were this size.
It turned out to be a good thing I was quitting early.  The wind started to blow and the sun was full out.  It finally got to windy to pitch, and they just quit on the buzzbait.  So I gave it up.  I think it was about 10, half of which were keepers, nothing fantastic, but consistent.  Considering it is full on summer here now the fishing has been ok.  They are still related to the grass, at least for me, but it is slowing down some.
*************************
The Shoedog has not been down here fishing for quite a while.  He has been on a multistate tour.  The last stop is at our friend Clyde's in Mtn. Home Arkansas.  They are working on some music that they will play at a big annual party in Iowa, where we grew up.  Of course it included a little fishing.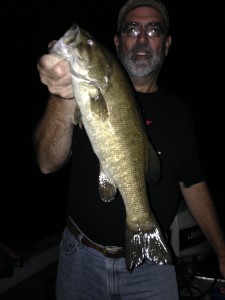 A nice Lake Norfork smallmouth.
Lake Norfork is a deep clear highland lake, and as summer comes around most of the fishing is done at night.  With crystal clear water, and depths reaching 200 feet at the dam, the fish go deep most of the summer, and do not reappear shallow until October.  He caught this nice smallmouth on a white spinnerbait last night.   Hope you guys are having a good time and be sure to bring the guitars to Canada.
************************
Jeffish has been taking his son fishing a lot, and Korbin is loving it.  They have been fishing Saxet Lake, which has had a pretty good bite since the water came up.
Korbin and his big drum.
Korbin is turning into quite the little fisherman.  It is so awesome to see a kid who is spending time in the outdoors instead of in front of a computer or TV.  You can do your kid no greater favor.  Congrats Korbin, this is the first of many big fish coming in your life.
*********************
Please be careful this weekend.  There will be lots of folks on the roads and waterways.  So be nice.  A perfect example of being nice is when I got to the ramp a guy pulled his bass boat out of the lake and parked right in front of the ramp.  It would be easy to say something, but why bother.  No reason to raise your blood pressure, and you never know how crazy some folks can be.  So be the bigger guy out there.   As our waters get more and more crowded it takes cooperation on all our parts.   And make sure you have all your safety equipment and paperwork as law enforcement will be out in force.  Drink responsibly, you can get busted for BWI as easily as DWI.  And one last thing.  Please be careful if you are wet wading.  With the higher fresh/dirty water vibro is out there.  So if you have an open wound that will get wet, or are immune compromised wear waders, it may save your life.  So have a fun and safe weekend.
***********************
Not a clue what is next but with the Boss off this weekend it may be some serious beach time, and maybe a long drive down North Padre.  And this week Shoedog will be down for a few days so the Gulf will be calling.  So keep stopping in and thanks for reading my stuff.
Good Luck and Tight Lines