Fish Catching Travel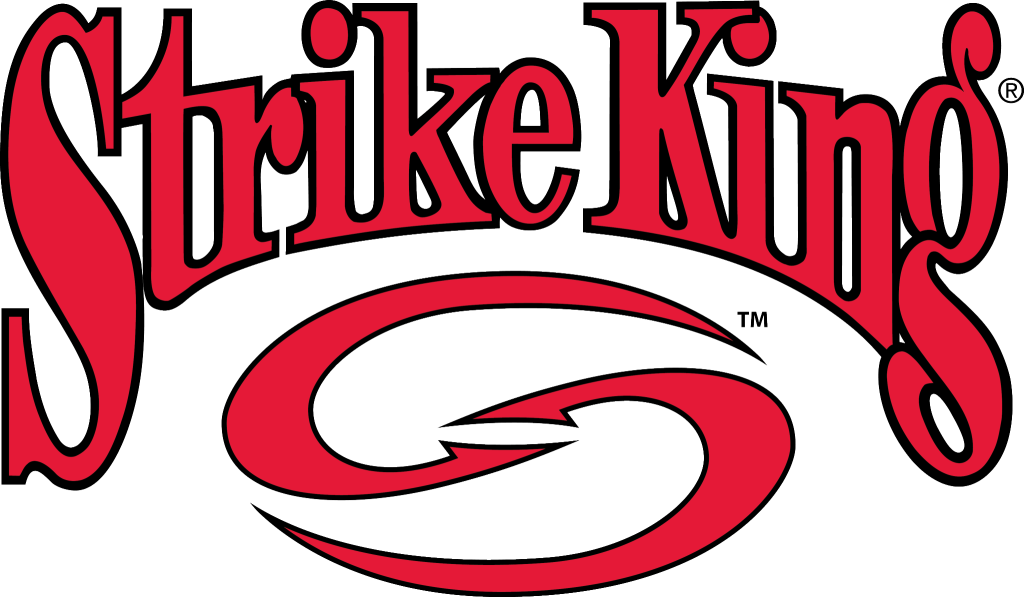 No better baits made for all fishing.
After fishing the Gulf the other day I said that I was not going to stop and trout fish until I found that good water.  And after fishing the lake on Monday and having a tough time of it the plan was to put all my favorites down and only fish plastics.  I may be slow but I am not stupid.
The fish are in that stuff on the bank.  After Voe caught a couple the last couple of trips I was determined to pitch.  Now it was not a case of casting and hoping, it was pinpoint casting to isolated patches of stuff.  And though Voe was tossing it way back in, I fished specific targets.  Nice after a couple of slow trips to get it right.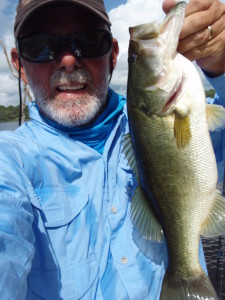 The first good one of the day.
I was using a 6″ watermelon red lizard, with a 3/16th bullet sinker on 20lb. Big Game mono.  One thing that helps when throwing at cover is to go ahead and peg the sinker to the head of the bait, crawls through cover so much better.  Instead of using the big sinker and trying to punch through the heavy stuff I concentrated on the farthest out cover and made cast past the cover and slid it next to it and they were eating.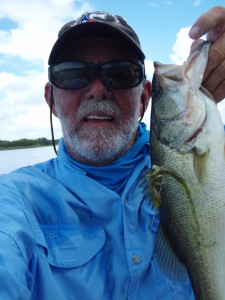 Love catching them this way, hand to hand combat.
The reason I use the lighter sinker is that lizard falls really slow.  Of the 5 or 6 this size I caught I probably only felt a couple eat it.  They would just inhale it and start swimming with it.  And the cool thing, there was not one fish came over the side farther than 20 feet from the boat, and most a lot closer.  In fact, a couple flew over the boat when I set the hook.
It was very important to concentrate when you had that perfect piece of cover because you rarely would feel them hit, so you had to be on your toes.  The biggest of the day, and it was a good one, came out of the perfect bush on a long grass bank and I did not get the hook set.  And barely running the trolling motor was also critical.  You really do have to be quiet when you are pitching.
With no deep grass those fish had to be in that shallow stuff.
I fished close to the park, mid lake, and quite a ways up.  Most of the better fish were on that perfect piece of cover in a cove, but several were on points.  Though it was one here and one there it was steady.  I did miss one in the perfect bush, so back in it went and 3 came off one bush on consecutive casts.  That was awesome.  And since every one of them really ticked it hard there was some serious competition going on, at least until I threw all 3 back in.
Sticking with the plan really paid off today.  It was hard not to throw my old favorites but I knew they had to be there, and they were.  Slowing down, good quiet boat position, and making accurate casts all added to a successful outing.  And the best part, I did not wet a line until 10:30 and quit at 3, boating well over a dozen with some really nice ones.  When you can fish in the middle of .day, in summer, and boat a nice string of bass you have a good fishing hole.
***********************
Rick dropped this comment, and it says it all about fishing.
Thanks for getting back to the salt. Even though you are retired, I know you can appreciate the fact that " a bad day of fishing is better than a good day at work".
So trite and so true!
*********************
There is one momentous happening on Saturday night, we are going to see the Rolling Stones.  Makes me old to think I have been listening to them for over 45 years, holy mackerel!  And they are headed to 70, and probably lucky to be alive.  Party on – but definitely not as hard as the old days.  It should be a rocking good time.
******************
 Not sure what is next, but crossing the Guadalupe the water is still high and really muddy.  On the way to the concert we should get a glimpse of some other rivers, it will be interesting to see their condition.  It may just require a little change on my part as far as the bay fishing is concerned.  The Shoedog has been on a multi-state tour, which will end early next week, and I am sure he is itching to fish the Gulf.  Heck the flats boat has not even left the garage since we got back from Florida over 6 weeks ago.  Time to change that one.  So keep stopping in and thanks for reading my stuff.
Good Luck and Tight Lines