Fish Catching Travel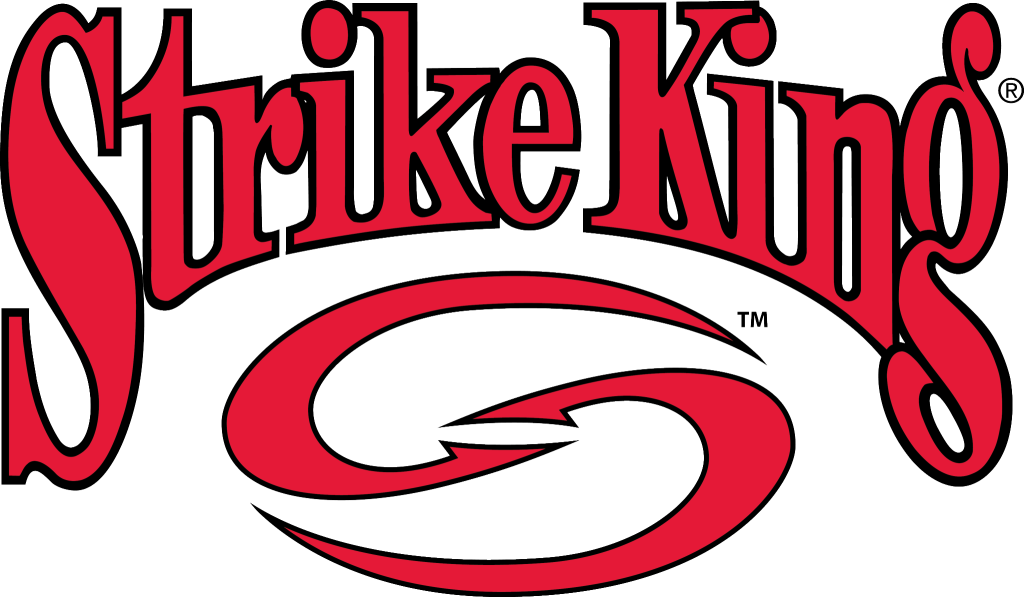 Strike King Lure Company – baits for walleye, crappie, redfish, trout, and all your  fishing needs! 
We had a pretty good storm go through here last night and ended up getting about 3/4 inch of rain, not near as bad as some areas.  And when I got up it was still cloudy with the wind out of the southeast around 15.  The water of course has not gone down, but they are letting water out and keeping it stable.  There were some areas that were not as cloudy as others, but it is still off-colored no matter where you go.
I started on a main lake bank where I have caught them off and on the last month.   I ended up fishing that crankbait I have been catching them on, spinnerbait, swim jig, and frog without a fish over the side.  In fact from about 9 until 1 I did not have a bite.  So it was time to go shallower.  There is a huge shad hatch and if there are a bunch around there are some fish.
There were a couple of spots of rain but none were to hard.  And some far off thunder never did amount to anything.  By noon it really cleared off and the wind picked up.  Fishing windy banks did nothing for me today.
Finally I put on a buzzbait and went to really shallow flat with isolated grass and after a couple of half hearted bites I finally put one in the boat.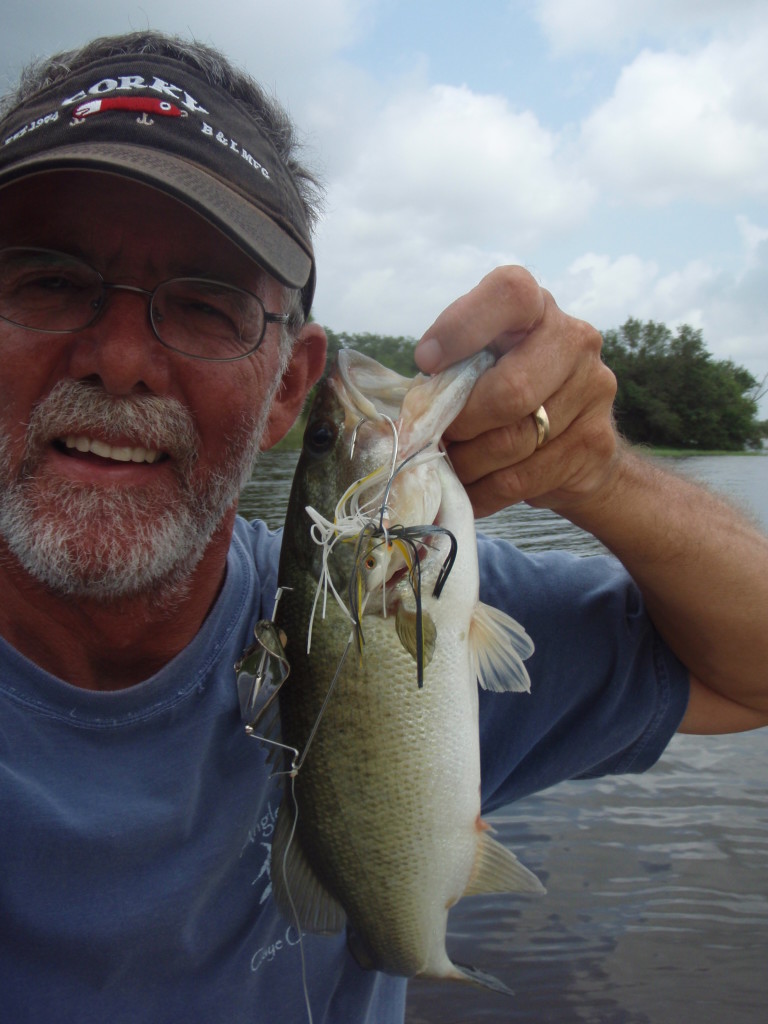 Believe me I was glad to finally catch one.
From 1 until I quit at 4 I stayed in the grass and probably ended up having about 10 bites but only boated 4.  A couple of the misses were my fault, but as a rule they were just real hesitant.  The water cleared a little as the day went on, we do not need any more rain.  As soon as the water clears up the buzzbait fishing is going to be awesome.   I ended up in flat cove up lake and halfway back in shallow water when I had the bite that made the day.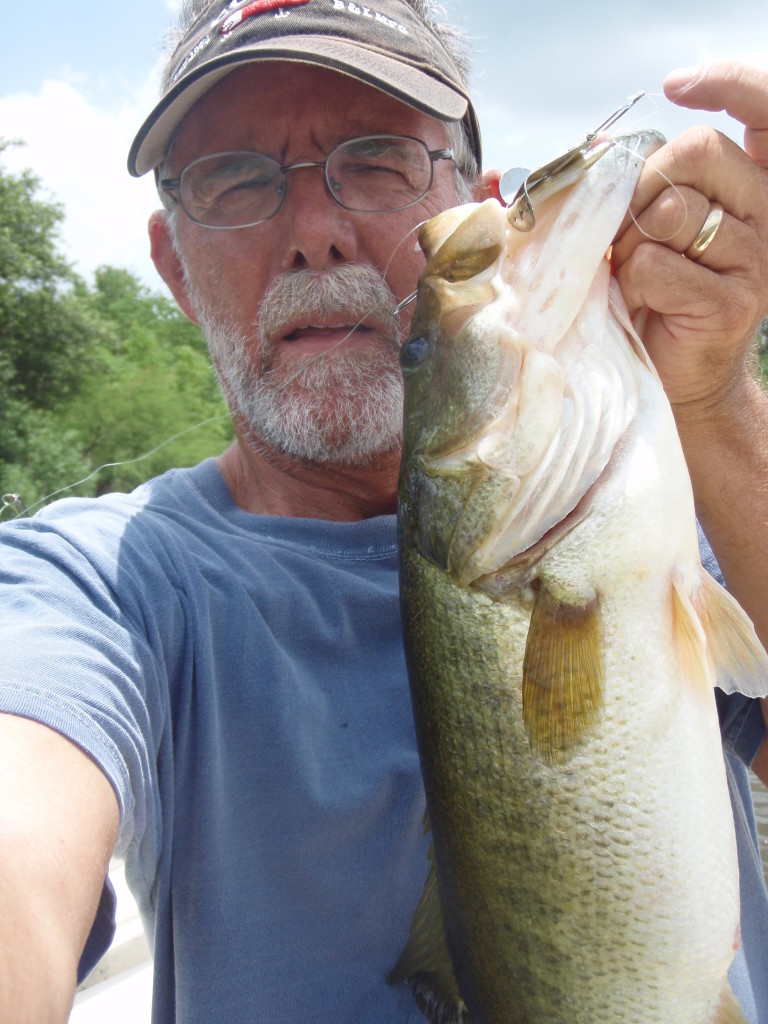 This one knocked the living crap out of it.  One of those explosions where you know you are hooked up.
I am not really sure what the deal was today.  No fish on anything I have been catching on.  What bites I got were in the middle of the day, in calm water, protected from the wind, with cover that allows you to reach the bank, or close.  And when you were in a cove with shad you could see them everywhere.  Pay real close attention when they flip in cover, there might be a good one close.
Some really good fishing will be happening if the lake stays stable and clears some.  One thing that should have gotten thrown and didn't was the bass assassin weedless.  Just be tackled up to get them out of the stuff.  And swimming a big worm could be killer right now.  But all that will have to wait for another day.
************************
As some of you know Bull Shoals and Norfork are my old stomping grounds.  Striper fishing is something I really got into over a 10 year period.   It was kind of an easy guide trip, it usually only took one 15 lber each to make most folks real happy.  Bull Shoals used to have striper stockings, not sure if they do now but I don't think so, and rainbow trout, which is great striper food.  Over the years some of those who knows how old stripers show up.  The old state record was 61 but the new one now is a 65 pound monster taken on the upper end of Bull Shoals and is a Missouri state record.  If you want to see a real monster check this out, what a fish.
http://www.ky3.com/news/local/rockaway-beach-angler-catches-recordsetting-striped-bass/21048998_33220152
*************************
Tomorrow it is off to fish Fayette County with Shoedog.  Part of that is loading all his tackle, rods and reels, coolers, and suitcases from the Florida trip.  We will hit the water at daylight hoping for a good day.  We always fish it in the spring, we just haven't made it as often as the last few years.   But when it is good it is very very good, usually just a matter of figuring them out, which we usually manage to do there.   Probably shouldn't have said that, but hope springs eternal.  And with the weather straightening up I may actually make it to the Gulf.  One thing I want to get done this next full moon is some night fishing for trout.  So keep stopping in and thanks for reading my stuff.
Good Luck and Tight Lines