Fish Catching Travel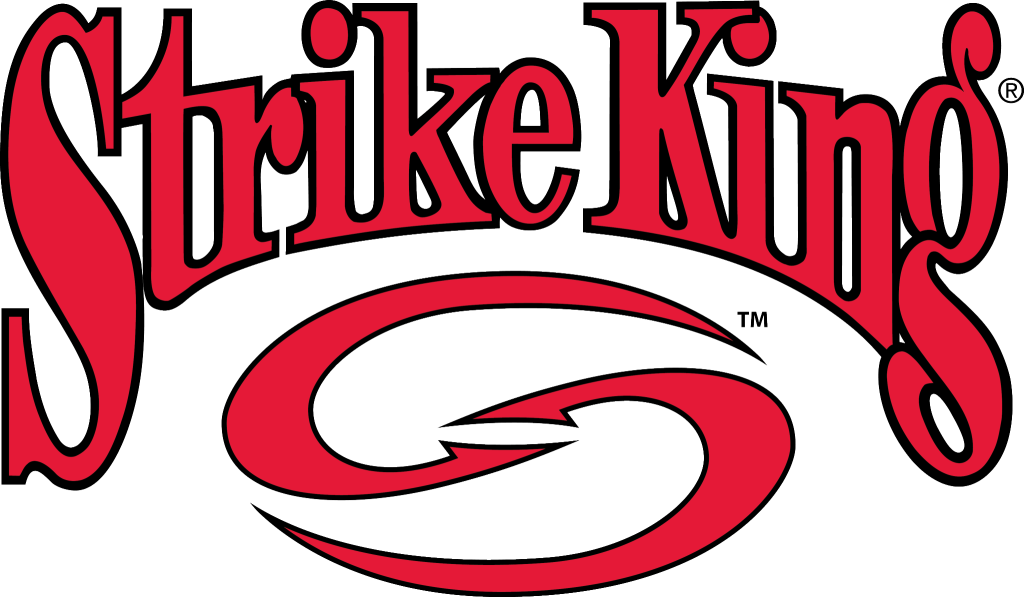 Get up, go to the tackle store, and buy a bag of Strike King baits today!
We struggled today.  Probably due to yesterdays big one.  Expectations are high and it just did not happen.  Now that I have the whining out of the way.  We did have a couple of shots, and we actually caught more today than we did yesterday.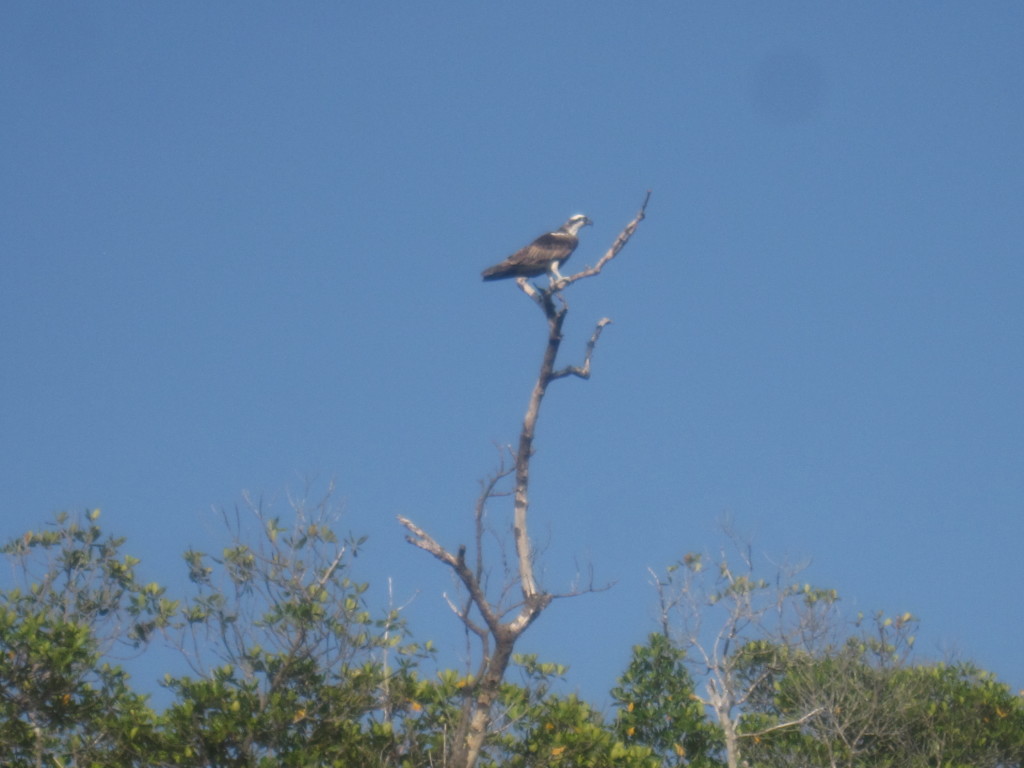 Ospreys are nesting everywhere.
The tide was coming up so we started where we did ok yesterday.  Of course I started the day off with 3 keeper trout on a Catch 2000.  We fished that cove and when we got to the back end Shoedog tossed his Rapala Xrap into a pocket and a really nice tarpon went berserk when he blew up on it, and totally missed.  He did not even get a chance to lose him.  So we moved on.
That is all well and good on the trout, but it is not what we were after.  So next up it was the cove where we had close calls with tarpon.  By now the wind was blowing pretty good and the water color was going to crap.  We fished most of cove before Shoedog tossed a Strike King Redfish Magic pearl plastic into a pocket, had one stop it hard, and launch.  It was a tarpon maybe 10 or so, and I mean it went up and was gone in one second.  To bad, but it sure is cool when they jump.
So it was time for a big move.  We got out the map and made a move into a cove with lighter wind.  The tide was starting to fall, and as we made our way in the back Shoedog caught his second red of the trip.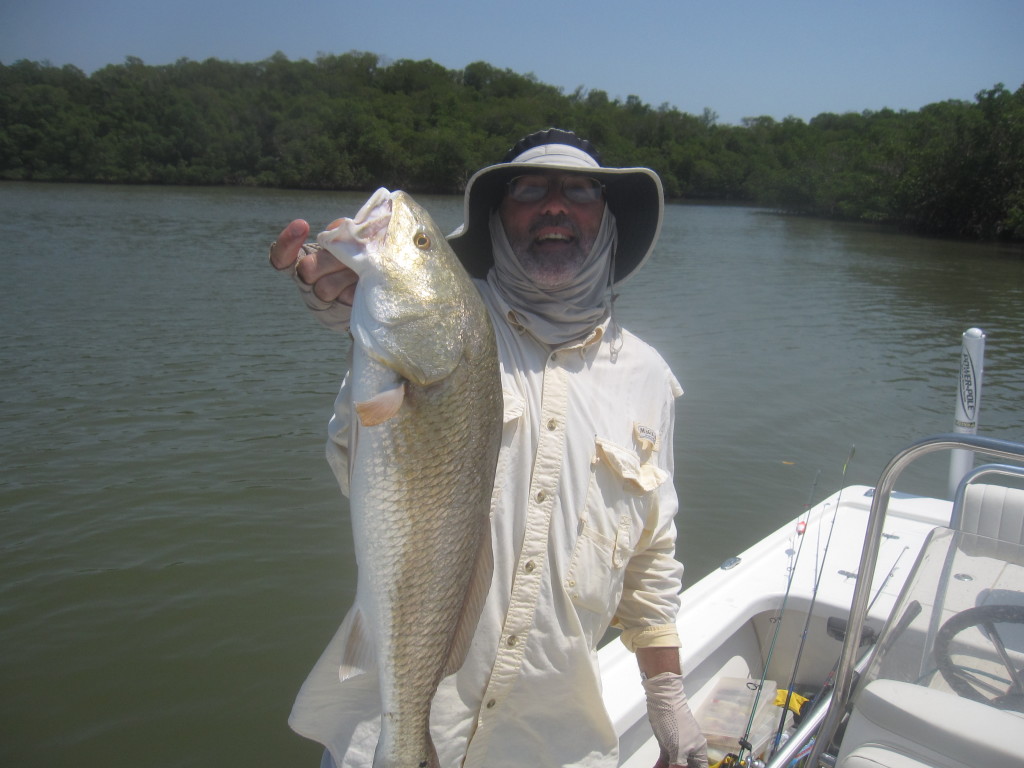 This was a real heavy fish for her length.
He caught this one on the Strike King plastic.  When we got to the back end there was a big oyster bar, and the water was starting to fall off it.  Shoedog had another red just blow up on his topwater but not hook up.  So that was 3 nice fish that did not make the boat.
The water was really down at this point so we tried a couple of different places, and I can honestly say I did not have a bite the rest of the day.  Meanwhile Shoedog caught a couple of more trout, a mangrove snapper, and had a snook break his line.  It was about 5 when we called it a day.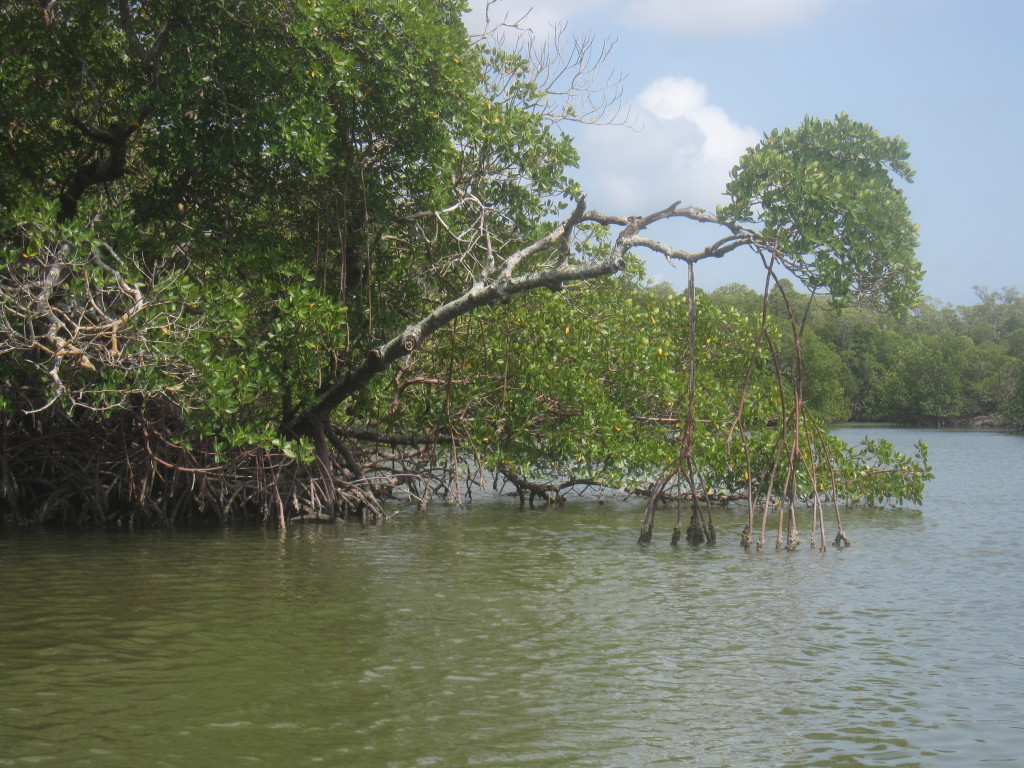 Want a snook?  Be sure your bait lands 1″ from the bank under the tree.  We are getting of practice skipping baits.
We did struggle, but we had our shots.  It happens.  But what makes this place is a shot at a true game fish.  I have always considered snook and tarpon to be glamour fish.  Both of them hit like a freight train and fight like the devil.  So what is next?   We will continue to expand our range.  This water color is messing me up a little, if I see the guy across the way I am going to ask him about it  The guide basically said look for the clear water.  The only time we are experiencing that is on a falling through low, and then it colors up.  That is something I need to learn.  And that is another thing that makes this place what it is.  The habitat is never ending, the fish are big, but they sure are not everywhere.
Tomorrow it may be raining or have a few storms.  How that will affect our day remains to be seen.  I would like to get out to the further islands in the Gulf next, but it will be totally wind and weather dependent.  I have caught lots of snook of beaches in Florida, and it  always amazed me when I would catch one in the middle of the day with swimmers.  Now I read that the beaches are the place to be on rising/high tide.  Hopefully we can do a little of that tomorrow.
************************
The people next door are crazy, and I mean that in the nicest way.  Larry and Vicky Hardy were kind enough to let us log on to their internet so I could get this posted.  Now to the crazy part.  They have what many of us fishermen would consider a dream location.  An end unit on stilts in Everglades City.  Parked out front is a cool camper, which they are loading as they get ready to go to Alaska, and probably stay all winter.  Now a cold blooded person like me would freeze his ass off in the Alaskan winter.  So that part is crazy.  The other part, how cool is that.  Drive to Alaska and stay all year is a serious adventure.  Larry told me they saw 10  bears in one day on the drive up last year.  So I may think they are crazy, butI am really impressed.
******************************
I got a Coleto report from Joe and thought I would pass it along to you.
It was great to see all the water in Coleto. There was so many places to start, my head was going to explode. But my cup of coffee was clearer. Water clarity is beyond murky. White lure 6 inches down u lose sight of it. First stop using a top water caught 3 Bass, biggest 2lbs. Was working the grass edges. Heard a big splash thought it was a beaver, nutria, diving under the water. Went around the cove and came back and found out it was a 4ft gator. He decided to come after my lure. Them gator nuggets are finger lickin good !!!! Just kidding. Caught 3 more as the day went on. The rain caught me for about 15-20 minutes. Didn't realize how bad it was until I went thru Goliad to go homne, Power was out, and creeks were raging rivers. They had a Wed night $40 entry fee tourney with about 9-10 boats. Good Luck. I fished it like a Bass Pro and only got 6.
I hope to fish a couple of the Wednesday tourneys this year so look me up.  I will be the old man in the flats boat.  I really appreciate the report.  Coleto is going to be a real different animal this year.  I will be looking forward trying to decipher that puzzle when I get back.  Thanks for keeping in touch, it is always good to get other folks report.
*************************
That is it for today.  It is almost 10 as I finish writing this and I am tired.  But as tired as I am I will keep waking up an hour before the alarm and be back at it again.  As we were riding out today the Shoedog and I talked about how lucky we are.  Another great adventure is underway.  Just thinking about those big fish will make it hard to sleep and easy to get up.  So keep stopping in and thanks for reading my stuff.
Good Luck and Tight Lines