Fish Catching Travel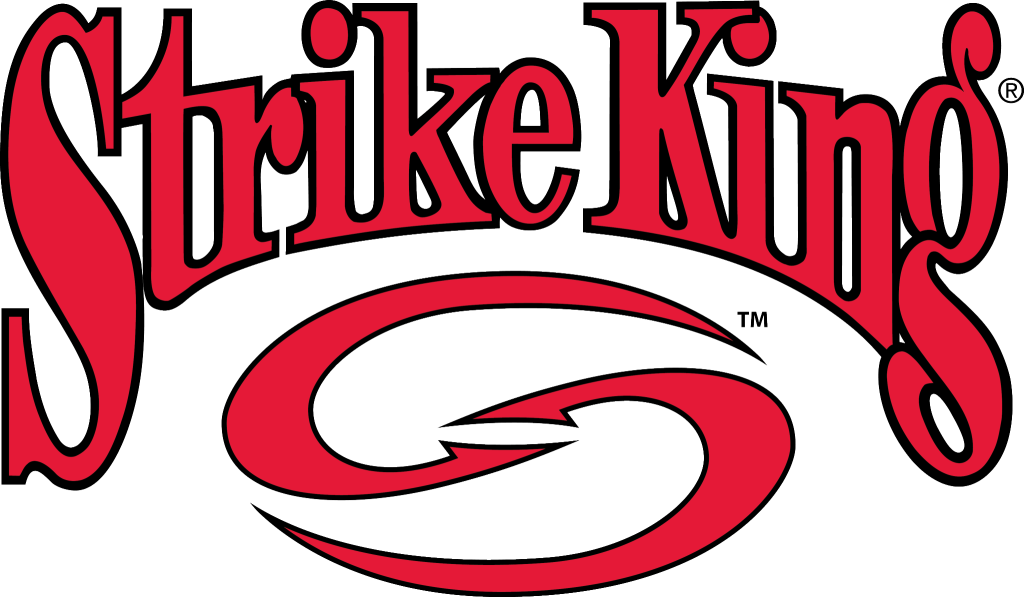 Good thing they make a good buzzbait or it would have been lean pickings for me today.
What a difference a day makes.  From catching a bunch of nice fish one day, to 4 bites the next.  Now that is nuts.  After being gone a few days I checked the weather report and Coleto was the choice today.  I will give the weatherman credit, he said it would blow 20+ and boy was he right.
It was about 8 when I got to the lake.  The plan today was to head way up the Coleto arm and fish a few places I have not fished since the water came up.  But first I stopped in a flat spawning cove close to the bridge and decided to start with the buzzbait.  I had 2 bites and caught them both in the first cove.  One was on the point going in, and the other was on the point going out, and surprisingly enough nothing in the back.
So I headed above the first bridge and went in a big spawning cove.  About halfway back in I finally put a nicer fish in the boat on the buzzbait.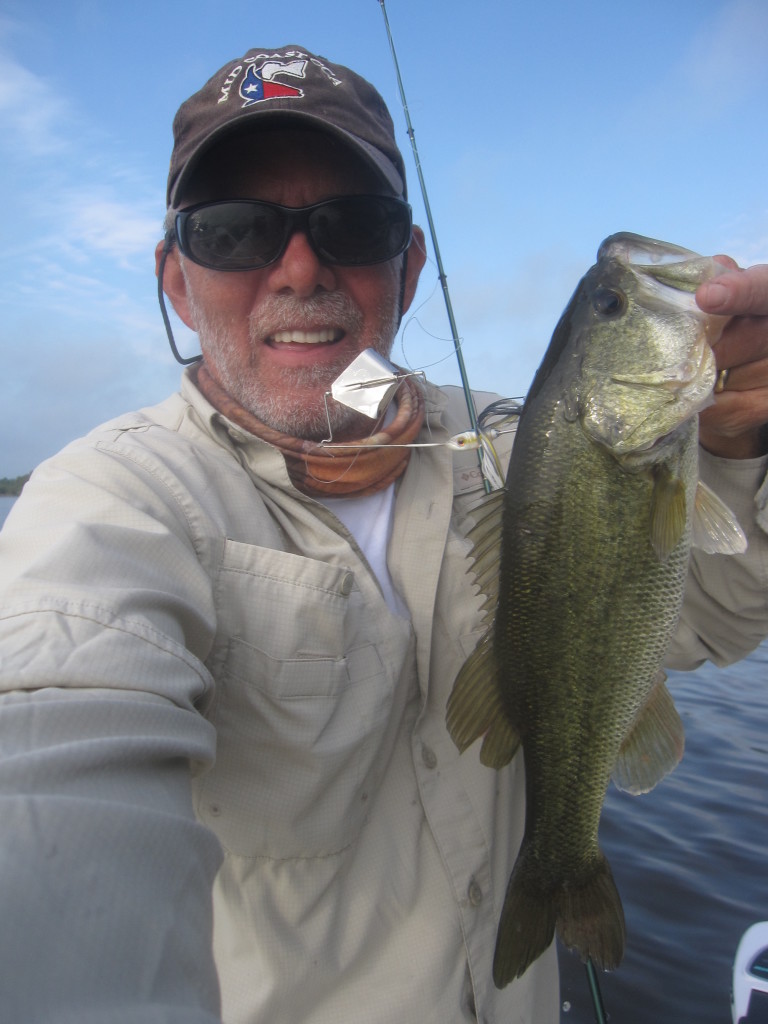 This is the size of it, and I hooked him on the back of the head. 
So now I had only had 3 bites so I decided to re-fish the bank I was on with the Swimming Jig and did not have a bite.  Little did I know I would not have a bite on the jig all day.  Around 11 the wind was blowing hard so I went up lake farther and fished miles of bank all the way to the Coleto bridge.  The wind was really howling and I finally caught another one out of a bush top after I changed to spinnerbait.  While I was up there I saw the crappie guy who fishes the lake as much as I do.  He idled over and they had caught 2, which for him is nothing.  His conclusion, they are not biting.  I was beginning to agree.
Around noon I headed down lake and went in another big cove and fished the whole thing.  I alternated between spinnerbait, buzzbait, and swim jig, and did not have even one bite.  So I headed back down lake and stopped at one more place and it was just plain slow.  I do not know whether I was in the wrong place at the right time, or the right place at the wrong time, or they just were not biting worth a hoot.  Finally at 1:30 I called it a day.  What the problem was I have no clue.  I guess a poor trip was bound to happen sooner or later.  And with most of my trips the last month have been really good, I will chalk it up to stuff happens, if you get my drift.
********************
I got these from my daughter Carrie who just got back from South Africa where she and her husband did another mission to help the children of the townships.
Here are those fishermen I saw near Knysna. We were on the beach at a town called Brenton-on-Sea. The sea spray was so cool. I haven't seen anything like it before, though I'm sure you have lots of times. So neat.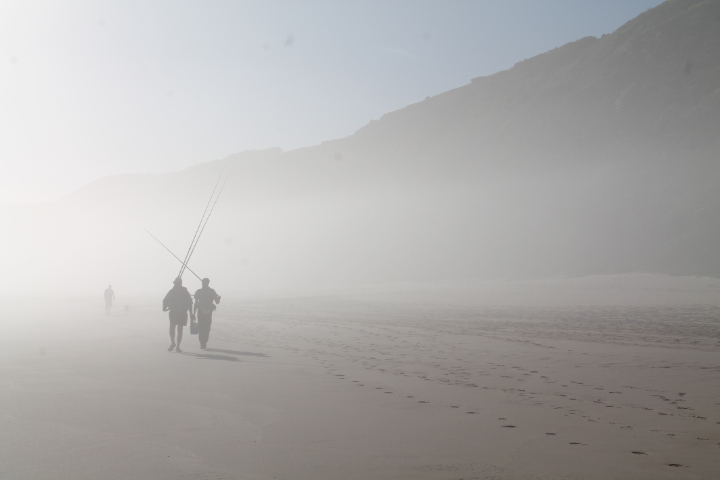 Many of the beaches of South Africa are massive and run for miles.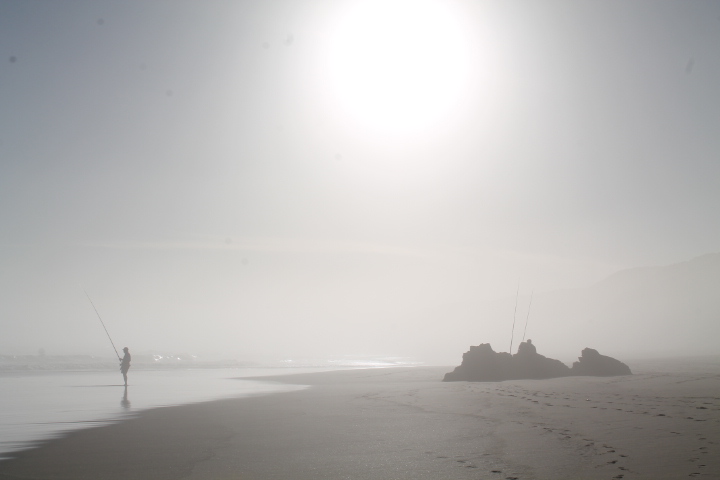 Sea fog rolls in.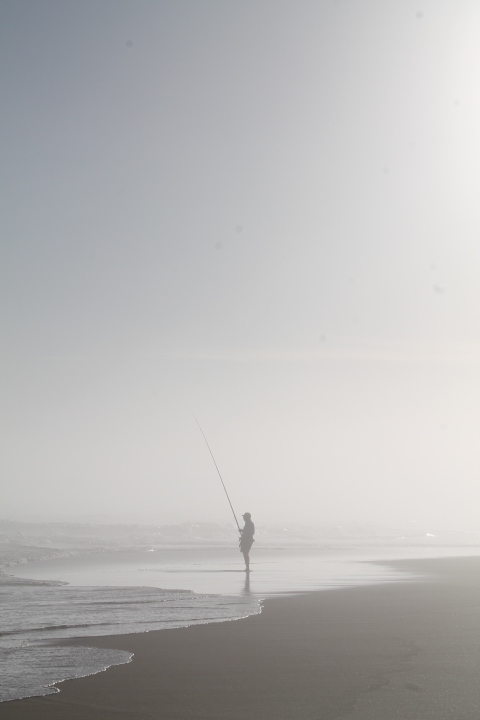 Patiently waiting for a bite.  Fishing is a language that is common to fisherman everywhere.
Awesome pictures.  No matter how many times I see the fog roll in off the ocean it is still a cool thing.  And congratulations on your last mission to South Africa.  You and Leigh directly helped over 400 children and 40 schools.  Lots of folks talk the talk, but you guys walk the walk.  Amazing what you have accomplished with Vilakazi and we are proud of you.
********************
 Today it is pick up the LTS and give it a serious wash and bleach.  Then tighten screws, put on the new locator, check the bilge, etc., basically get ready to head to the Everglades in 2 weeks.  Funny how when you start planning it seems like a trip will never come, then all of a sudden it is time.  Laying out clothes, getting rods, reels, and tackle together, there is always something to get ready.  So it will be make the big list today and start checking it off.  When you tow a boat as far as we do at times it is critical to have your stuff together.  The last place you want to be is on the side of the road at midnight in the middle of nowhere.  Then tomorrow it will be some wading, hopefully our wind will die some.  And if you have caught a few fish drop us a report, we would love to hear from you.  Keep stopping in and thanks for reading my stuff.
Good Luck and Tight Lines