Fish Catching Travel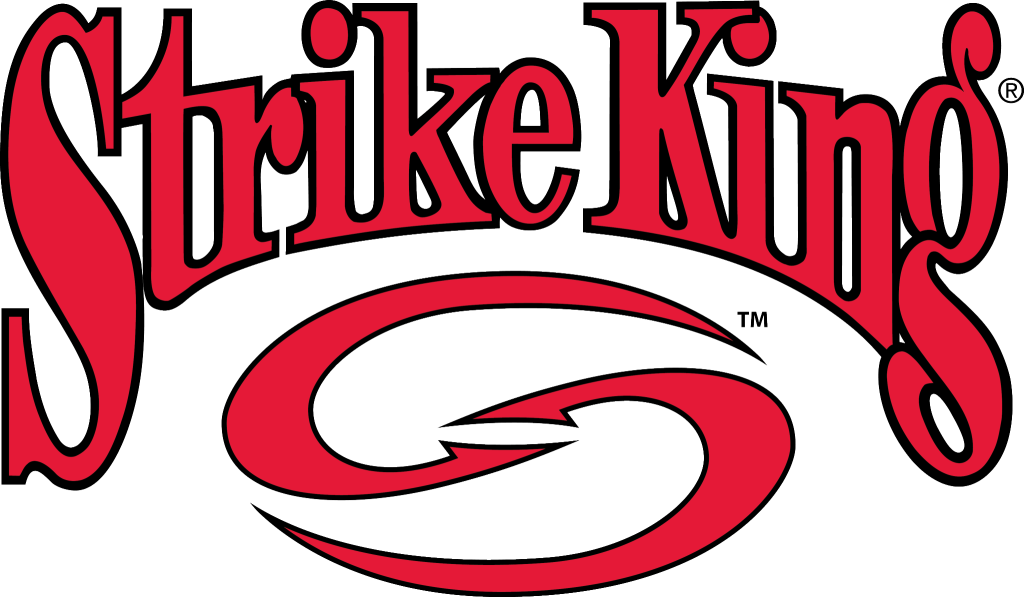 Strike King baits do it again!
Like I said yesterday, "we be fishin' now."  And as the tag line below the Strike King logo said, "May give the old KVD topwater a workout tomorrow. "  Well both are true, we had at it today, and the KVD Sexy Dawg Jr. was the ticket.
With the good forecast, clouds, light wind and mist, we decided to put in at Froggie's and head over to the Pringle shoreline.  It was a smooth ride over and we eased down the bank finally stopped in front of a couple of drains and pockets near Rahal Bayou.  Chris jumped out and headed to deeper water, I stayed in and made the first good decision of several today.  With the low light and calm water I went to the bank.  On my second cast I had a red all over it as he made the big wake behind it.  The problem was he did not hit it.  Then came decision 2 and 3 that turned out to be good ones.
First the KVD topwater I was throwing was a Sexy Shad, so I switched to a bone (665) color.  Then next I decided to slow it down just a hair.  The next redfish that came for it did not waffle, did not track it, he simply blasted it.  So the first 27″ on the stringer.  Then another one the same size knocked the crap out of it and on the stringer he went.  We may be headed to a fish fry this weekend so I was keeping fish, so things were looking up.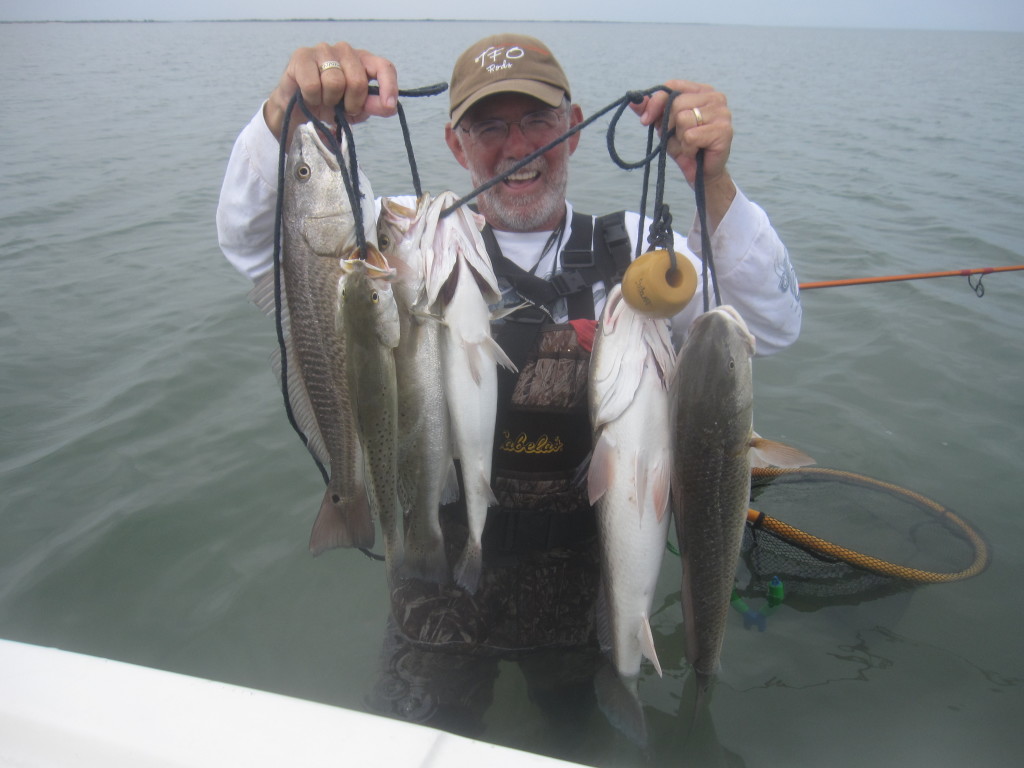 A limit of reds and 3 trout, one 20″ and couple more.  They were smoking that topwater.
It stayed cloudy with a light wind all the way to low tide at 1:30.  It was not fast for me by any means, but it was one of those days that when they hit it, they stuck.  So after a while I saw Chris heading to the boat so I went that way.  He had one keeper trout and caught another couple that were short.  He did not catch them until he finally headed shallow also.  He also threw the Fat Boy some and plastics, but apparently it was topwater they wanted.
I want to take a minute to tell you why I like the KVD Sexy Dawg and Sexy Dawg Jr. so much.  Having used walk the dog baits like the old Zara Spook for the last 40 years this is by far the easiest bait to walk the dog with.  And the little flat area under the chin lets it spit a little with each jerk.  So if you are one of those folks who have had a little trouble learning to walk the dog give one a try.  But the test is not how much I like it but how the fish like it.  They flat work. 
So we moved down the bank some and started again.  He went to the bank and I stayed out in 2 foot of water quite a ways off the bank.  First thing this morning I was barely knee deep, and of course I immediately caught another couple of trout farther out and had both my limits.  Chris did not have a touch until he got over to where I caught the last couple trout and then he caught a couple more keepers and had a miss or two.
For our finish bank we decided to head back across the bay and fish the windy side.  That is something we have to work on.  We hit that area of grass and pockets past Army Cut towards POC on Blackberry Island.  Since I was limited it was time to throw the Waxwing.  At $15 it better catch fish.  Well it almost did.  I no more than jumped out of the boat and caught one that measured on about my third cast.  That turned out to be the last bite we had before we called it a day.
I will be throwing that Waxwing more in the future, it looks awesome as it runs back and forth and then veers.  I have them in both the suspending and sinking.  The sinking threw well, especially in to the wind, and sinks plenty slow to keep off the bottom.  As you just cast it out and reel it should have a place when you are tired of jerking and hopping and just want to reel it along nice and steady.  We will just have to see how that comes out.
We did have 3 groups basically run over us, around us, and even through us.  I love POC since the first time I fished it 11 years ago, but folks sure can be stupid.  What was awesome every time is there was absolutely no reason for it.  But grin and bear it and go on.
For the day we kept 8 trout and 3 reds, most of them pretty nice fish.  It has been a while since I had a good topwater bite, and today was one.  And color sure did make a difference.  I did throw plastic a little, but if there is a chance they will eat topwater I will not quit throwing it until they do.  The best depth early was where you could just about reach the bank with a long cast, and that is where most of the fish came.  The reds were scattered down the shoreline and it seemed best on a hard bottom.  And if you caught a trout there was usually another couple close to be had.
So what will be next?  It remains to be seen.  There is a possibility we might get up to 5″ additional of rainfall starting today.  Everything here is saturated, the ponds and creeks are full, and if we get that 5″ it could present a problem.  I will definitely take a run by the ramp at the lake and update you on that.  And the morning's wade got my Gulf juices flowing.  As Voe has not had that pleasure of a little Gulf wading yet think I will see if he wants to take a run at it.  So keep stopping in and thanks for reading my stuff.
Good Luck and Tight Lines