Fish Catching Travel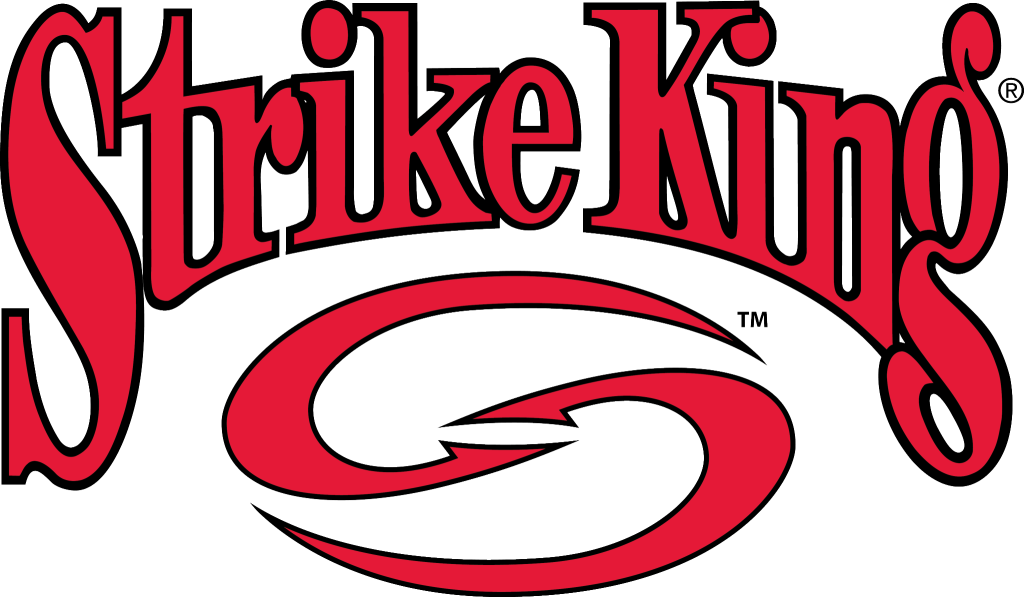 Now is the time for throwing the Swimming Jig with a Rage Craw.
Please read the line above.  Being below the link it generally changes depending on whim, or what is happening with the fish.  That line was added 4 days ago because it is time.  There is a period every spring when it is time to catch a big bass, and that time is now.  So that was written because it is time.  So I threw it some today, and by golly it worked.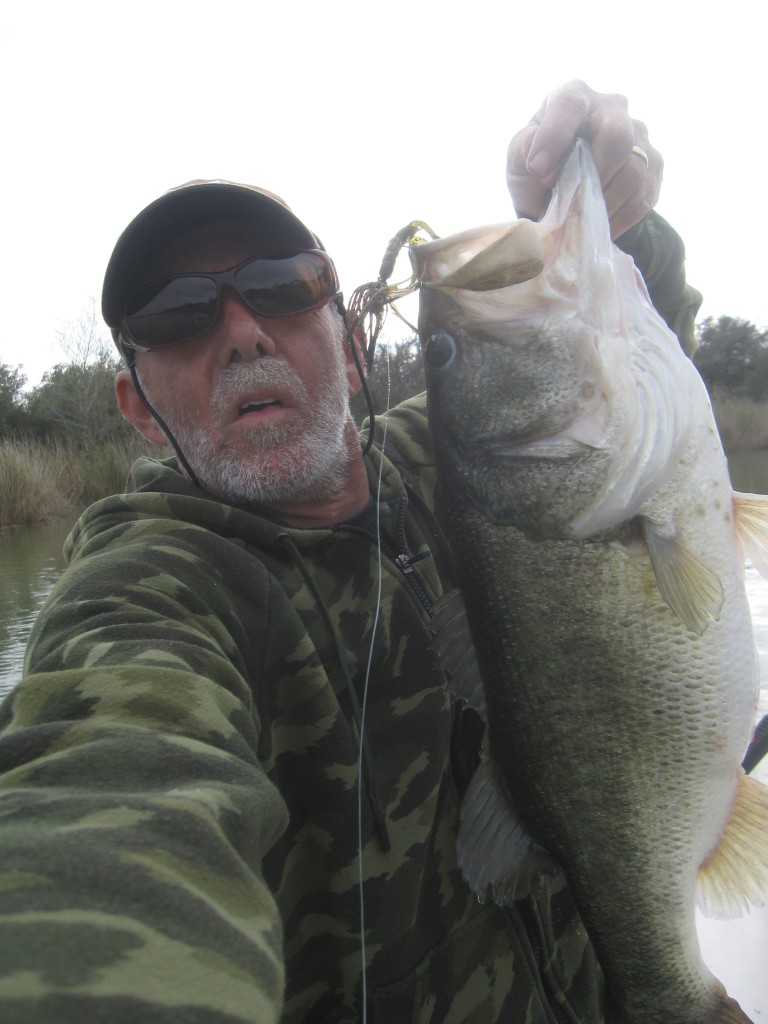 I knew she was big, but until I lifted the net I had no idea.  My heaviest ever.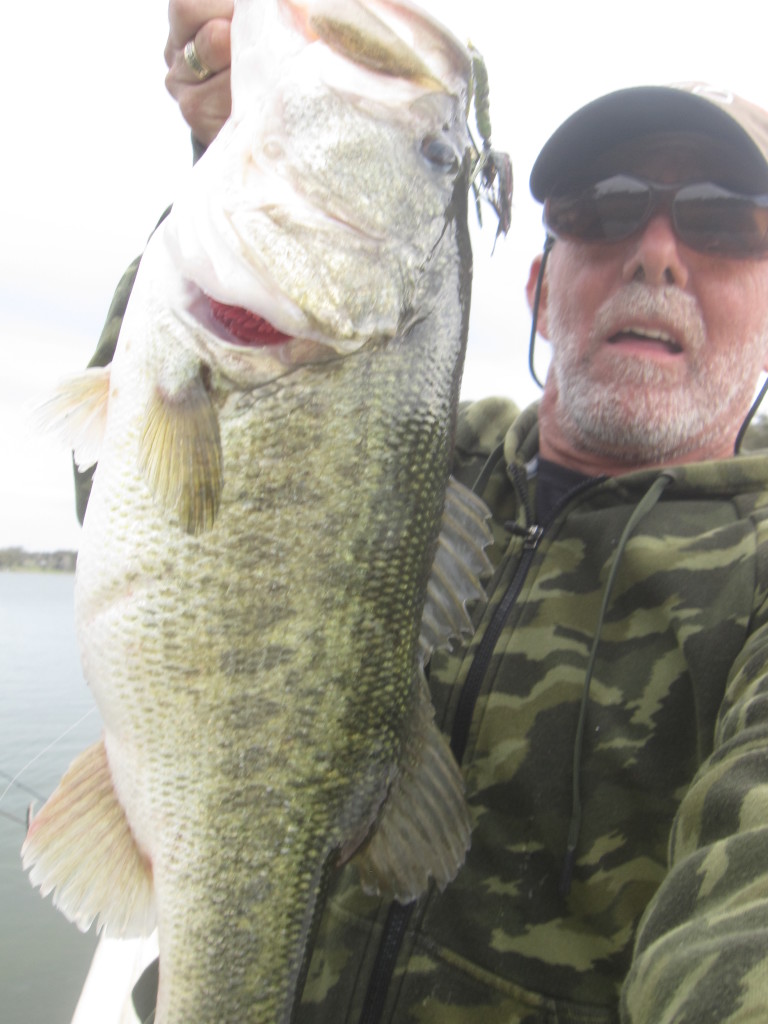 I took a few quick ones and back in she went, handle them carefully, she has important business.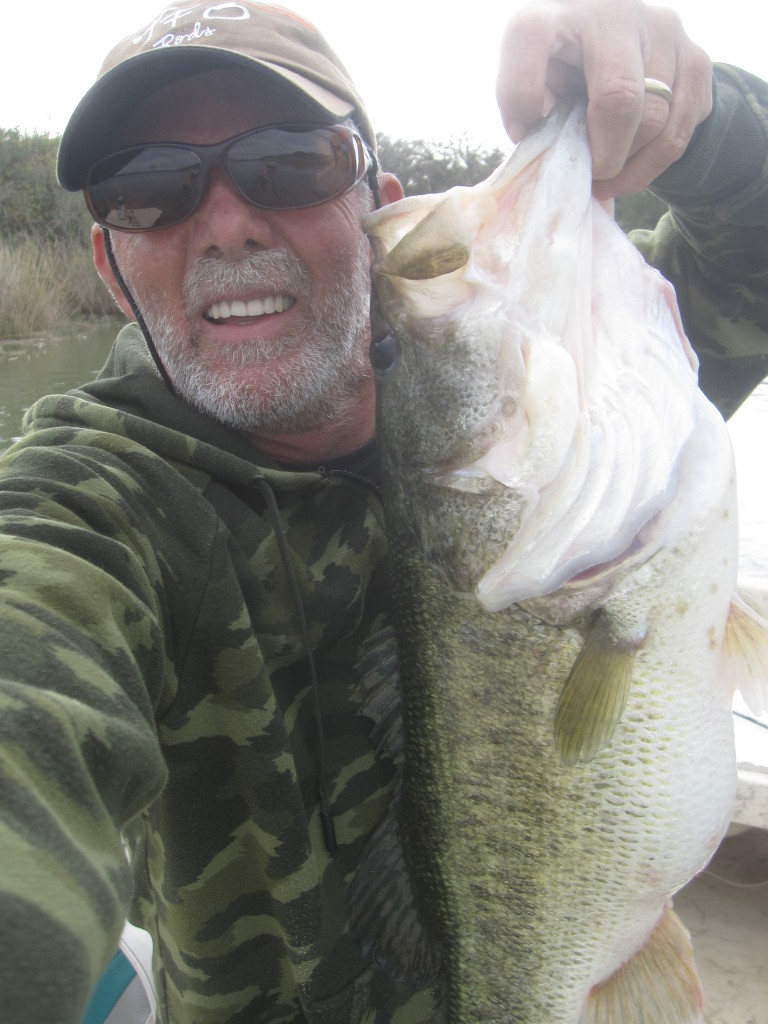 What a pig!  Fish that Strike King Swimming Jig, it works!
After working fairly hard for 5 days in a row I was finally done after we finished the job on Saturday.   Normally it would be up and gone first thing to catch up on my fishing, but the Hogs played those dirty Kentucky Wildcats so I took it easy this morning, watched the game, and then headed to Coleto.  (T0 bad we lost.)
The minute I got there a couple of things were real apparent.  First, I remembered why I usually don't fish the lake on the weekend, there were boats everywhere.  Second, and best of all I think, is the lake is up over a couple of feet.  It has been a while since it had that much water in it.  So back to number one, how crowded it was when I got there at 3.
I started on some deeper grass on the small island with the Swim Jig, as soon as I started down the bank here comes a pontoon.  They stop close, drop the trolling motor and cut me off.  How close?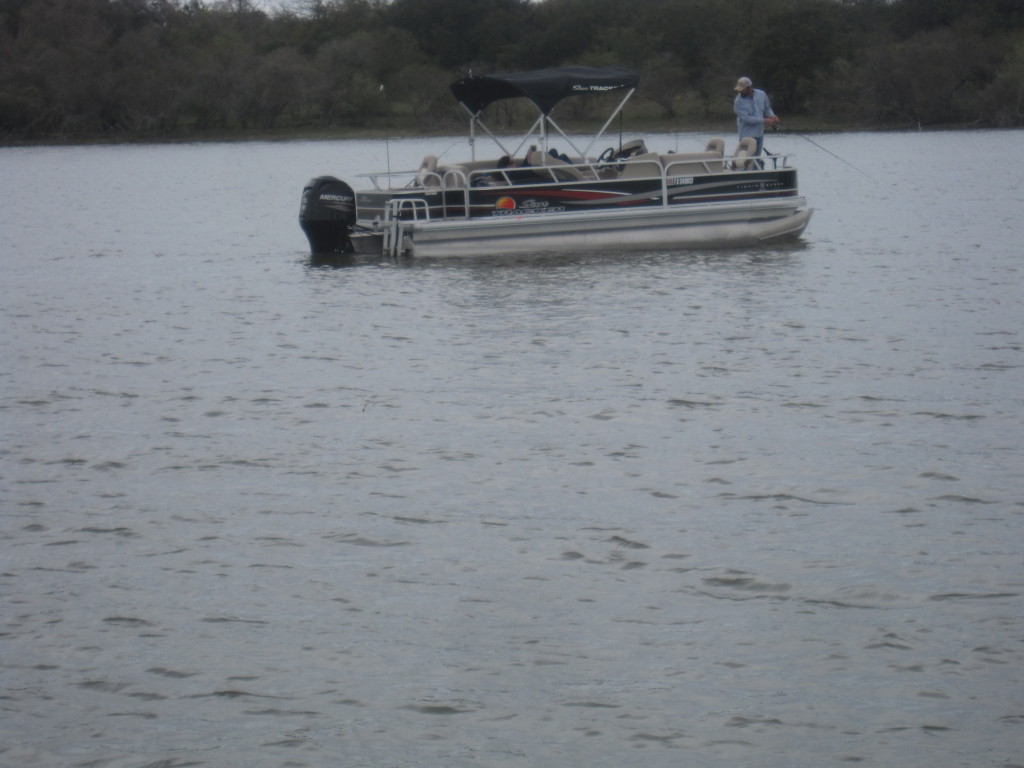 He just flat cut right in front of me. 
So here I finally get on the water and within 5 minutes some inconsiderate jerk cuts me off.  But keeping with my just be nice theory I take off.  What good was it going to do to mess with this knucklehead? He will stay wake up a knucklehead.  And the whole first couple of hours it was bass boats shooting rooster tails as boat they hauled ass.  I decided that the real definition of run and gun bass fishing is: I am not catching anything.
Being unsure how the rapid rise had affected the fish next it was a flat shallow cove.  Alternating with Swim Jig, topwater, and spinnerbait, I was striking out.  Since the topwater and spinnerbait were getting no response, and the really shallow new water was not producing, I went to a deeper channel bank and stayed with the Swimming Jig.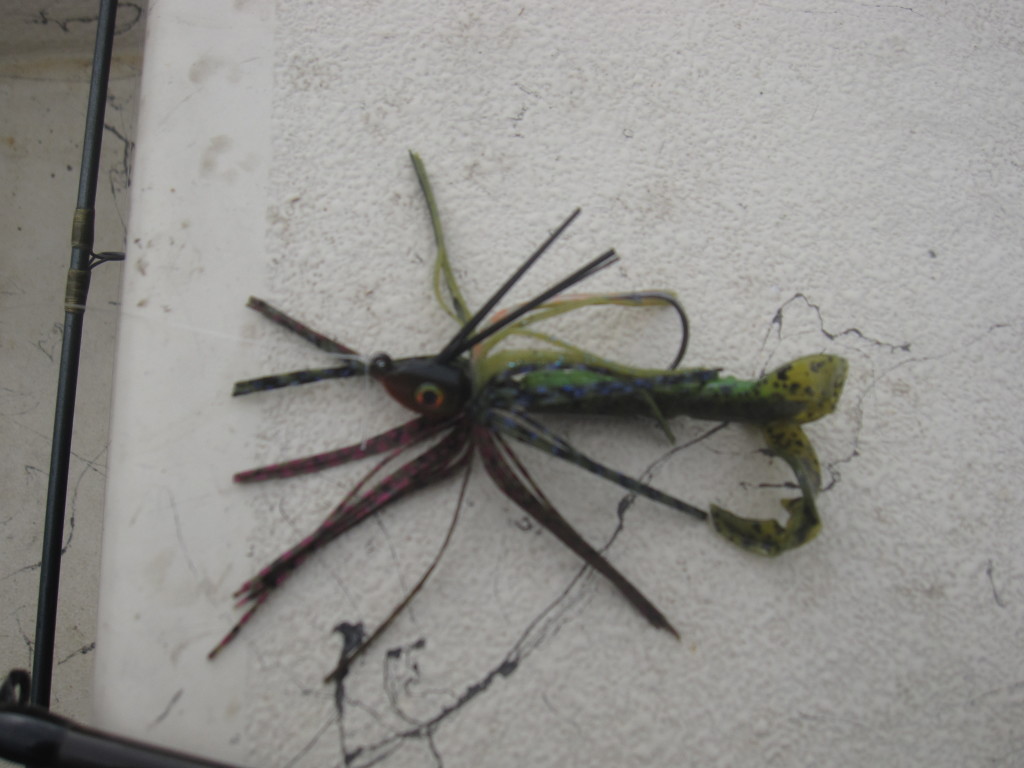 She ate this Strike King Swim Jig and Rage Craw trailer.
I finally had a couple of bites around 5, almost paralleling deeper banks, but both of them ate the claws off my Rage Craw.  So in a moment of clarity I went to the smaller craw and then the big girl above jumped it.  If you will notice in the picture above, it really helps to trim the jig skirt back to a hair past the hook bend.  It exposes a lot more of the trailer and has no affect on the fish.  Over the next hour another 4 or 5 came over the side until it started raining and I called it a day.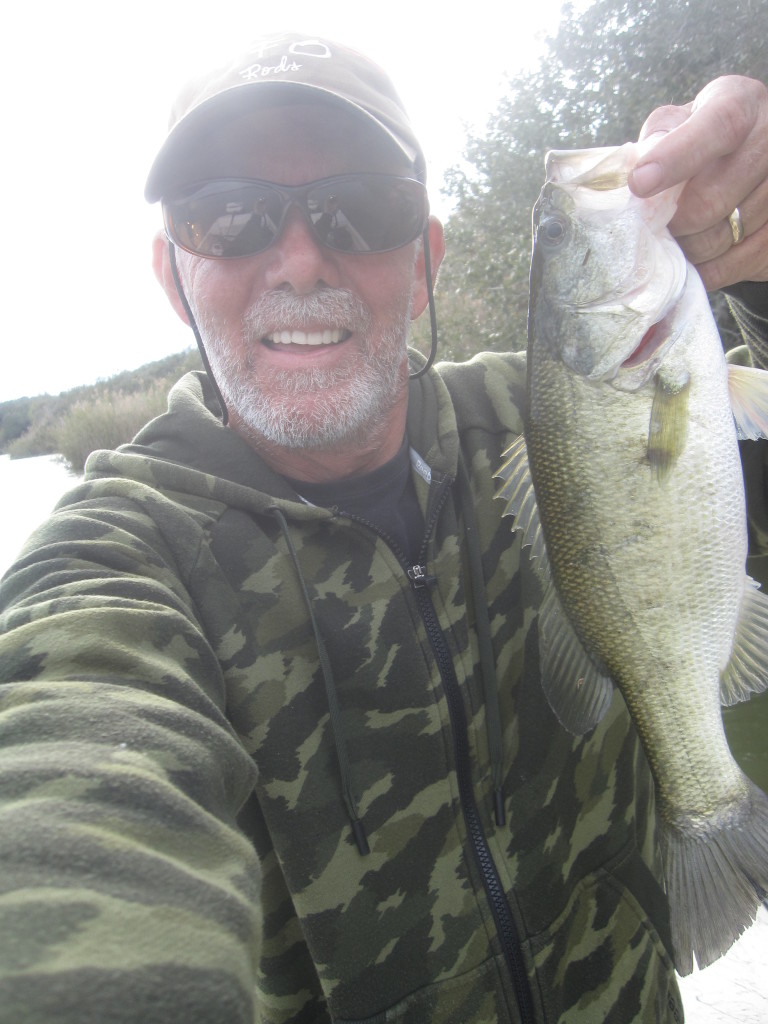 This size was sort of anticlimactic but after that first one who cares!
The water has some color to it and there is some floating trash, but the lake looks great.  Now how the fish will react to a big raise right during the spawn remains to be seen.  But it has put water in lots of new cover and those fish will be coming to it big time.  I intend to figure that out with a vengeance tomorrow.  One thing for sure is the back of some of these pockets have lots of Tilapia on the beds and there are some really small fry.  It is hard to emphasize how critical the next couple of weeks are for catching big bass.  And with the forecast tomorrow being warm and cloudy with a few showers the fishing should be superb.  We will see.
But one thing is sure, that is the heaviest bass I have ever landed.  How big?  Not a clue, but she was full grown.  I guess it was my reward for taking a few days off to work, and then not getting excited about the traffic or getting cut off.  I kept with the program and made that slight change to the smaller craw at the right moment.  All I know is tomorrow will be interesting.
*********************
Evan sent a comment concerning the walleye in the Ozarks.  It really has developed into a real fishery.
Good to know you're doing well and still focused on fishing!

Man you mention those walleye in the waters of the ozarks….. That gets me almost as fired up as duck hunting!  We normally go to Table Rock every year – although this year we are not.  Next year for sure!  Its so much fun catching Walleye!! We have found a few consistently producing spots that hold some pretty decent fish.  Decent in the realm of 10-14 pounds.  Not too bad in my opinion.  And we've caught them on just about everything: jigs, spoons, live worms – but I'm partial to the jig.  Worms catch too many black bass.  (Like that's ever been a bad thing!)

On another note – I'll be headed to POC the 2nd weekend of April.  Gonna give the kayak bay fishing another go.  Hopefully we'll find some hungry reds.  Try and leave some of those trout for us, if you don't mind.

Thanks for sticking with it.  Fish or no fish, you're still worth reading.
Thanks for your kind comments and those are some serious walleye you are catching.  And as far as when you come drop me a note as I will definitely be fishing POC several times in the next few weeks.
**********************
I get lots of comments everyday. most of them are spam, but I wade through them to get to you all's.  I got this one the other day,
Hola! I've been reading your weblog for a long time now and finally got the courage to go ahead and give you a shout out from  Austin Tx!
Just wanted to mention keep up the excellent job!
Well Hola back at you.  To bad there was no name with it, but thanks for reading.
*******************
So day one of the Back to the Fishing Tour went fairly well.  (An understatement.)  I will be back at them tomorrow trying to get a real pattern.  Then when we get another cloudy day with no rain (Tuesday?)  it will be definitely some trout fishing.  Those big girls are also getting in the mood.  Who knows, I just might catch my biggest trout next.  At least I know I will die trying.  Thanks for sticking with me and keep stopping in.
Good Luck and Tight Lines