Fish Catching Travel
The title of today's post is the reason there has not been a fishing report since early this week.  The reality is stuff breaks.  The reality that goes along with that is I have to pay for it.  Whether it is trolling motors, locators, motors, or rods and reels, all have a useful life.  That useful life might be measured in hours, revolutions, or hook sets.  But no matter what, nothing last forever, unless you don't use it.
To go along with that, when you fish as often as I do, easily over 150 days a year or more, the expense is ongoing and not inconsequential.  And right now I need some boat stuff.  Owning a boat is expensive, owning 2 is twice as expensive, and to keep them up requires effort and money.  And as we all know, stuff happens in bunches, it is never spaced out.  So with that background I took advantage of an offer to actually work a couple of days this week.
The flats boat (Which is going in for the 100 hour check and preparation for the long tow to the Everglades.) needs a new front locator, the small boat (I just spent $800 on the motor.) needs a trolling motor and a new GPS/Locator.  So in an effort to be fair to the Boss of Team Nancy I took a couple of days this last week to make some money, which will immediately be spread out amongst Bass Pro, Academy, Cabela's, and whoever else has their hand out.
When they say boat ownership is a hole in the water into which you throw money they are not kidding.  Luckily I can do a lot of the installation work myself so most of that will be resolved in the next week.  A front locator is totally unnecessary for the Gulf, but is a mandatory for lake fishing.
We will be back in the fishing business shortly, but first there is one more thing I have to take care of.  I have a big a$$ cataract on my right eye and with the help of a fishing buddy, don't freak he is an Opthomologist, I will be good as new on Tuesday.  It is hell getting old.  So I just wanted to take this opportunity to thank you for hanging in her with me, the serious fishing is about to begin.
*******************
I got this questions from Richard and thought I would share it with you.
What is the camera you are using to make your videos and how do you have it aimed?
I fish POC and love watching these videos.
Thanks
I appreciate this questions for a couple of reasons.  First, I use the older GoPro Hero 2.  I simply put it on my head (no hat on) and turn it on.  Batteries have become the issue and I have not shot any video this year, but that is about to change.  As it is an older model the batteries are hard to find and mine are very weak.  You really get an appreciation for how hard it is to get good fishing on video when you only have less than 2 hours of film time.  The decision of when to put it on during the day decides what you get on film.
Of all things, my wife and I were in a Winery in the middle of Turkey and I met a nice lady who is the Director of Channel Sales Programs for GoPro.  She gave me her card and said if you ever need anything get ahold of me.  As soon as I get done with this post I am going to email her and see if I can find some new batteries.  So thanks for reminding me and I hope to shoot some cool stuff in Florida in April.  And I appreciate you reading my blog, thanks.
*********************
If you stop here much you know the Shoedog has not been around as much as usual, and that is about to change also.  His construction project is finally on the home stretch and it will be back to fishing big time.  He is lucky as his subdivision has a 4 or 5 acre lake loaded with bass.
I went down to the lake and bank fished today. Heading out to Iowa tomorrow and didn't want to mess with uncovering the boat for just one quick trip. 

Temp was 68 degrees at 4 pm when I started,but the wind was cool out of the southeast. 

I had four bites between 4 and dusk. Two on spinner bait and 2 on Strike King swim jig w/ Rage Craw trailer. 3 were good and the smaller 4th hit the swim jig as I was bringing it out of the water. 

I think we are just one more warm spell and the full moon on March 5th and I will be on the big ones- it is coming! Spring time bassin' at it's best. 

I am not going ice fishing up north- I refuse to! Not unless I am in Ontario for Lake Trout! The folks at Muskie Bay Resort have posted some awesome pics of late- wish I could make it all the way up there.
Thanks for the report and nice bass.  Must be nice to be able to just slide down the block anytime and catch bass like that.  And I wish you would quit looking at the Muskie Bay Resort site.  We are still 6 months from going and you will drive yourself crazy.  Folks, that is where we stay and if you want to see some cool pictures visit their website, a good thing to do on a crappy weather day.  I just peaked and the pictures on the site of full moon muskies got me all wound up.  Our trip is on the August moon for the big ones.  And it really helps they are great people.
***********************
Several folks I know have fished a little in the last couple of days but I have not heard any reports.  I am real interested in how Voe did on Falcon the last couple of days.  I am impressed when anyone fishes out of a kayak, but fishing Falcon out of kayak is something, so I hope he figured it out.  The wind down there can be a hassle.
And I missed a day on the bay with Chris, who was wanting to fish the other day.  If he got the same thing as I did out of our guide trip he is wanting to put some of that knowledge to use up here.  It is big trout time wherever you are.
Last the Austin boys are down at POC this weekend.  I think there are 9 of them out of 2 boats for a wading extravaganza.  And as usual with that bunch the weather is going to crap while they are here.  I am hoping they wacked them as this front approaches in the morning.
I did meet a guy yesterday who has been catching trout in a small local river.  He had a pretty nice sack up to 20″ the other day, and said his last few trips have been good.  So our river fish are not done yet, guess that cold weather moved some more back up the river and creeks.  If the wind is blowing that is an option you might want to consider.
So if any of you have been catching anything drop me a line.  We all like to fish vicariously through other folks tall fishing tales.
*********************
And to my father-in-law Jack, those knives you gave me this Christmas are sharp, as in I already cut myself washing dishes and trimming meat.  Those things are seriously sharp.  Wonder if they make a filet knife?
*********************
And while I sit here whining about the fronts and the northers I got this from Terry up in Nebraska.  He sends us stuff occasionally, and he sent this the other day.  If you remember some of the ice fishing pictures he sent us this winter the weather was beautiful.  Well here is a little perspective on that weather.  The subject line in the email was "Don't know what you are missing."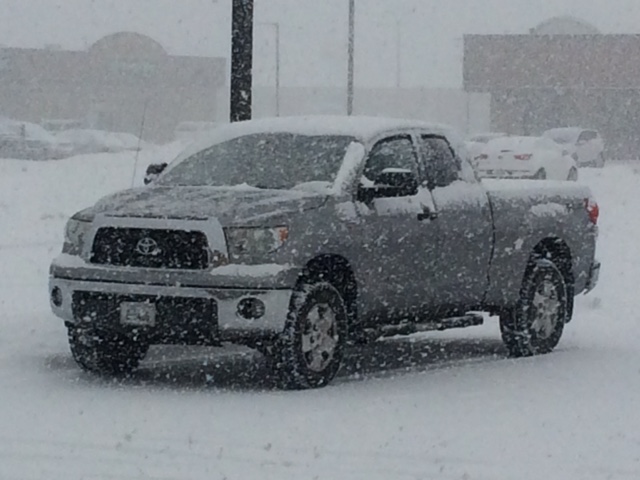 Lucky man I am. Went to work at 8:00 nothing on the ground and at 10, 3 to 4 inches. Couldn't see 281 from the store. Gotta love it!!! Third snow this month.
Guess all that good ice fishing does come with a price, which is that nasty old snow.  Can't really say I miss it much.  Thanks for the picture.
*********************
Again my thanks for hanging in there with us.  As soon as these little bumps in the road are cleared up (as in Tuesday) it will be springtime fishing.  The bass will be on the beds, the big female trout will be biting, and all will be right with the world.  So keep stopping in and thanks for reading my stuff.
Good Luck and Tight Lines