Fish Catching Travel
Sometimes a person can lose perspective.  In my case it happens when I fish Coleto and we only catch a dozen, and none of them big.  I get to thinking that it just wasn't worth a crap.  And that is exactly what happened yesterday.  But it was all put in the proper perspective when Voe, on the way home, said today was the best day he has had fishing Coleto.  It's back to the old glass half full or half empty?
We started out right after daylight, and there was not a breath of wind.  For the first couple of hours we fished from down lake to up lake.  Because this was the first time Voe fished the lake with me I wanted to catch a bunch, so it was my best spots one after the other, and until around 11 we had only caught a couple, all on Strike King Swimming Jig.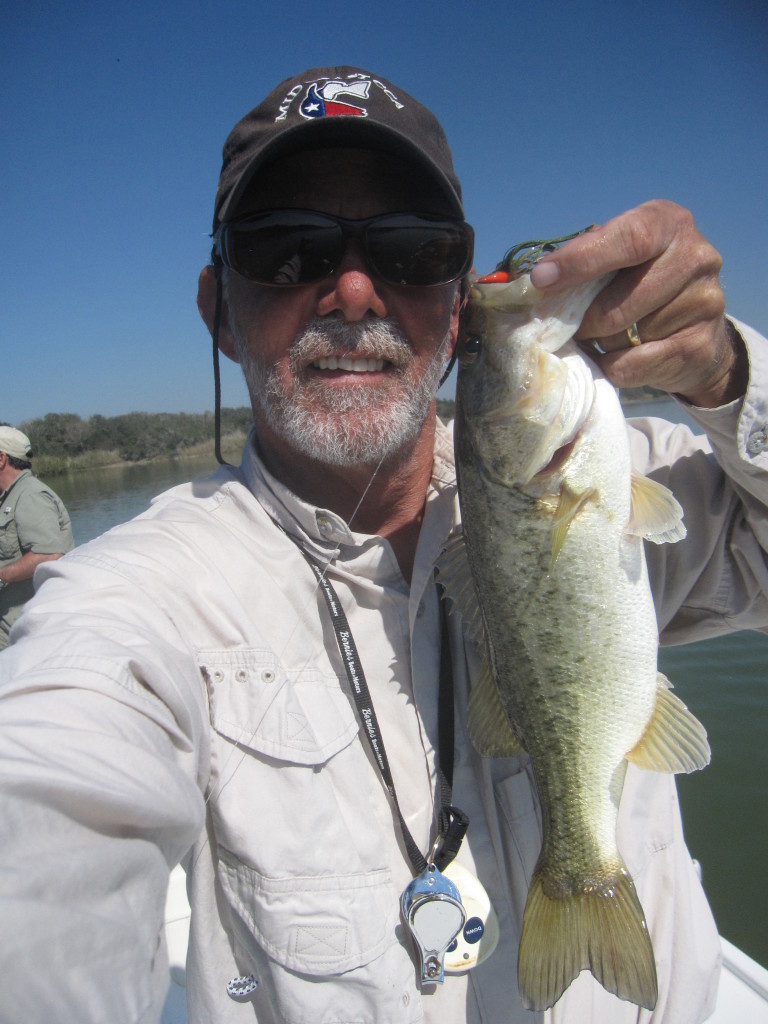 Standard size for the day.
The water temperature was 58 – 61 over most of the lake.  You could tell they have not been releasing any warm water as the 61 was in front of the outflow cove in the Coleto arm.  When the water temp was combined with no wind it was slow until later in the morning.  By time it was over we found as high as 68 up the lake and that is where we had our best luck.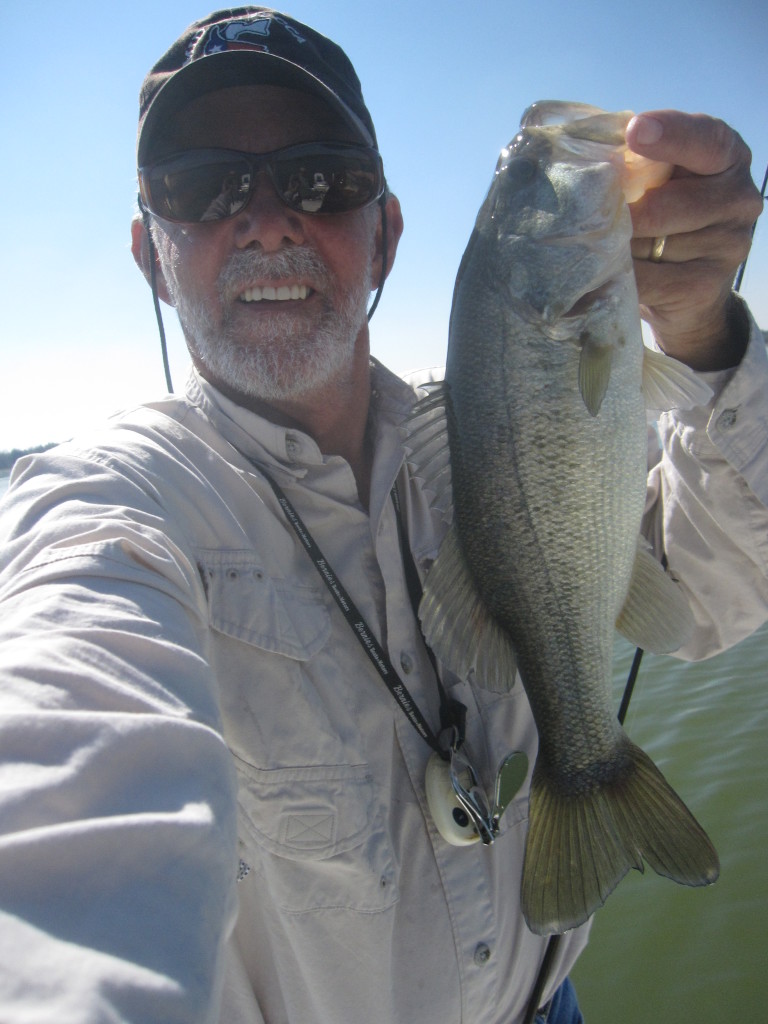 The biggest that made it in the boat, sort of.
I put another one in the boat that was quite a bit better than this, but I lifted her in and she broke my line, hit the deck, and swam off with my Swimming Jig.  Voe lost what looked to be another pretty good one, and I broke my line on one, so it might have been a little better than it seemed as far as bites went.
The fish had no preference as far as color of swim jig or style of craw, but swim jig was clearly the bait.  I finally caught one on topwater, and I believe Voe caught one on a curly tail grub and broke one off on the grub.  One thing that is different this year is the amount of grass that died.  If a person wanted to swim a grub, throw a big swim bait, or even an umbrella rig, there would be no better time on Coleto.  The grass is just starting to emerge in some places so there are lots of clean banks right now.
And we did fish 3 or 4 coves, but they are just not quite there in mass yet.  But with the water temperature coming up with the great forecast it could break open at any minute.  I have had a little trouble getting on them big time, but it will come.  And there was the other big sign that spring is coming, the alligators.  These super warm afternoons always bring them out.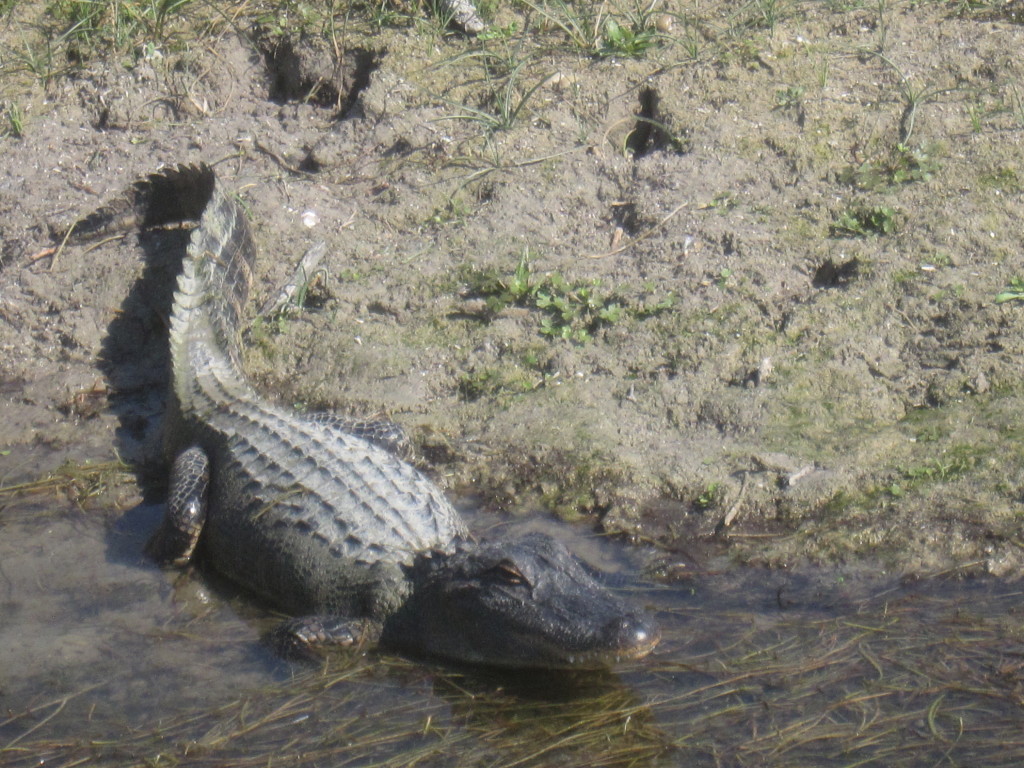 This time of year you can get close to them, just stay in the boat, ok?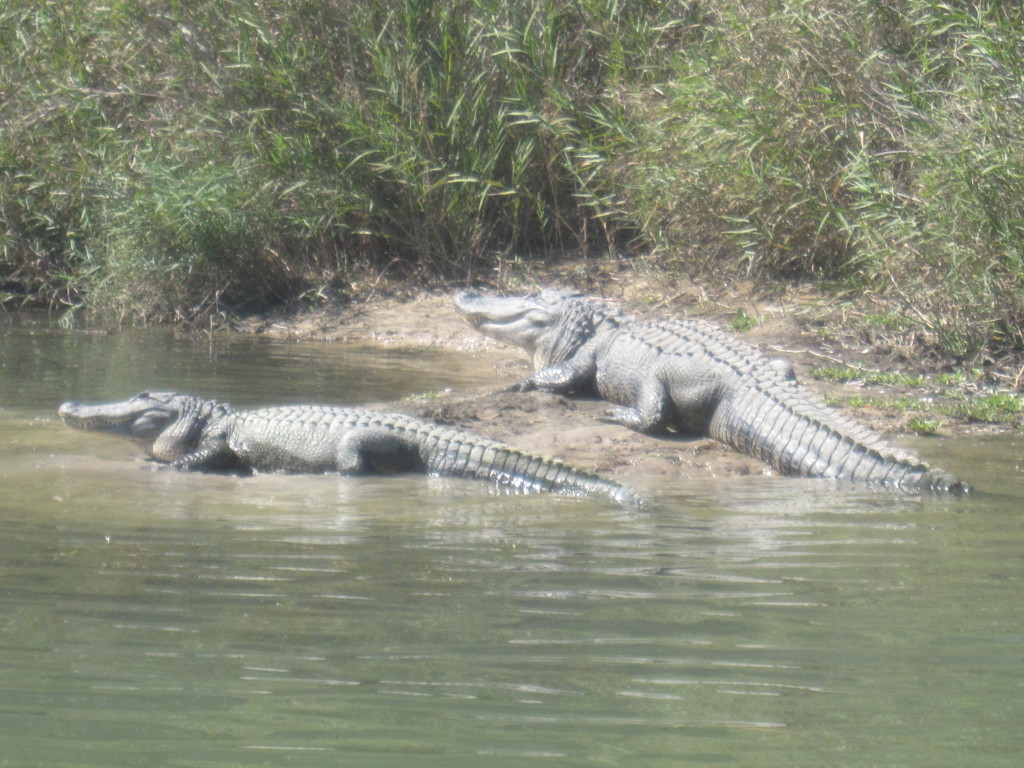 These 2 have been in the same cove for the last few years and I often see them together.
We ended the day a little early so I could get home and get stuff ready for Baffin.  It was a dozen or so, 7 or 8 for me, and 5 or 6 for Voe, and if we had got it done like was should have it would have been a lot better than that.  But some days they end up in the boat, other days the fish win.  I know I broke off a good one and dropped another good one in the lake with my Swimming Jig, both rookie mistakes.  But it happens.  I have enjoyed fishing with Voe the last couple of days, and we will be fishing together in the future.
********************
When I posted the picture of my buddy Clyde's pickerel I didn't have any background on it.  Clyde dropped me this comment and I just had to let you see it.
The story behind the pickerel picture:Maria picked up a Virgin Mary statue on our way fishing;she put it in the back of the van with our fishing rods,it won't fall over!,first turn over it goes;It didn't break anything honey!We stop at the house and put it in the yard;off we go to the Spring River,my first cast at the second place we stop I catch that pickerel;after photographing it I notice my TFO rod is broke 2 inches from the tip ;right where the Virgin Mary landed;I still haven't had the heart to look at my fly rod;you gotta luv em don't ya? You know  I do;she luvs to fish and that's a hard one to find
Over the years my buddy Clyde has broken a thing or two, remember the trailer from hell story from Canada last year?  By the way if you haven't, search it on the blog, great story.  But of all his stories this takes the cake.  The Virgin Mary broke his rod.  You sure you haven't done somebody wrong bro?  You crack me up.
********************
I got this perfect lead in from Jaime:
Good luck in Baffin.  Is Peterek your guide? If so he is one of the best. Thanks for the reports.
He is not our guide, but you are the second reader to mention him.  But thanks for the comment.  Can't wait to see how it all comes out.
When you fish a lot, whether the weather is your friend, or your enemy, it is always there.  The reason I was all about hiring the guide at this time of year was to learn how to find the bigger trout during cold weather.  You know, cold, cloudy, ugly, all that.  Of course it is going to be absolutely beautiful, the opposite of what we were expecting.  As warm as it's going to be we might even get a good topwater bite.
So out the door I go.  Shoedog and I will pick up Chris and off to North Padre.  Of course a trip to Roy's Bait and Tackle, and a seafood dinner or two, are also on tap.  We will be meeting the guide in the morning out of Bird Island Basin and we shall see.  If the internet is good where we are staying I will try to get a post up each day, one way or another.  So keep stopping in and thanks for reading my stuff.
Good Luck and Tight Lines