A tough bait for tough days.
Fish Catching Travel
I finally felt good enough to give it a go so I picked up Voe and we headed to POC.  A fairly new transplant to Victoria he is just learning to fish the Texas salt, to bad I did not add much to his fishing knowledge today.  He has lots of experience offshore, but our flats fishing is new to him.
The wind was already getting a head of steam up when we launched about 7:15, and I was not surprised there was only a couple of boats in the parking lot at Froggie's.  So we headed to Big Bayou.
The water temperature was 58 degrees and it had a little color to it.  We only fished a couple of places and other than a small trout and flounder it was slow.  The water was not moving yet so we headed up to the Oil Cut to get out of the wind and try to put some fish in the boat while waiting for the tide to move.  We fished quite a bit of it, and I did manage to put a keeper trout in the boat.  We also caught one more small trout in there, but just could not find them.
We were fishing the bank as we headed to the back of one of the dead end arms when a boat idled right past us, stopped in front of the drain right down the bank, and dropped anchor right in the middle of the finger.  But keeping with the pledge to myself to not let that stuff get to me we just pulled up the trolling motor and moved on, but they were a couple of inconsiderate pieces of crap.  That is one of the reasons I generally do not fish the weekend anywhere near POC.
The water finally started to drop so we headed back down to Big Bayou to throw the Redfish Magic.  Though what I caught earlier was all on the Down South plastics, the wind was blowing hard enough that it was difficult to fish plastics out of the boat.  So it was time to try and boat some reds.  The second place we stopped Voe finally hooked up with a redfish that would have measured.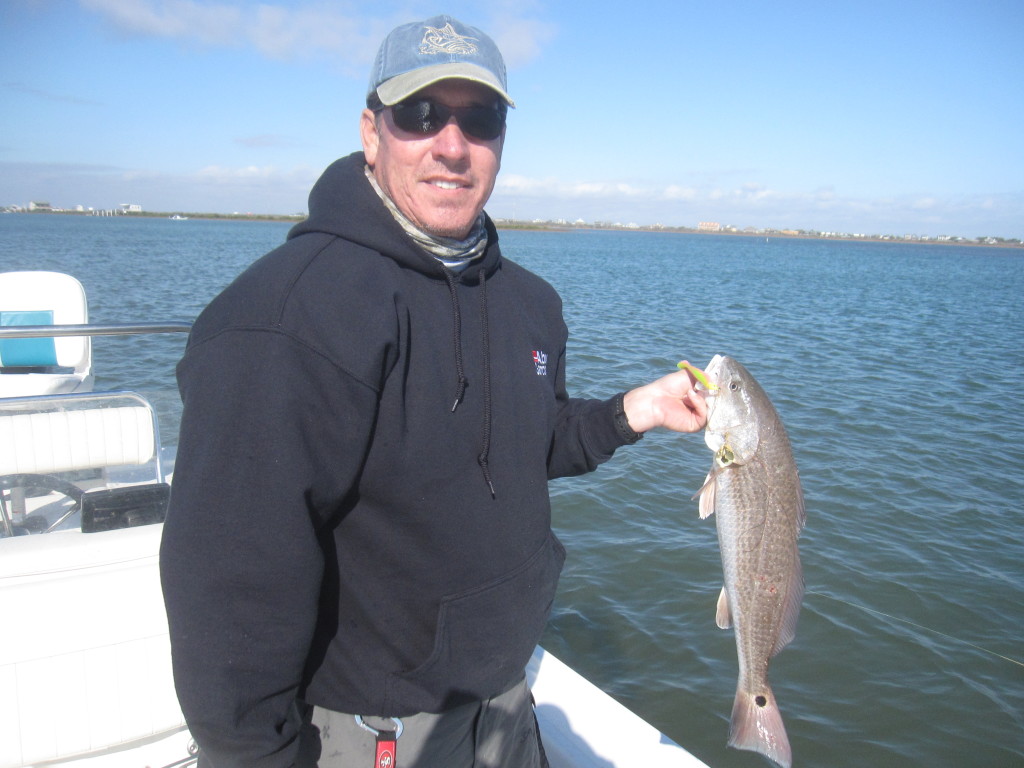 This fish jumped it the minute that Redfish Magic hit the water.
               The Redfish Magic lives here.          
So we wrestled this one to the boat, took a quick pic, and then got the boat back to where he hooked that fish and I made a cast.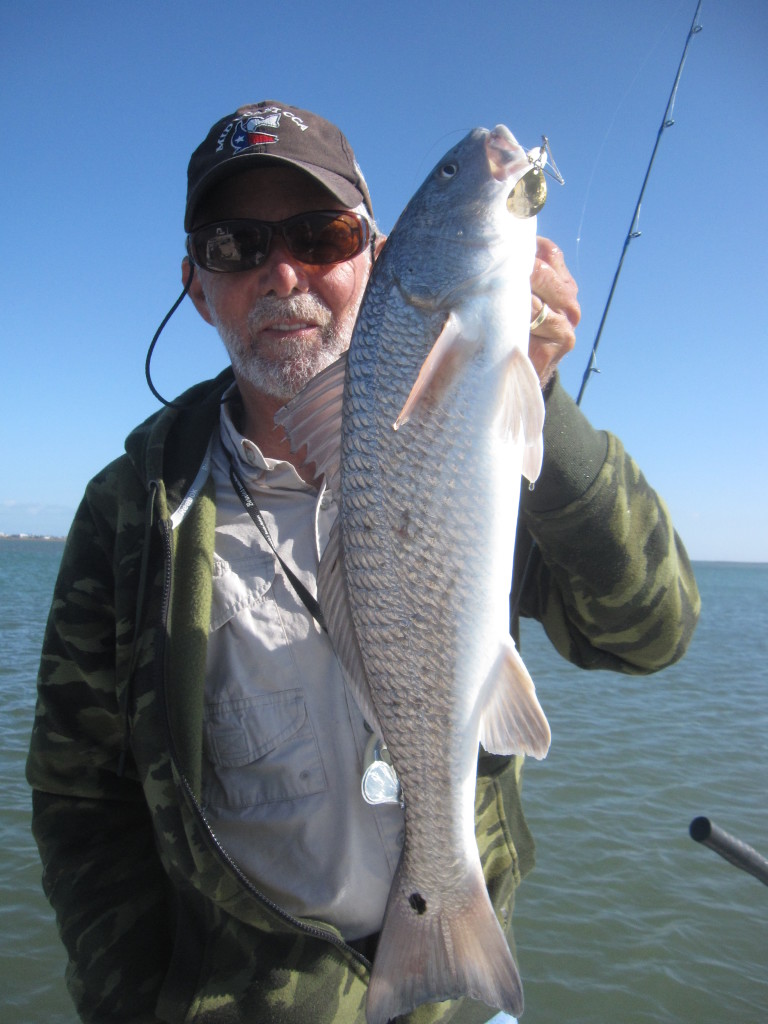 Love that Redfish Magic.
Now things are really starting to look up.  2 casts, 2 reds, looking good.  From that point on we got very few bites the rest of the day, which in this case ended up being about 2:30.  Even though both of these came on the Redfish Magic, the last few came on the Down South as we could not get any more bites on the spinnerbait.  With the wind blowing like it was it was just plain tough.
Around 1 the boats started coming back in on a regular basis, always a bad sign.  We kept after it for a while but it just was not happening for us.  I hit a few of my go to spots, and came up empty.  So with the day heading downhill fast I called it a day.
Our total was 1 flounder (small), 5 trout ( 1 keeper), 3 reds (2 keepers), and 1 stinking Sheepshead.  Plastics were better than the spinnerbait for bites and numbers, but today that was like saying a poke in the eye is a lot better than a punch in the gut.  I am sure I could have fished better, but it was one of those days that just was not happening, at least for me.  When we got back to the ramp there was a little more evidence it may not have been the day as the parking lot was emptying out quick.  It has been awhile since I saw that few trailers on a Sunday afternoon.
*********************
This is totally random, so here it is.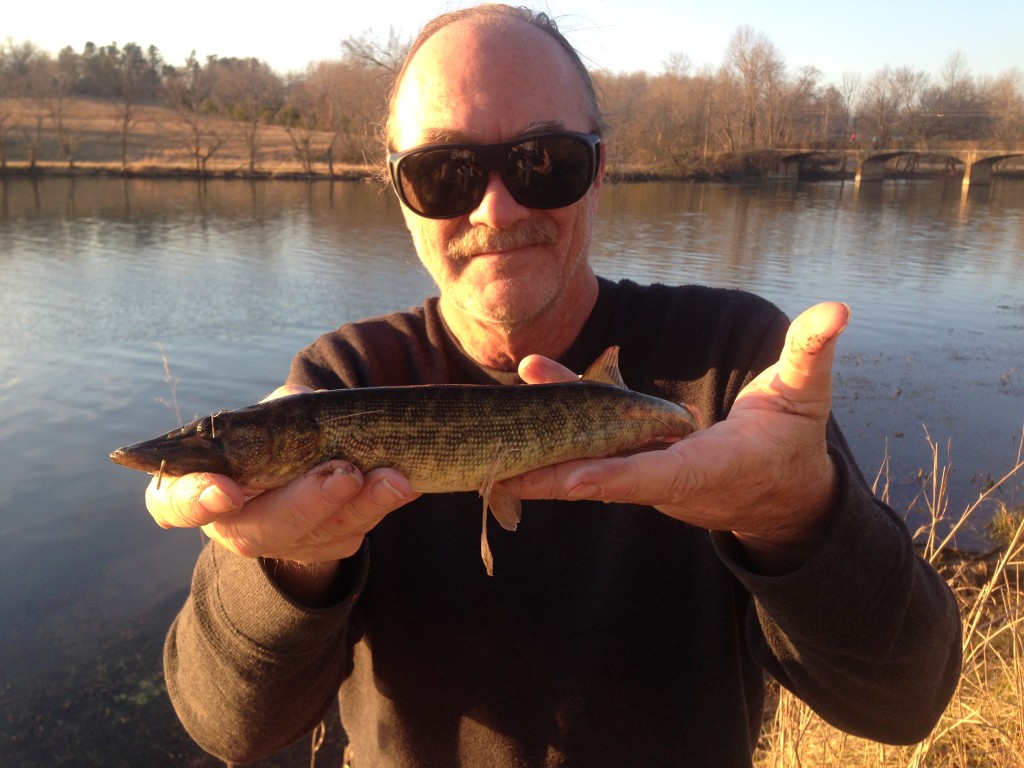 Clyde and his first pickerel. 
All I got with this picture was "first pickerel, Spring River".  That is one of the cool, small, spring fed rivers in North Arkansas.  It is a good place to fish and an even better place to canoe.  So I am not sure what he was doing there, or what he was fishing for, but it is cool as I did not know there were pickerel in Arkansas.  So thanks for the pic.
***********************
Though the fishing left something to be desired we had a good time.  So with that in mind we will be heading to the lake in the morning for a shorter trip.  Then it will be home for me and getting ready for Baffin.  Looks like it is going to be warm and sunny.  What that will mean to the fishing I do not know, but I can't wait to find out.  So keep stopping in and thanks for reading my stuff.
Good Luck and Tight Lines