Home of the Redfish Magic.

Flats fish love them!
Fish Catching Travel
It was up early, then a foggy drive to Charlie's.  We got there about 8 when it was just starting to clear.  The original plan was to fish Shoalwater, then down to Panther Reef, and then a drift or two on the island side.  Well we actually got all that done.  But along the way the Shoedog had what can only be termed as an epic day.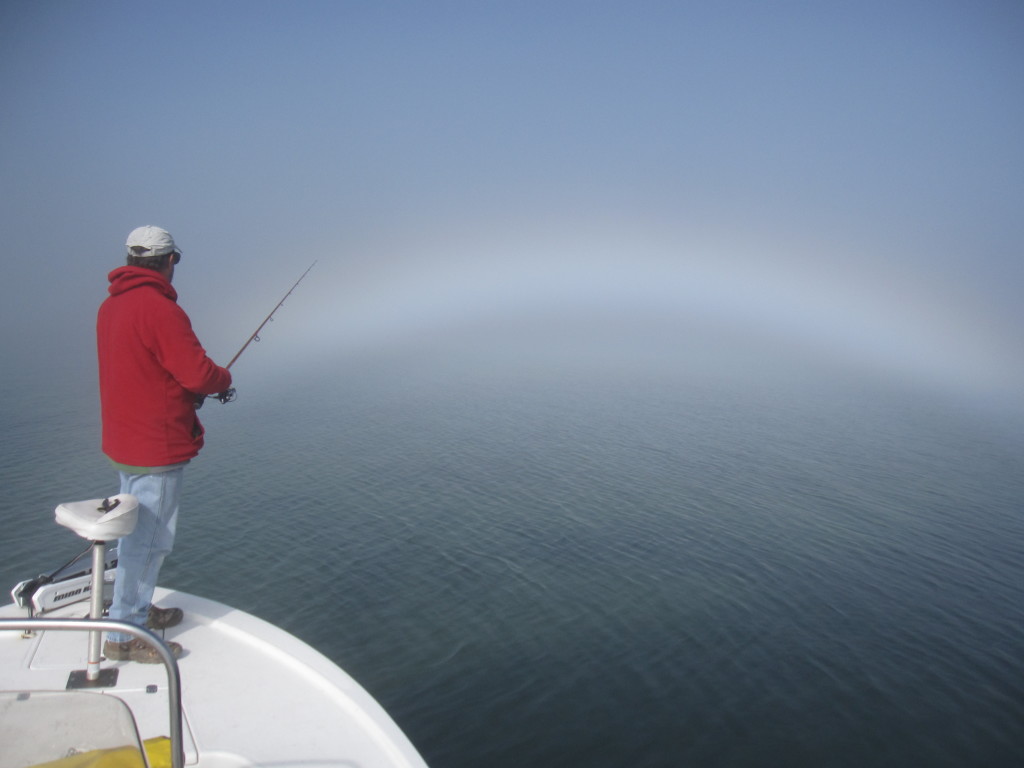 This was the lucky halo that followed the Shoedog around today.
We started out drifting in Shoalwater trying to sack a few trout.  The morning fishing was slow, and while we caught about 20, only 2 were keepers.  Then a big fog moved in around 10 staying until about noon, which did not help the fishing.  The fish we did catch were off the end of the first point on the left in about 2 foot of water.  We would catch a few, then one here and there, about half were in the 14 to 15 range.  Most were along the edges of grass patches, and a drift parallel to the grass got the most strikes.  And then it started ……………….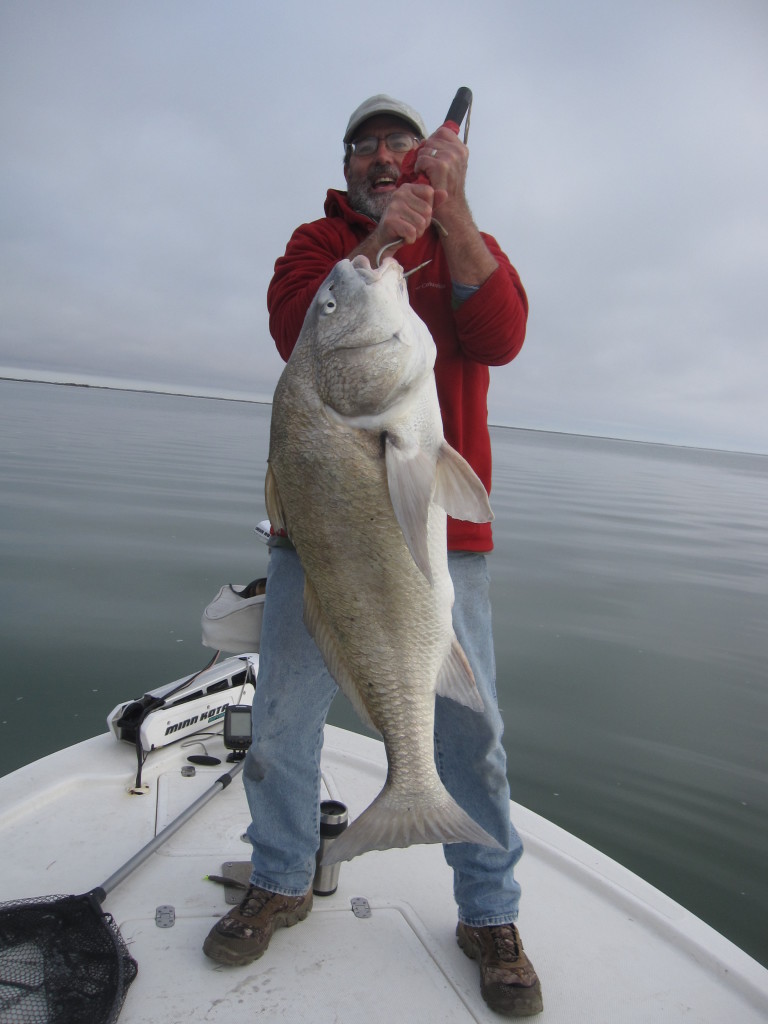 Number 1.  8lb line and a green Yum Houdini Shad.
The fog was lifting when the Shoedog reared back on one and it was an epic struggle.  He played it perfect and I slid her in the net after about 15 minutes.  He fought that fish perfect and it was a cool fight on that light lines.  Then around noon we left Shoalwater and went all the way to Panther Reef.  It was so calm today the ride was a breeze.  We idled in from about 5 foot to the edge of the reef, and here we go again……………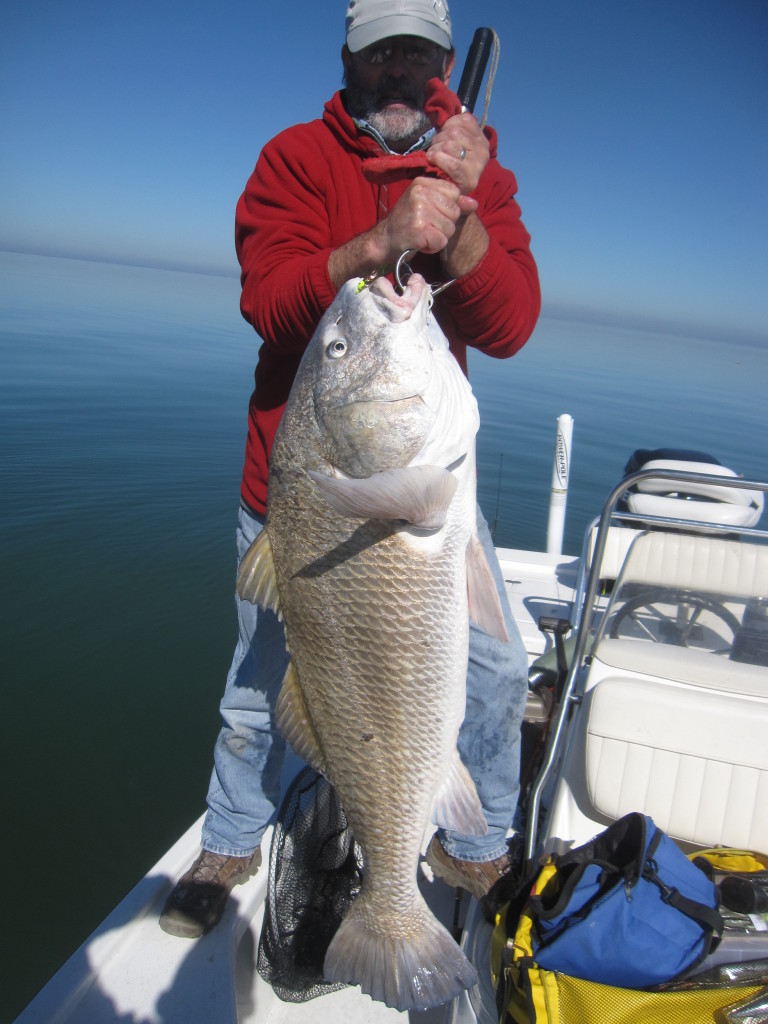 Number 2.  Look at the size of this thing.
Now you would think that 2 this size on trout gear without breaking them off would be enough.  But no.  After catching the one above he was letting his line out without a bait on it to get the kinks out from the long fight when some swim by.  So of course he picks up my spare spinning rod that had a Down South tied on and ……..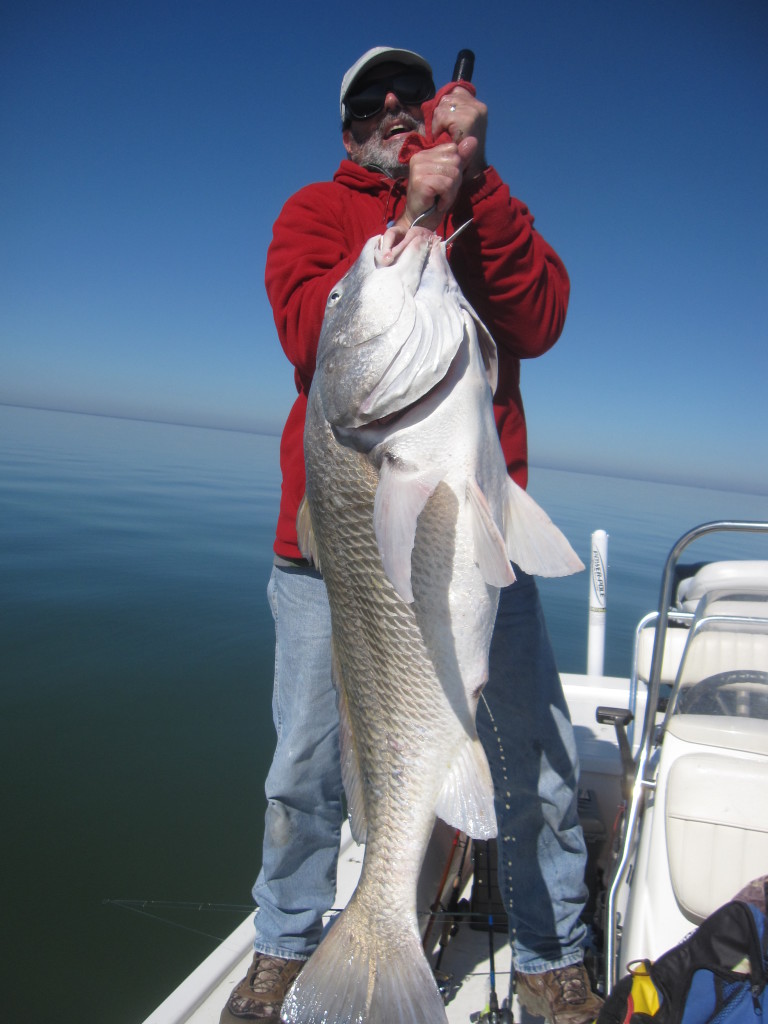 Number 3.  This one came on the Down South paddle tail in the Magic Grass color.  We think this was his biggest.
So in a matter of 15 minutes he backed to back these 2, no small feat on light tackle.  After fishing the reef with no trout bites we headed down the island and stopped in front of a couple of back lakes, drifting and throwing plastics, but we just did not get the bites.  I mean any bites.  It was about 3 so we headed back to hit Shoalwater on the way in and drift where we caught them this morning.  And of course……………………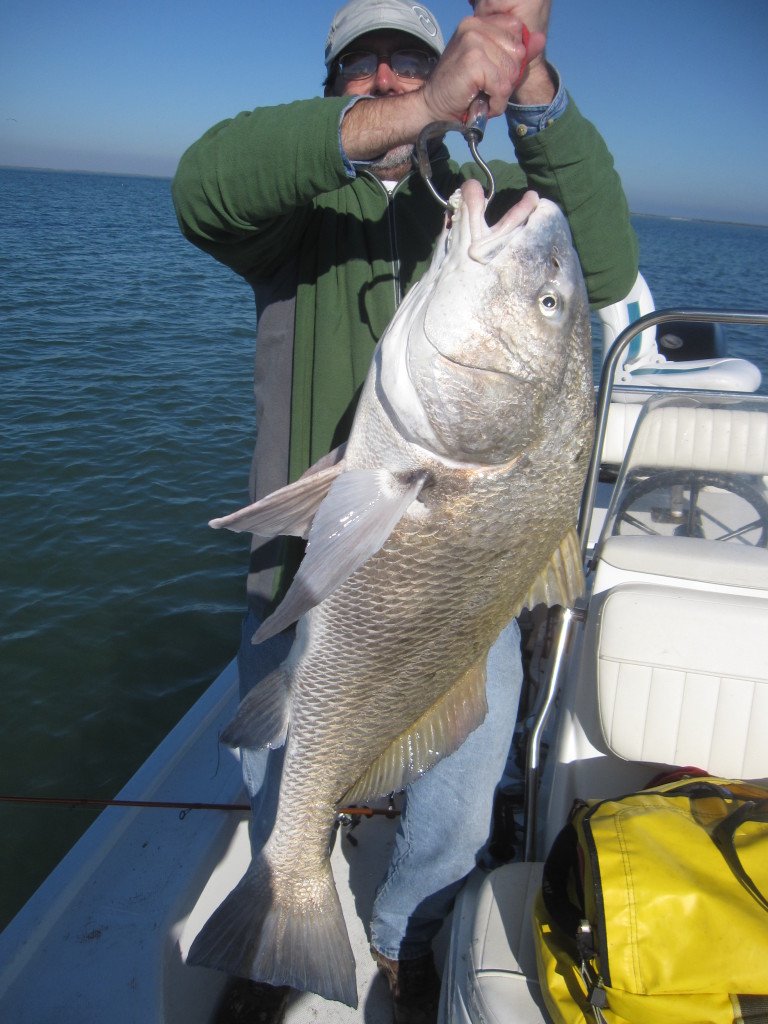 Number 4.  An epic day for light tackle fishing.  It was flat ridiculous. 
You have to hand it to Shoedog.  These were all really big fish, 3 on 8lb. test and one on 10lb.  The fights were long and pretty epic struggles, and after he caught the  first one there was no doubt we were going to land all of them no matter what.  They are such a powerful fish but it is simply a matter of taking it easy and following with the boat.  And they were stamped out of the same mold, big.
And green was clearly the color.  The first 2 he caught he caught on the Yum, and then he picked up my rod which had a Magic Grass (green with a Chartreuse tail) Down South and catches his next one.  They were clearly roaming the flats today in big bunches and we saw quite a few today.  If you are a fly fisherman and want to catch a big fish, the black drum are out there right now.
And though we only kept 3 trout, between the morning and the afternoon drifts in Shoalwater, we caught an easy 40 plus, they just didn't make the grade.  But it was fun and mixing in the big blacks made it an awesome fishing trip.  It may be a day or two before the Shoedog tops today, but it sure won't stop him from trying.
It has been a great couple of days and it was nice to get back in to the swing of things.  Of course the weather wasn't helping but today was the weather that I dream of in January in South Texas.  It is a great time to catch a big fish, and we sure got that done today.  And this no wind thing has been wonderful.  We never did make a wade, so that is next on my Gulf agenda.
The fishing reports I have seen or heard are not that great.  And with the way our trout fishing has gone the last couple of days I can see how it happens.  If you are on them you are in business, if you are not in quite the right spot the fishing is tough.  They are not just scattered around right now.  It also seems that if you catch the good ones they are easy keepers, if not, they all run small.
I have some interesting comments and reports from other folks that I will get posted tomorrow, but right now I am calling it a day.  But I will get to them on as soon as I am done fishing tomorrow.  Shoedog is going to stay another day, so it will be up early and on the water first thing.  Hopefully our day will be as close to epic as today was.  So keep stopping in and thanks for reading my stuff.
Good Luck and Tight Lines