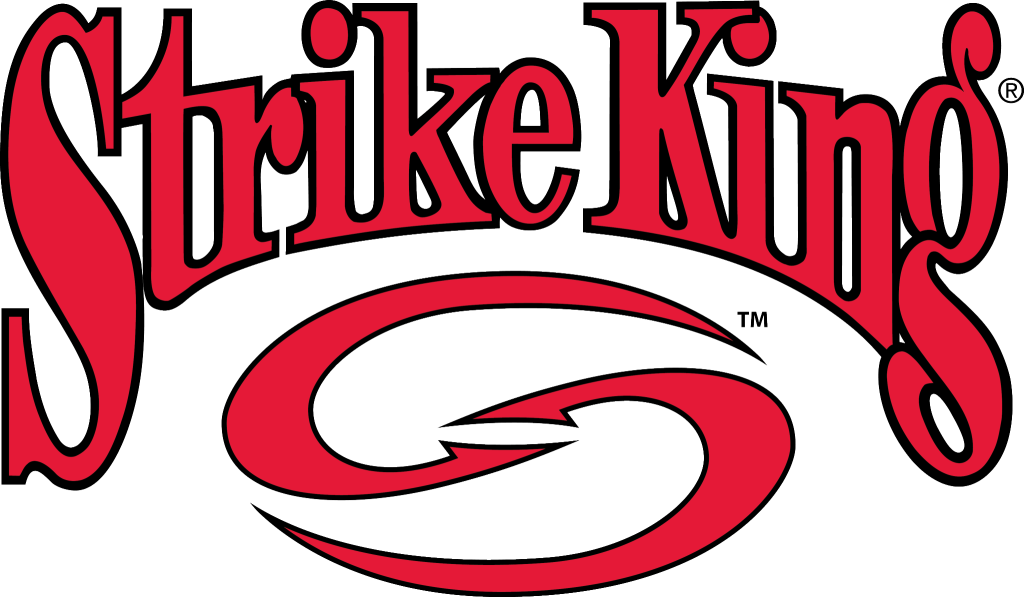 Check out their full line of crappie jigs.
Grab a few bags today, they work!      

Fish Catching Travel
This weather still leaves something to be desired, but it is possible to put fish in the boat.  This is one of those put on your big boy pants stretches when if you want to go you just have to make up your mind and go.  It may not be all that pretty, but once you are out there it seems to work out just fine.  Of course I had a little help getting motivated today when Aaron got back in town and wanted to catch a few crappie.
So it was off to Coleto.  When we got there it was apparent the lake has come up a little, which is great considering the ramp was going to be a real issue soon.  The lake being up was the good news, the north wind at 15 – 20 mph and 41 degree air temperature was the bad news.  It was cold.
We headed over to the channel in front of the spillway, and while there was lots of shad and what appeared to be gamefish, we did not get a bite.  So it was time to hit the discharge and see what might be there.  When I talked to the worker at the ramp the other day he said they were going to let some water in the lake, and while it was not the answer, it would stabilize the water level for a little.  When we got to the discharge the water was flowing out of one gate and it was around 64 degrees, at least 10 degrees higher than the main body of the lake.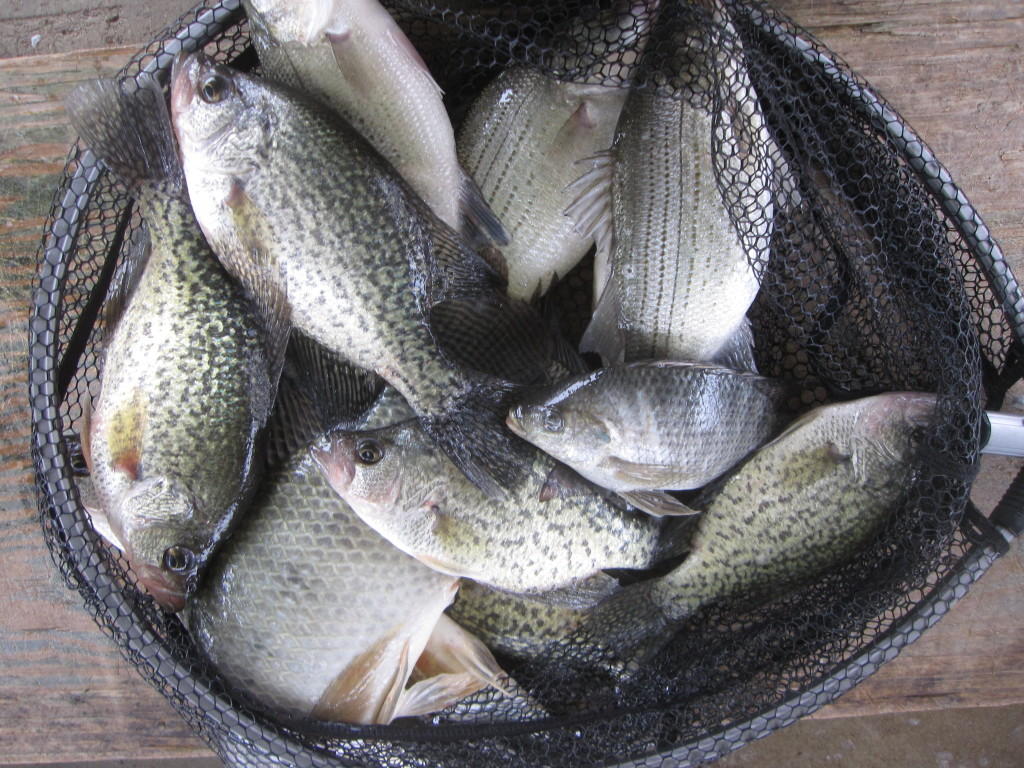 Aaron wanted some fish for his New Years fish fry, and these look like perfect candidates.
We eased up to the float line where you can't go any further and started throwing small tube jigs, 2 to a line on 1/16th ounce jig heads, with some crappie bites.  Now I have not used those bites before, but they clearly helped.  They were chartreuse and we just tipped the jigs with them.
Over the next 4 hours we caught fish off and on.  A couple of crappies, then a small tilapia, then a couple of white bass, then some largemouth, and then a lull.  Then it would happen again, so while it was not fast by any means we did put some in the boat.  I would guess about a quarter of the fish were keepers, though none of the bass were even close.  A couple of the crappie were really nice slabs, a few just measured.
We kept having trouble losing fish, which we finally figured out were some nice tilapia.  What was happening there were so many in the outflow that we were snagging them.  But the hooks on the small crappie jigs we were using were not big enough to hold them, no matter how well you fought them.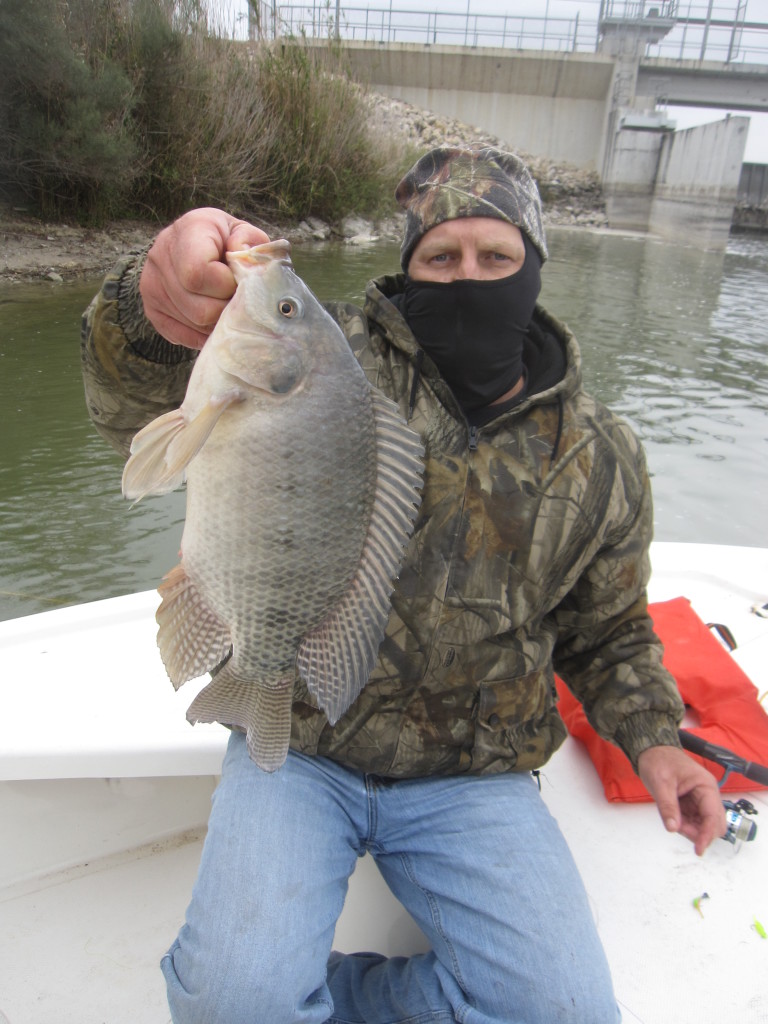 Aaron with the biggest tilapia of the afternoon.
We actually caught several tilapia in the mouth, including the one above, and some even hit the jig like a crappie.  It is about 15 foot in the channel in front of the cable, and we were throwing it out and letting it sink a count of 10 – 15 and then working it across current.  And that is when we would snag those bigger tilapia.  So if you want to fill your boat with tilapia they are there, and lots of them.  A cast net and you could be in business.  I am sure there are some other ways to catch them, chumming with corn, or maybe fishing with the crappie bites on a small treble hook.  There is a way for anyone that wants to figure it out.
Not a bad trip.  I think we kept around 18 assorted whites, crappies, and tilapia.  It was not pleasant by any means as it never got above 45 degrees, but it is funny how catching fish sure seems to make it a little more bearable.  Fileting them at the cleaning table was definitely cold.  So while it can be rough when it is this cold, there are fish to be caught for those brave enough to get out on the water.
********************
I knew I would hear from some Aggie after the post the other day, and here is Evan's comment:
Gig'Em Aggies!  And long live the SEC.  Like many Aggies have said from the Big "12″ days:  I only cheer for two teams, (1) Texas A&M, and (2) whoever is playing t.u.

Dangit man.  You make it look so awesome to be fishing even in this cold weather!  Nicely done sir.  I'm gonna wait til it warms up tho.

Plus – if its cold, I'm chasing ducks and geese.

Have a great one!  And keep writing.

Evan
Thanks for the compliment.  Winter fishing fishing is awesome, simply because there are always a couple of days every winter that really shine.  Location, location, and location, is the watch-word of winter fishing.  With their metabolism slowed it seems like once you find them, along with what and how they want it, they are so catchable when they finally do decide to bite that it is a thing of beauty.
And as far as ducks and geese go, I am just not as mad at them as some folks, at least not like I am at those fish.  One last thing, as long as the Razorbacks finish first we would love it if the Aggies finished second.  I appreciate you keeping in touch.
**********************
According to this morning's weather the warm-up is on the way, starting tomorrow.  It sure would be nice this last cloudy day if we could add a little more rain.  But that aside, the fishing is about to get going.  It looks like we will be having a 7 day warming trend, through the weekend and into next week.  Who knows, I may even fish the weekend.  I patched a leak in my waders and this warm front would be a good time to check that out.  So keep stopping in and thanks for reading my stuff.
Good Luck and Tight Lines