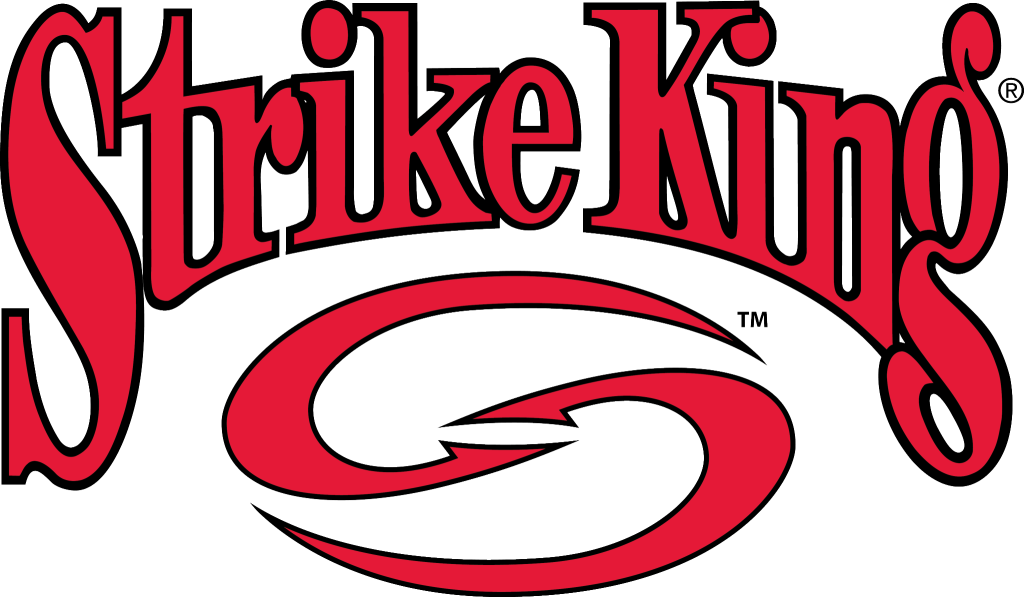 Baits for all your fishing needs.
If it swims in salt, it will eat a Down South!      

Fish Catching Travel
I spent the weekend watching sports, both live and on TV, and I finally got back on the water today.  Over the weekend we got around 2″ rain, even more north of here, and it was a cold rain.  So when I headed to POC I was a little worried about what I might find as far as water-color and temperature.  One thing, it sure wasn't crowded.
When I put in the air temp was 45 degrees, the water temp was 49 degrees ( It stayed there all day.), and the wind was blowing about 15 out of the north/east.  So wanting to get right with the program I headed to a deep channel bank in Big Bayou and started tossing the Down South.  I had gone about 25 yards when I got to a dock  and of course the reds were there.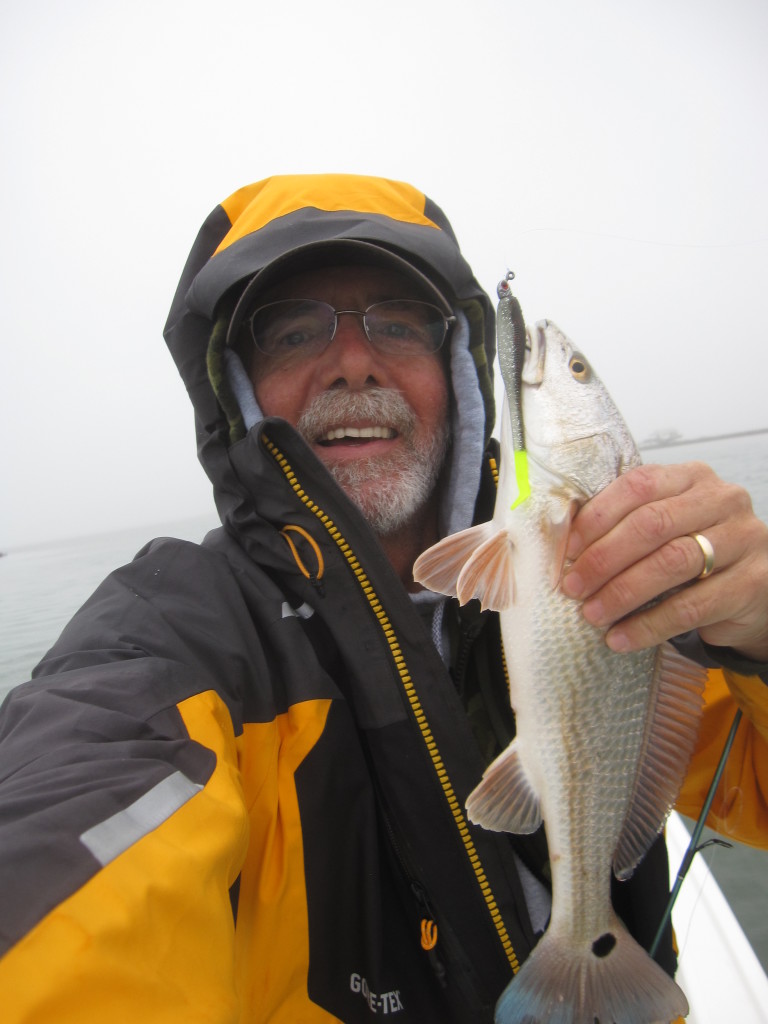 I caught this guy 8 times on one bank.  Well maybe it was 8 of his brothers and sisters.
I actually took this guys picture because he was the 4th on four straight casts.  And I do want to say one thing about cold weather and redfish.  If there are docks there are redfish that can be caught.  Before I left that bank I caught 8, missed several, and had a couple break me off in the dock.  With the wind blowing, and the tide dropping, you had to put that Down South right next to the dock, then hop it once, and set the hook.
So that would seem a good thing, even if they did not measure, but I was looking for supper.  This bank is one of my winter to go to banks, rarely do I fish it in the winter and not catch some trout, but today they were not having it.  I fished that one bank in Big Bayou and then headed to the Oil Cut.  Though the wind was blowing in there some, it was fairly sheltered.  It took about an hour before I finally boated a keeper red.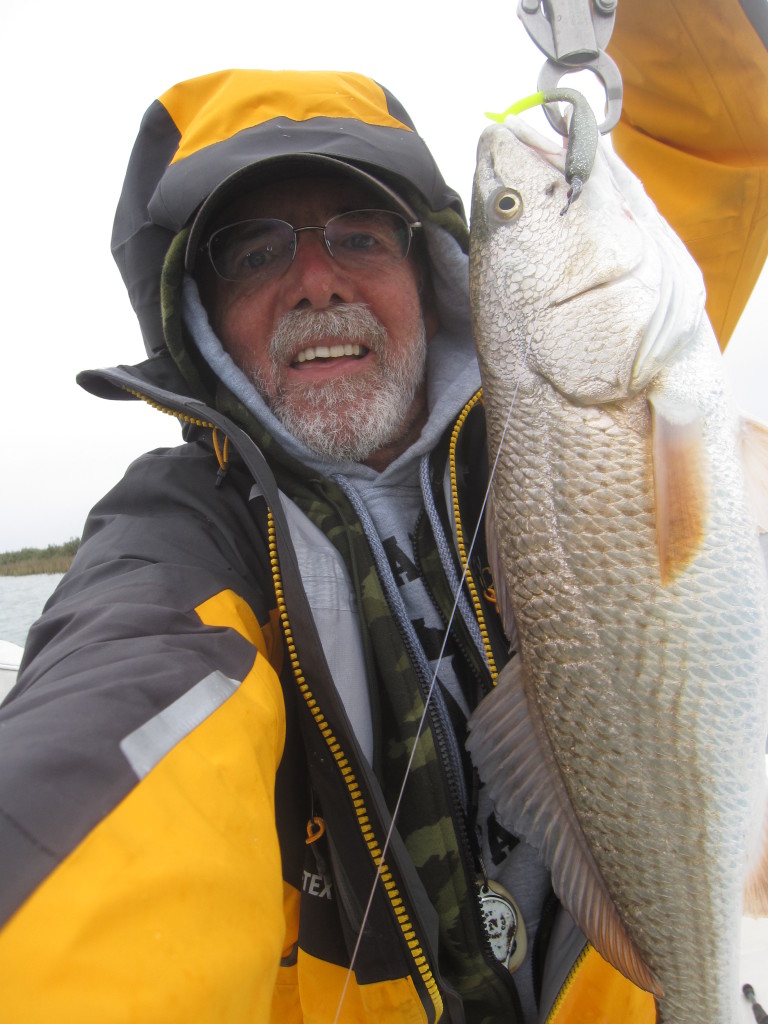 This one is not going to have a very good day, more on that later.
I fished about half of the Oil Cut just going down the bank and tossing the Down South to the bank and hopping it out.  It was another half hour before I finally caught a trout.  Not a bad one, around 15 I tossed it back, figuring it was about to happen.  Then another one came over the side, and it just made 15 so back in it went, but that was the last trout I saw all day.
On the last bank I fished in the Oil Cut, most of the way back in, I got a nice bite and finished off the supper plan for the evening.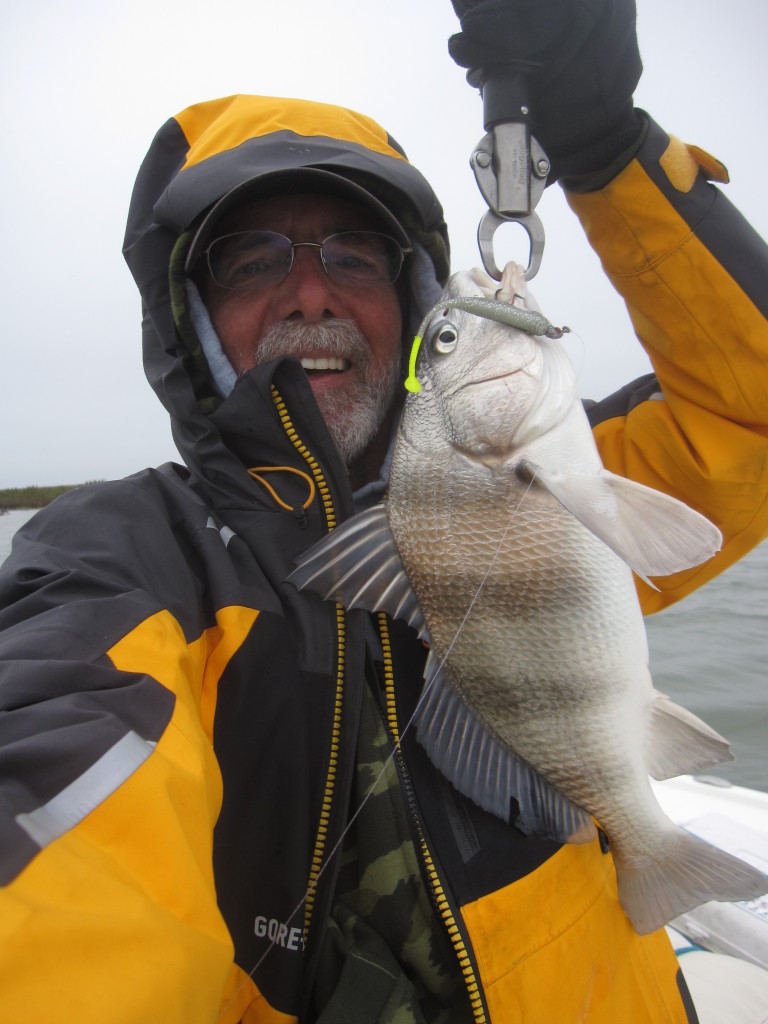 I have caught more blacks on the Down South since I started using it than I ever have.
Now normally I don't get that excited about catching a keeper black drum, but they are good to eat, just a hassle to clean.  So I was thrilled when this one committed suicide because I got the Bubba Blade for Christmas and I was looking forward to using it on something as hard as a black drum.  I am happy to report it went through both black and redfish ribs just fine.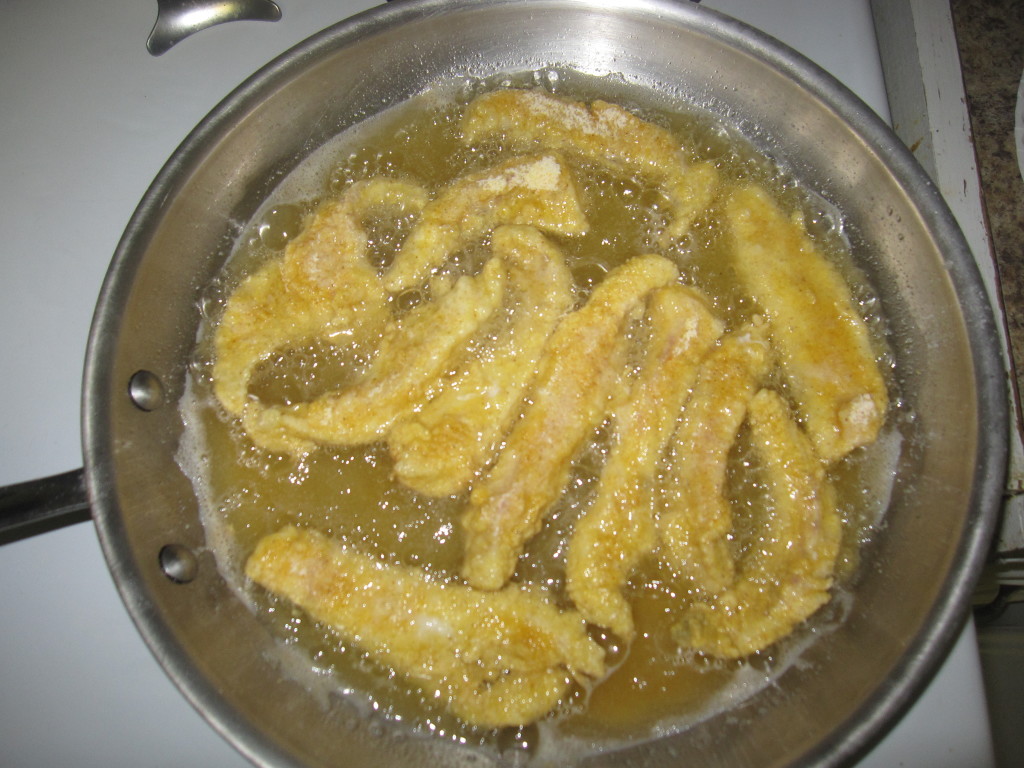 This was even way more betta than it looks!
Before I called it a day about 3:00 I stopped back on the first bank figuring the trout had to bite there sometime,  but it was only redfish.  I ended up catching another 5 redfish and had a fairly big one break me off in the dock.  Breaking the occasional one off on light line is the price you pay, but I really feel it is important right now.  8lb line, 1/16th jig head, all contribute to slower fall, which I think helps with inactive fish.
For the day it was 14 redfish, 1 black drum, and 2 trout.  Not fabulous, but under these conditions ok by me.  I really was surprised by the complete lack of trout bites.  But it is not to hard to believe that the extreme temperature drop and cold rain just put the hurt on the trout.  The redfish, being the pigs they are, went ahead and cooperated.   Not sure what the weather has in store but Aaron is back in town so crappy or not we will be fishing somewhere.
********************
With the fairly big rains locally it had me thinking about the area rivers.  A big influx of fresh water that is in the 40's can not help fishing in the least.  Then when I got home I had this comment from Steve.  Folks, there is something to be learned here.
My 2 cents worth on river fishing or maybe NO cents: My girl friend and I went down from Waco on New Year's weekend and fished Friday, and Saturday. Friday fishing was a grin; we caught about 15 trout of which 5 were really nice keepers on gulp and down south. I kind of knew the fish were there, but the bite was slow. Went back Saturday with a new plan, live shrimp. We absolutely had an epic day catching well over 60 fish together, but only managing 4 keeper trout and a 30 inch red fish. I think the fish are still there in good numbers but don't feed as often. The live shrimp actually created a feeding frenzy of sorts. We fished the same spot about 3 hours then ran out of live bait, so back to gulp and down south and didn't catch another fish. They would bite at it but no takers. I think we brought the fish to us with live bait. You keep writing and I'll keep reading.
Thanks Steve
Lots to think about with Steve's comment.  The big difference in live bait and lures.  I think that has a double component, fishing pressure and they feed less due to lower water temperature and salinity that comes with rain.  And the fact you felt some nibbles on lures had started happening to us.  Our last couple of trips we could feel them pecking at it so we started hopping it up off the bottom then reeling it 5 times really fast and stopping it to get them to hit it.  I think that could also be indicative of fishing pressure.
But you know what the bigger point is folks?  Flexibility.  Steven thought about what was happening, trusted his instincts, and made a change.  Nice job.  There are so many days when live bait will easily out fish lures, but Steve's success on day one and two mirror my limited experience.  Less fish on lures, but the average is always better.  Either way good job and we all appreciate your comments.  Keep them coming.
********************
Saturday I was lucky enough to hit College Station and see Kentucky play A&M.  The Shoedog is a pretty big fan and makes lots of games, so when he got tickets I was happy.  Love em or hate em, I do, you have to be impressed with what Kentucky does, and has done, for years.  Some of my favorite sport memories are watching the Hogs under Nolan Richardson in our national championship era.  College basketball is just plain fun.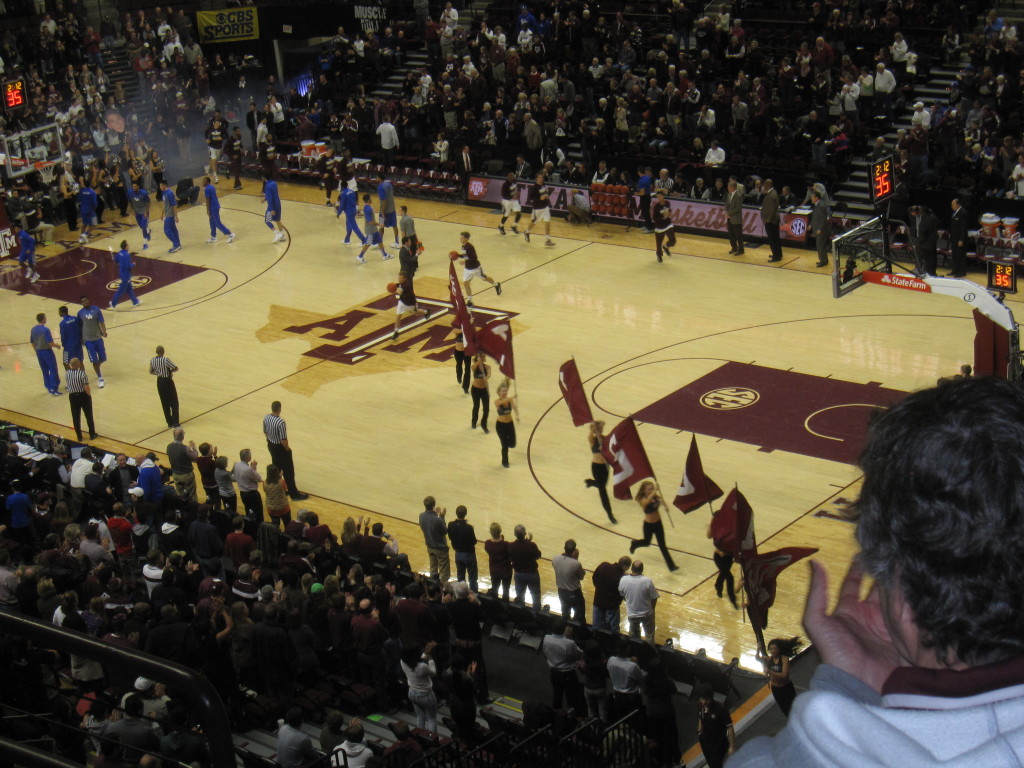 The Aggies take the court.
Suffice to say it turned into a titanic struggle.  Kentucky played poorly and the Aggies played with heart and determination.  Now being a Razorback I would not give you a plug nickel for hay wagon loaded with Aggies, but as they say, the enemy of my enemy is my friend.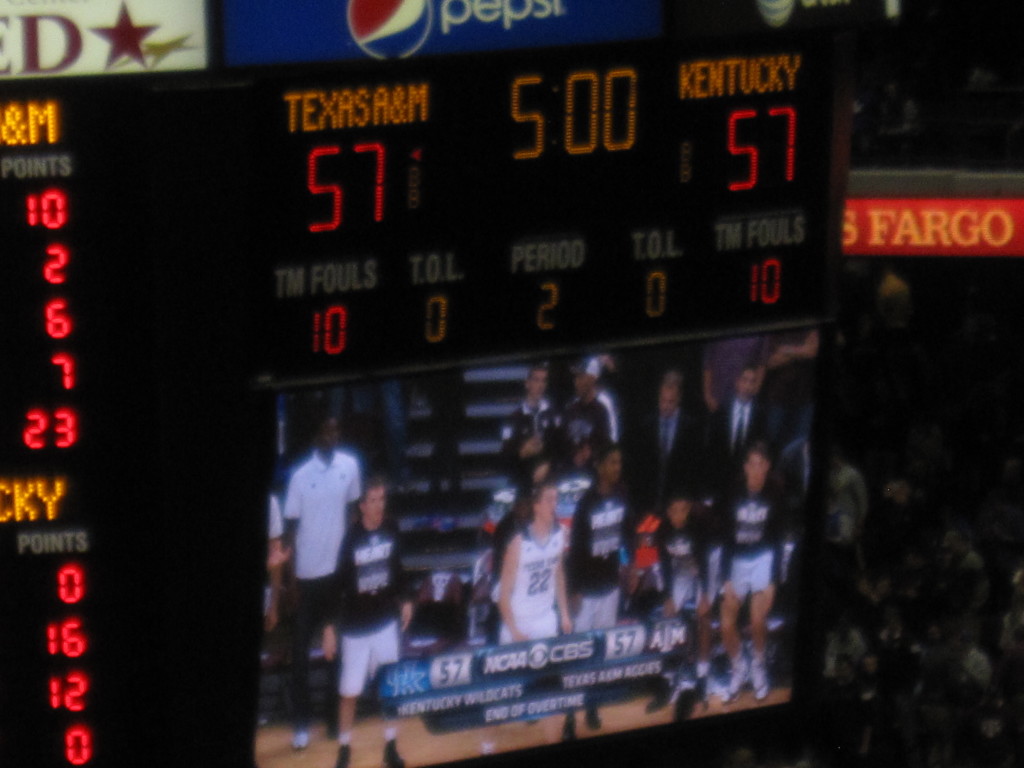 Soooooo close!
The game was close and could have gone either way, but the Aggies still have to learn how to win, Kentucky knows how and they did not panic.  But maybe this is a sign of things to come for A&M.  My only real comment after the game is come on Aggies fans, you can do better than that!  The number 1 team in the country, undefeated Kentucky coming to your house, and there are empty seats.  The boys can't do it without you.
*********************
It was good to have a fishing rod back in my hands.  Conditions were not the best, but one thing about winter, if you can find them, you can catch them.  And here it comes, the inevitable warming trend, and the full scale bite.  It is right around the corner.  It may seem funny that I am all about this weather, but some of the best days of the year will happen in the next couple of months, and I intend to be there when it happens.  So keep stopping in and thanks for reading my stuff.
Good Luck and Tight Lines