Fish Catching Travel
My annual Christmas day fishing trip got off to a late start.  When I got up the wind was blowing pretty good and I seriously thought about heading to the river, it is much easier to fish when the wind is blowing.  But I stayed with the plan and headed to POC.  It has been well over a month since I have fished there so I was happy to get back.
When the wind blows out of the south it can be a pain in the butt right around POC.  But luckily I have a couple of tried and true places to fish no matter what the wind, and both have some deeper water.
Since I have caught a bunch of trout lately redfish was on the agenda.  First off it was the Oil Cut.  It is fairly protected from the wind and has a couple of similar places that I have found redfish in the past, including Louisiana.  That is the back-end of deep cuts.  When they are done schooling in the fall they seem to gang up there.  When I finally got a bait in the water the tide was dead low and flat.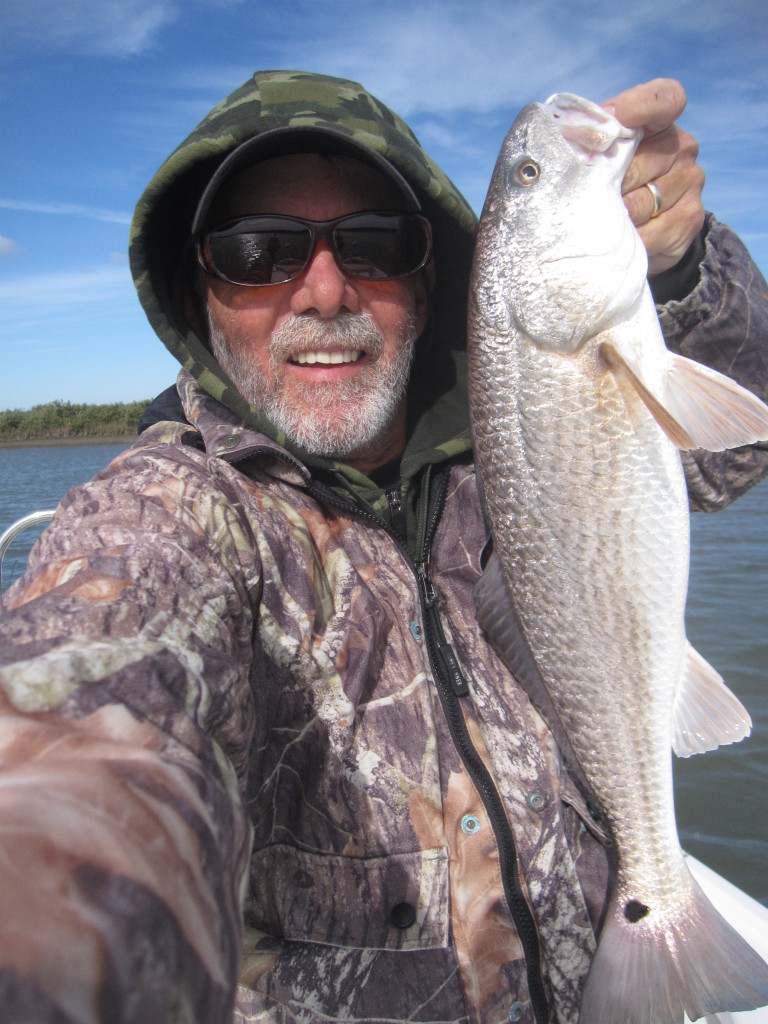 The first of 10 for the day.
I started in the back-end of one of the fingers and put this one in the boat on a Strike King Redfish Magic.  Over the next hour I put 1 more in the boat on the Redfish Magic, but it just seemed like they were not all in on it, so I switched to the Down South plastic and stayed with it the rest of the day.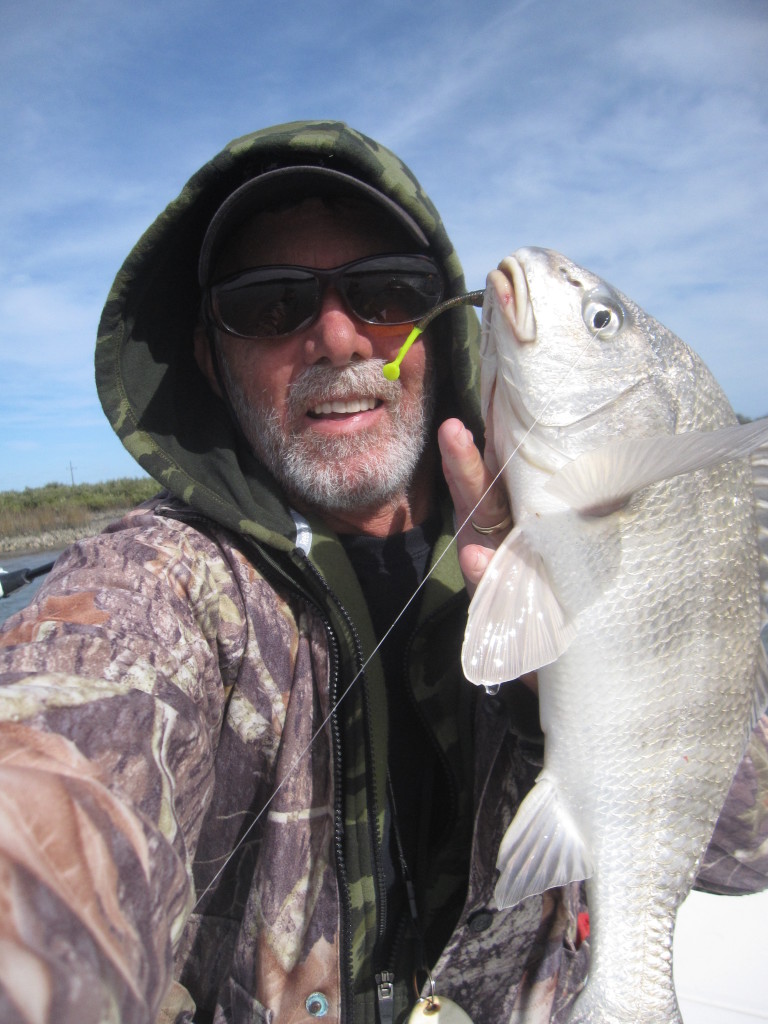 Black Drum baby.
I worked the fingers and main channel tossing the Down South to the bank and hopping it down.  With the wind blowing a good 20mph today I used a heavier 1/8th ounce jig head to help with the feel.  They were not aggressive by any means for the first couple of hours, but they did bite right along.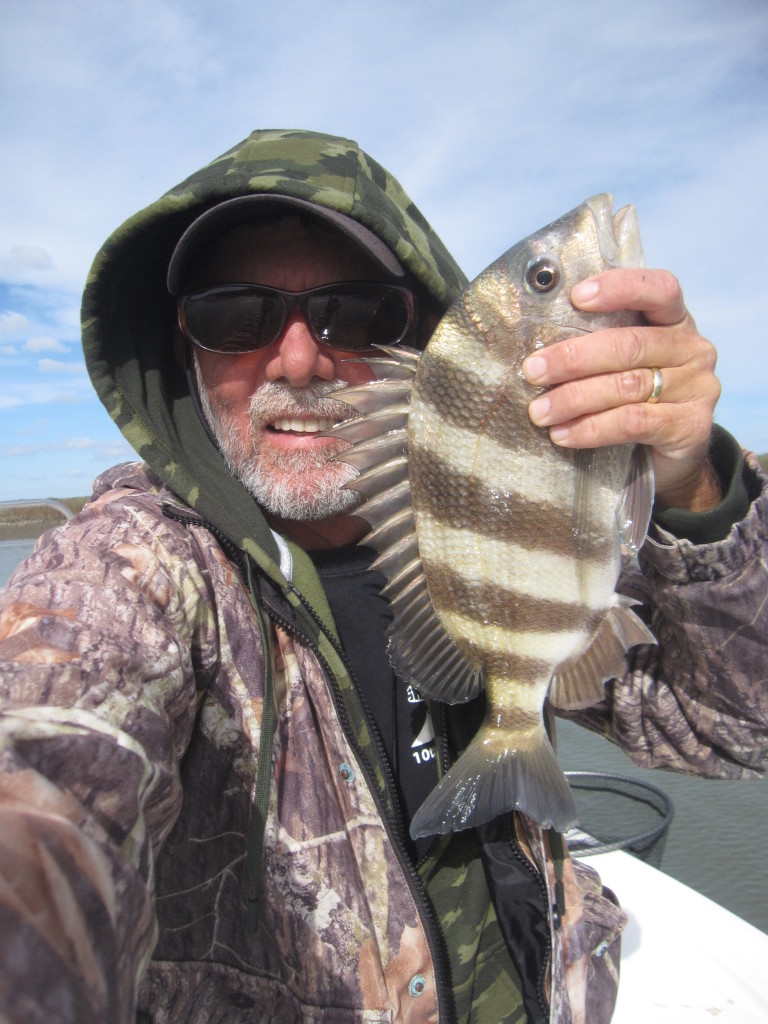 I even caught a Sheepshead on the Down South.
I fished in there a couple of hours and then the water started to move.  I did lose a real nice one in the Cut when it got caught in the trolling motor while I was trying to net it.  Don't count your pictures before they are taken .   Before I left there it was 4 reds (3 rats), the Black and the Sheepshead.  So with 6 over the side it was time to hit Big Bayou.  Once that water started to move it was time for some deeper channels.
Once starting there is was over an hour before I caught my first fish.  It would not be the last.  I stayed on one stretch of bank about 3 yards long and put 15 in the boat, 9 trout and 6 reds.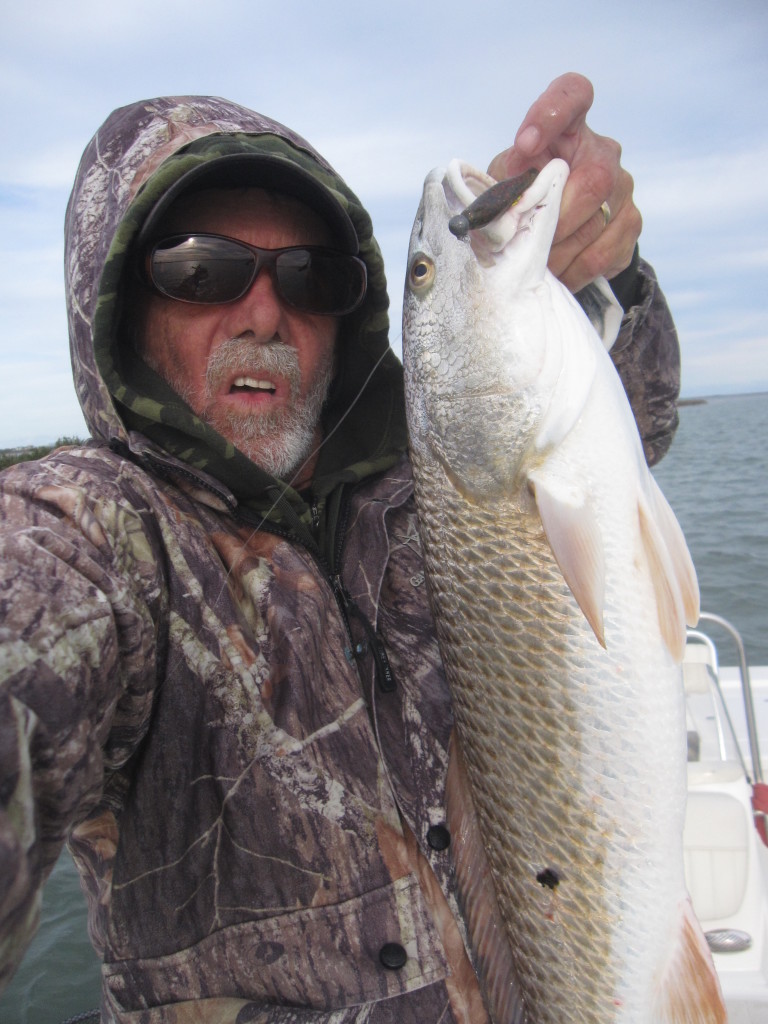 Talk about fun!  On 8lb line and a spinning rod this size can really pull.
Today was one of those days that only happens once or twice a year.  The tide really started moving through Big Bayou and the wind was blowing in the exact opposite direction, and they offset each other perfect, making boat control a dream.  After putting a couple of reds in the boat the trout started biting.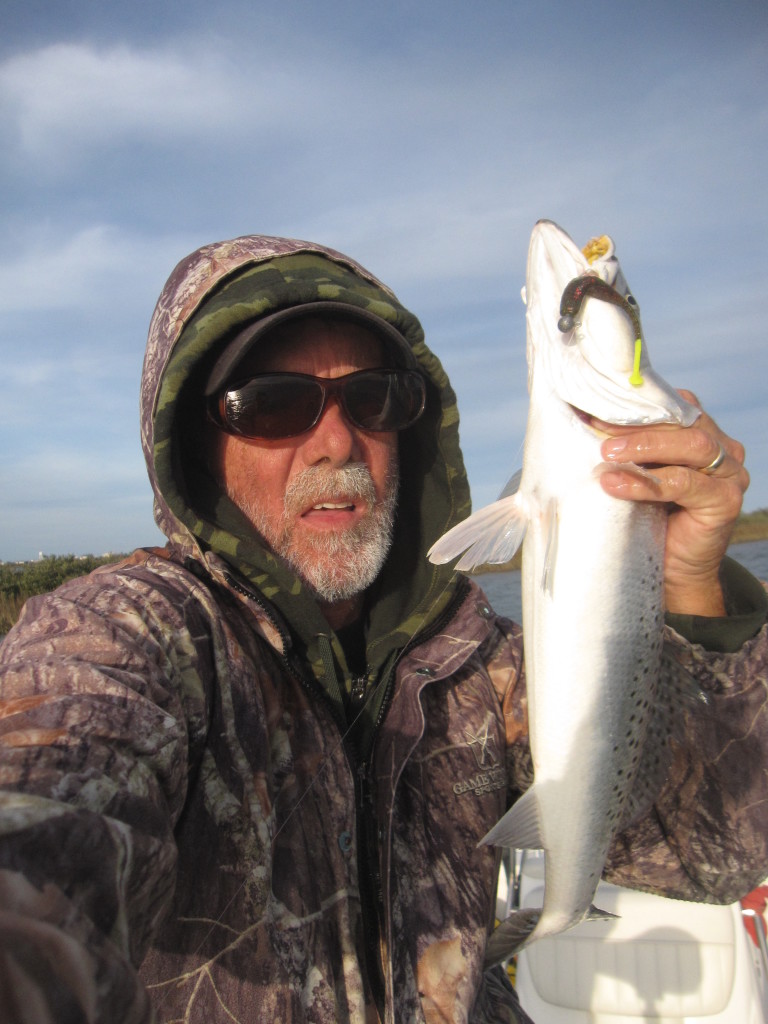 I can't stop throwing that Down South.
That one stretch of bank near the end of the bayou had trout and reds on it, but the wind was blowing like a mother right down the bayou, making it tough.  I think I might have felt 2 or 3 of the trout bites but that was it.  When you lifted up you had a split second to commit before they let go of it.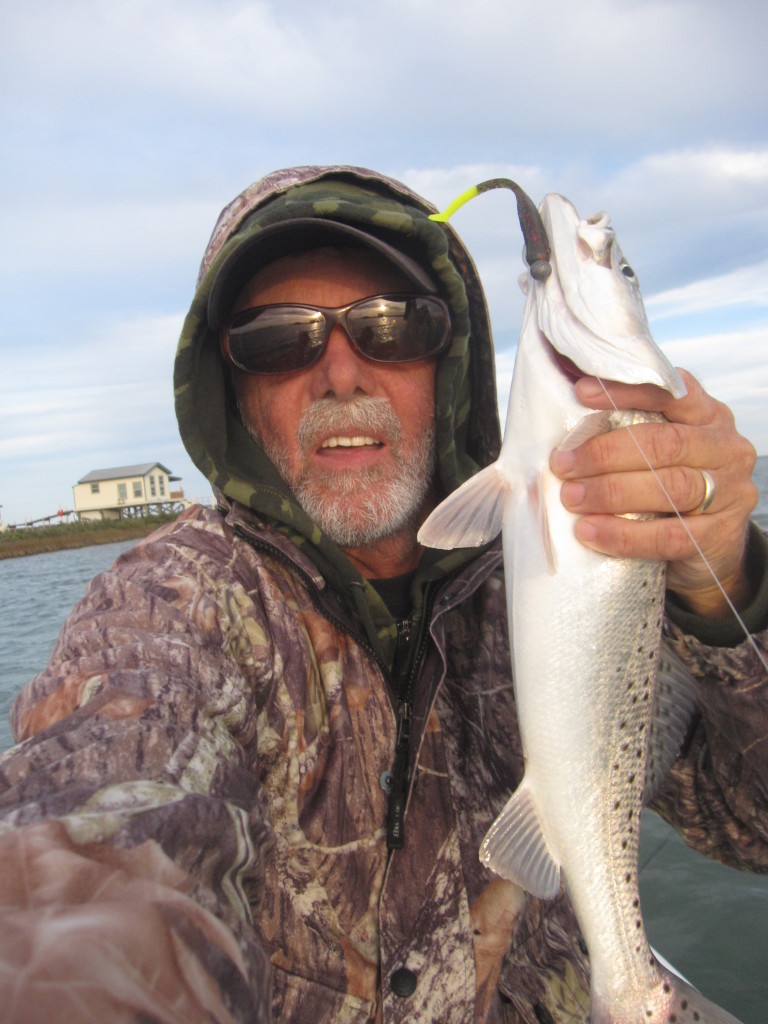 Out of the nine on that bank there was an easy limit.
So for an hour or so I worked back and forth catching one or two and missing a couple, but they stayed put until I got to the one more cast phase.  Then it was one more fish and I finally called it a successful day.
It was deja vu all over again.  We have pulled many a bad weather day out at POC since we first fished it 10 years ago.  When the weather is marginal those 2 places can be a milk run, you just have to narrow down the location and then work them over.  They tend to be ganged up this time of year, so once you catch a couple be sure to give it a good go before you quit on them.
Another annual Christmas Day fishing trip is in the books.  It was a great day to be alive, and on the way home I saw a ton of Sanbar deer, whitetails, and pigs.  I caught fish all day, and did it in spite of the wind.  Catching a good redfish always reminds me why I like to fish for them so much.  I hope your Christmas Day turned out just like you wanted it to, mine did.  Not sure what the weather is bringing but I aim to keep after them this week.  So keep stopping in and thanks for reading my stuff.
Good Luck and Tight Lines