Fish Catching Travel
The weather Gods conspired to keep me from fishing yesterday, so I went anyway.  The forecast was for 20mph+ winds out of the north with clearing skies and falling temperatures, boy did they get it right.  It finally blew me off the lake at 2:00 when there was no place to get away from it.  In fact, the 6:00pm weather said there were gusts to 40mph on the Coast if that tells you anything.
When I got to the lake around 9:30 it was cloudy and the wind was blowing.  It wasn't howling yet, but it was close.  It  took me all of 2 minutes to catch my first fish.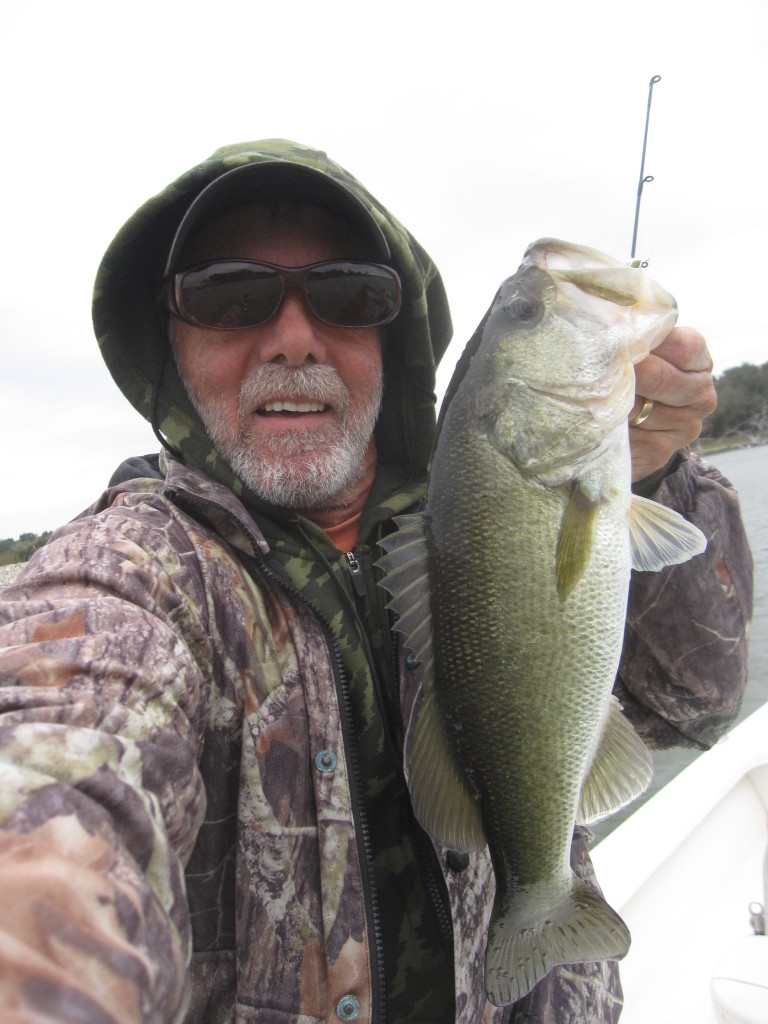 The Swim Jig strikes again.
Getting to the point, all things were the same as they have been on Coleto except for one little thing.  Of the 8 I caught before it got to ugly, 4 were in the back end of coves.  In fact, when I tossed the topwater all the way in the back end of one I could see the occasional bass roll under the topwater and just not get it.  So I stayed with the Strike King Swim Jig and every so often one would jump it.  The pattern has been fairly consistent, and as long as we are in this weather pattern it shouldn't change much.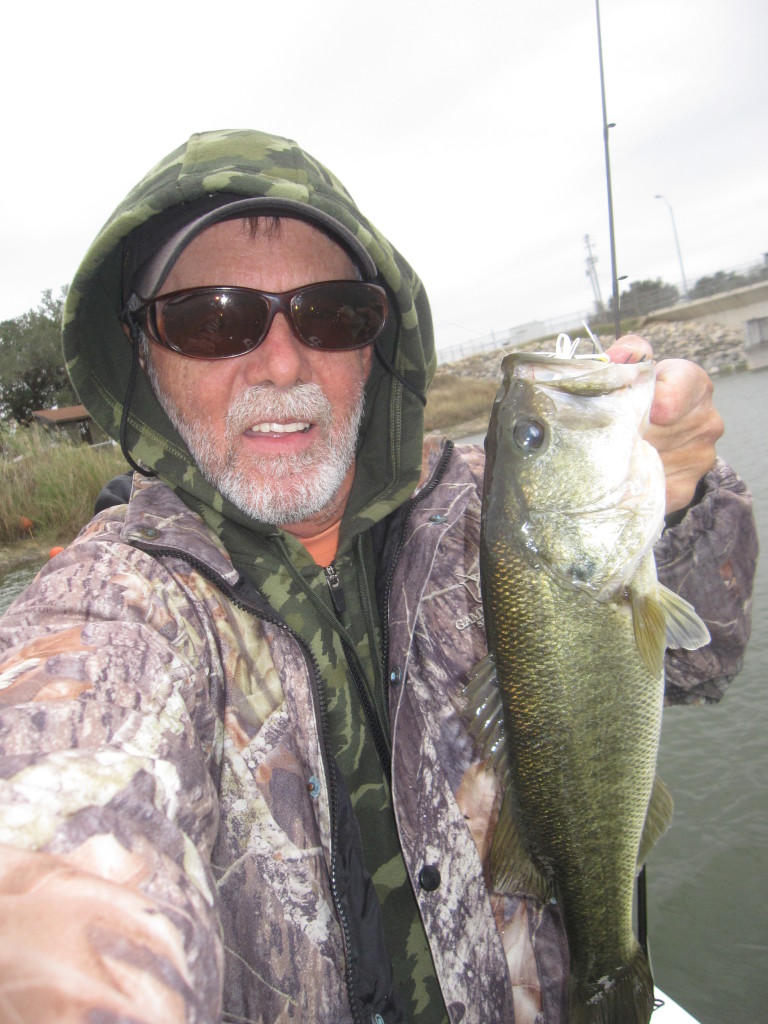 It was tough today but keeping it in the water got a bite or two.
For a day with a cold north wind, clearing sky, and dropping temperature it was ok, not comfortable, but tolerable.  Not going to the Gulf was the best decision I made all day.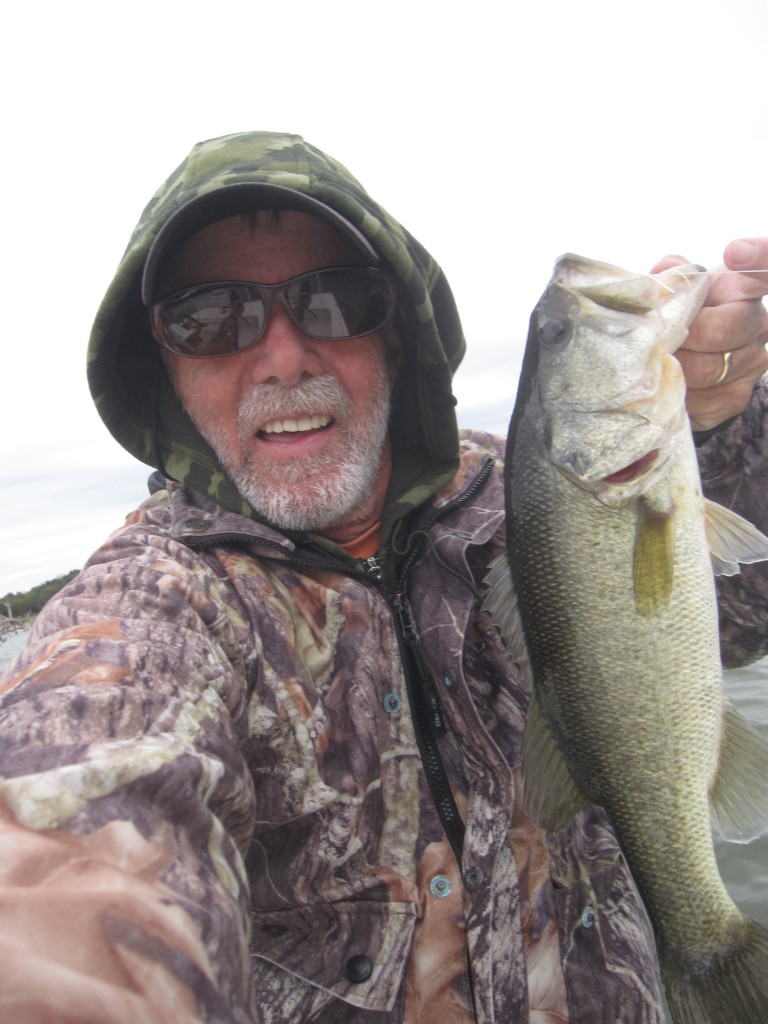 A run of the mill keeper right now.
There really isn't much new to say about the fishing on the lake.  I put 8 in boat, 6 on Swim Jig and 2 on topwater.  Fishing is ok, consistent, but no really big fish are showing up right now.  But that is about to change.  We still have some winter to go, the question is how much and how long?  Today was one of those days I put my camo pants on over my jeans and boy was I glad I did.  The water temperature has dropped a little again, and combined with the cold front, it finished the bite off.  After the sky cleared I had one bite in 2 hours so I pulled the plug and headed to the house.
*********************
My buddy Clyde dropped me a note along with the following picture –
"Merry Christmas you pork rind! We all be pork rinds!"
This is Clyde and Maria's anniversary supper.  The family who hunts and fishes together stays together.  Congratulations and Merry Christmas.  Nothing  but the best for you guys, have a great New Year and I look forward to our fishing adventures coming this year.
***********************
My sister-in-law got me a great Christmas present, a Bubba Blade.  I can not wait to use it on a slot red.  Let us see if you can slide through their ribs like the TV ad.  Thanks Suzie, that is a great present that should last me forever.
I have a few things to get done today before the stores close.  It will be up at daylight and off to fish some saltwater somewhere, where will be determined by the wind.  I have really enjoyed my Christmas day fishing trips and I have always thought of it as a present to myself.  So keep stopping in and thanks for reading my stuff.
To all of you, Merry Christmas and Happy New Year.  May you and your family have a great holiday and a profitable and happy new year. 
Good Luck and Tight Lines