Fish Catching Travel
After our morning duck hunt we got back to town around 11:30 and I immediately breasted the ducks, put the gun and hunting stuff up, hooked up the boat and headed to Coleto.  I was real interested in the water temperature and if the lake was dropping.
First the water.  Last time I was there, a week ago it was 67 degrees at the ramp, it is now in the 77 degrees range from the ramp most of the way up lake.  When you round the big bend up lake it does  drops to 71 degrees, and that is the coolest I found it.   It does make me wonder that with the water temperature rising in the bay that maybe that has drawn some of those bigger trout back out of the rivers and creeks.  It will be interesting to see on our next real cold front, and we will have one, if the fishing won't really heat back up in the rivers.  Stay tuned for that one.
As far as the lake's water level it seems to have come down just a little.  We need rain and the weather man is sorta promising several days over the next week.  You know being the weather man must be a difficult job.  It is your fault when things don't go as expected, but you never get credit for the good stuff.
The fishing on the other hand remains exactly as I found it last trip.  I just keep throwing the Strike King Swimming Jig in the Sexy Shad with a pearl Caffine Shad paddle tail trailer and the Bagley Bang O Lure.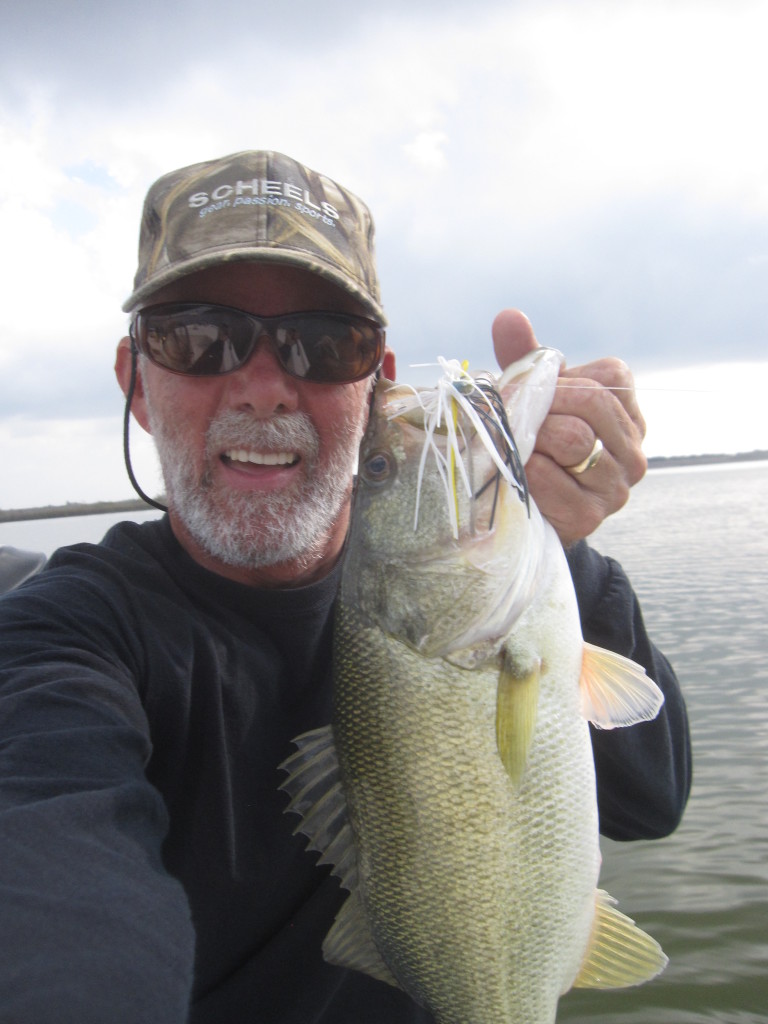 I just can't put that Swim Jig down!
My whole plan for the afternoon, besides catching fish of course, was to head up lake and see if things had changed.  My last outing the water way up lake was 12 degree colder and they would not bite worth a crap.  But my first stop, I couldn't resist, was a main lake bank that still has some green grass in that 3 – 6 foot range.  Those fish have been there for several months, and with the disappearing grass in the rest of the lake I don't expect them to move, and from the one above you can see they haven't,  As it has been, tip the grass with a steady retrieve, and the speed it up or hop it, and they will eat.  I am using a 1/4 ounce but am somewhat remiss for not throwing the 3/8th, it might just give that little additional depth and lead to some bigger fish.  Have to check that one out.
Now I know that conventional wisdom is that the Swim Jig is not a winter bait, and true enough, it is best in the spring with new emerging grass.  While that is true as I have learned the last couple of years, as long as you have bass in cover it will work.  I ended up putting 3 in the boat there on a quick pass, but not wanting to wear them out, I headed up lake.
Once I saw the 71 degrees I knew it would be good, and it was.  A couple of more fell to the Swim Jig but it was time for the topwater minnow.  And first cast one blasted it next to the boat, and over the rest of the afternoon another dozen plus fell for it.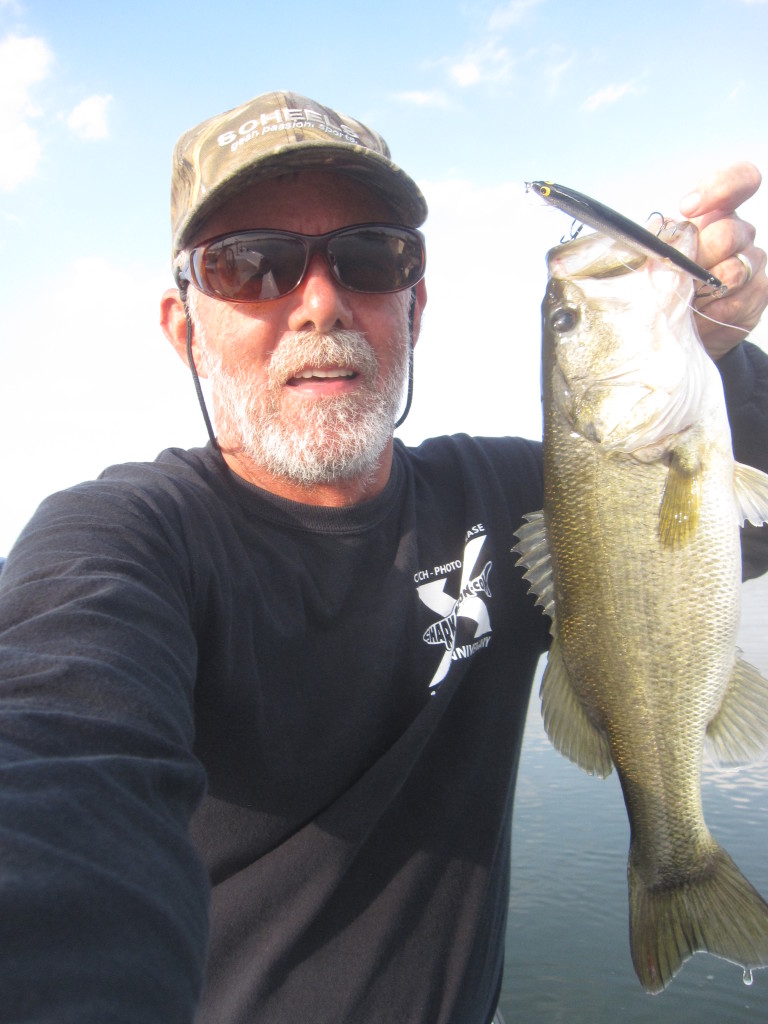 Today some of them like this guy were really blowing up on it.
Just like the last few trips, and the winter and early spring on Coleto, they wanted it right on top, twitching it right along.  Often the eat it close, but the better ones seem to come off the bank some, so don't give up on it.  And as it will be until we approach true pre-spawn, most were near points.  In fact right now point hopping would probably be the most efficient way to fish.  And if you would combine that with any deeper live grass beds, you could probably boat a ton of fish in a day.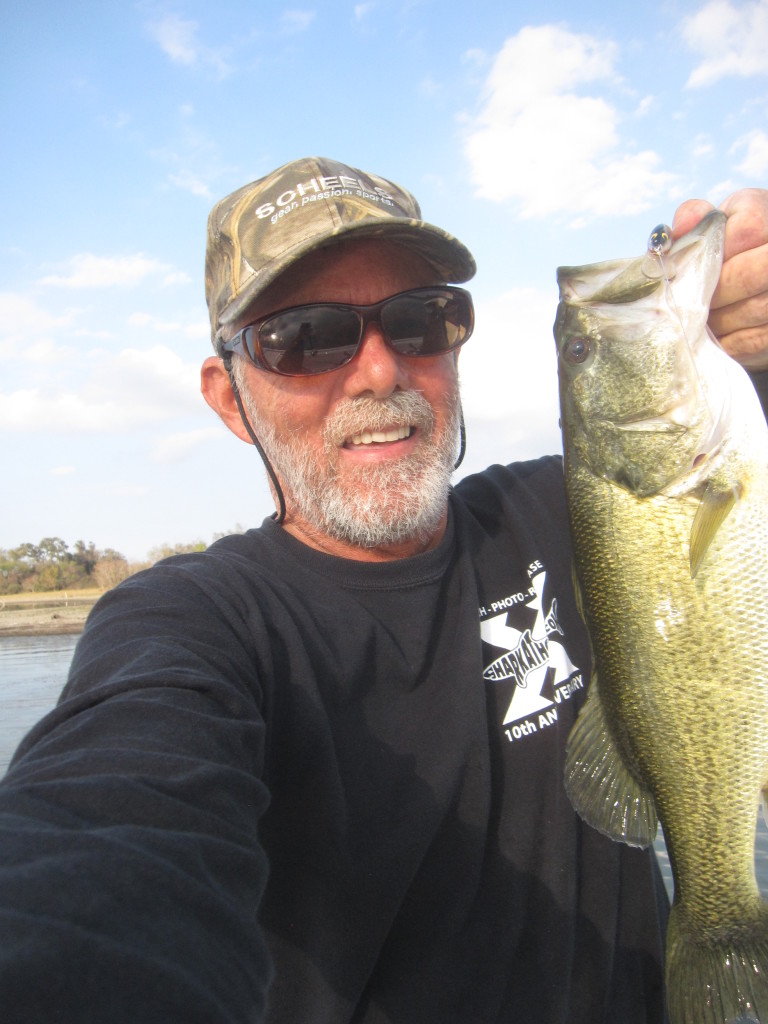 While not real giants, I will take a limit of these all day long!  And not to worry, those big girls will be up soon.
I fished until about 5 but was starting to wear down a little.  So after having a successful duck hunt and a short fishing trip I headed to the ramp.  After I put the boat on the trailer I did some investigating.  You never know where you will find useful information, and one of those places on Coleto is the trash can at the cleaning table.  So I popped the lid and there was a nice string of crappie.  Aaron was there a couple of days ago and a couple of guys were cleaning a string of nice ones.  So if you like crappie they are out there to be caught and from what I hear they are not all that deep.
So our fishing remains good on many area of the coast.  Hunting season is in full swing and the weather is great.  So many options, so little time.  I love the not really knowing what is next, just that there will be a next.  Every day we can enjoy the outdoors is a gift that should never be taken for granted.  It is a bit beautiful world out there so get out enjoy your favorite activity with family and friends.  And last I want to thank several of you for sending me some great comments.  I will sit down and get them posted tomorrow.  And a particular thumbs up to Mac, I hope others love your comment as much as I did.  So keep stopping in and thanks for reading my stuff.
Good Luck and Tight Lines